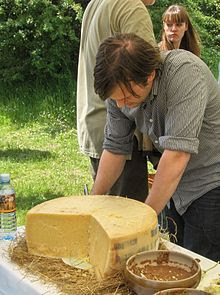 Chef René Redzepi of Noma the Best Restauarnt in the World 2010-2011
René Redzepi (born 16 December 1977) is the chef and co-owner of the two-Michelin star restaurant Noma in the Christianshavn neighborhood of Copenhagen,Denmark. His restaurant was voted the best restaurant in the world in 2010 San Pellegrino Awards and 2011. Redzepi isnoted for his work for the reinvention and refinement of a new Nordic cuisine and food that is characterized by inventiveness and clean flavors.
Redzepi is the son of an ethnic Albanian father, who migrated to Denmark from what was then Yugoslavia (now Republic of Macedonia) and a Danish mother.Rene Redzepi of noma finediningindian.comRené Redzepi was born on 16 December 1977 in Copenhagen to a Danish mother and an Albanian father who had immigrated to Denmark a few years earlier. He moved to Macedonia with his family and lived there until the start of the wars of independence in the former Yugoslavia. After choosing a culinary career at random, he trained at the restaurant Pierre André which had just opened in Copenhagen and soon received a Michelin star. He first visited El Bulli as a guest in 1998 and has subsequently worked there during the 1999 season. Back in Copenhagen he started working at Kong Hans Kælder which had been one of the city's leading gourmet restaurants since the mid 1970s. In 2001 he spent four months working at French Laundry but returned to Kong Hans Kælder and Copenhagen.
In December 2002, Redzepi was contacted by Claus Meyer, who had been offered to operate a restaurant at the North Atlantic House, a former 18th century warehouse which was being turned into a cultural centre for the North Atlantic region. Noma was opened in 2004 with Redzepi as the head chef.
Awards and accolades
2006: 33rd Best Restaurant in the World Restaurant Top 50|Restaurant magazine Top 50
2007: 15th Best Restaurant in the World Restaurant Top 50|Restaurant magazine Top 50
2008: 10th Best Restaurant in the World Restaurant Top 50|Restaurant magazine Top 50
2008: Users of the website TripAdvisor rated Noma as the best restaurant in the world
2008: named International Chef of the Year at the Lo Mejor de la Gastronomia conference in San Sebastian, Spain
Since 2008: Michelin Guide, two stars
2009: 3rd-best restaurant in the world Restaurant magazine Top 50 and "Chefs' Choice"
2010: Best Restaurant in the World
2011: Best Restaurant in the World
SOURCE : WIKEPEDIA