Lamb sweet bread shami kebab &
 beetroot goat curd chutney
Lamb sweet breads are the Thymus Gland or The pancreas of the animal. Veal Bread is one of the popular and costlier offal in Use.
The texture is very similar to brain . Sweet breads are used by chefs in upscale and Michelin rated restaurants . its Unique taste and texture makes it a delicacy .
when we wanted to create  dish for our Restaurant Consultancy client Flora-Indica . The ideas came for shami kebab use special cut or offal for the meat . We chosen lamb sweet bread and it was indeed an amazing dish Try the dish and share your feed back
---
Which part of the animal where sweet Bread is taken ?
Image Credit : Nosetailapp.com
---
---
Ingredients for Lamb sweet bread shami kebab
400g lamb sweet bread
1litre Milk
100g Tin chickpea
20g oil
10g cumin powder
100g sliced onion
5g turmeric
20g coriander powder
10g chilli powder
10g garam masala powder
5g Coriander leaves
4g Mint leaves
3 no. Green chilli
20g Ginger garlic paste
2 no: boiled egg
---
Ingredients for Goat curd chutney
100g goat curd
1 no. lemon juice
50g cooked beetroot
10g Ginger sliced
10g garlic sliced
3g frsh mint leaf
1no. Green chilli
10g chaat masala
---
Method  – Shami Kebab
Blanch lamb sweet bread in milk, chill down in ice, drain and peel the skin. On thick bottom pan add little oil, cumin seed, onion cook till golden brown colour, then add ginger garlic paste, turmeric, green chillies, mint, mix well then add blanched lamb sweet bread. Saute for 5 minutes on low fire.
Add drained tin chickpeas check seasoning.Now add red chilli powder, garam masala powder, coriander leaves, mix well.Now grind the mixture to coarse mix.
Transfer to a plate and add salt, garam masala, coriander leaves mix well.In another plate take boiled egg cut into small pieces, onions chopped, add pinch of red chilli powder salt mix well.
Now divide the lamb mixture into four equal portions and egg mixture into equal portion.Egg mixture need to be used as stuffing.
shape into flat round shape and fry in a pan with  butter . cook until both the sides are golden brown colour.
---
For Goat curd beetroot chutney
Grind all mentioned ingredients in a thermos mix. pass through a fine sieve. Check seasoning and serve with lamb sweet bread shami kebab.
Plate as shown In picture.
---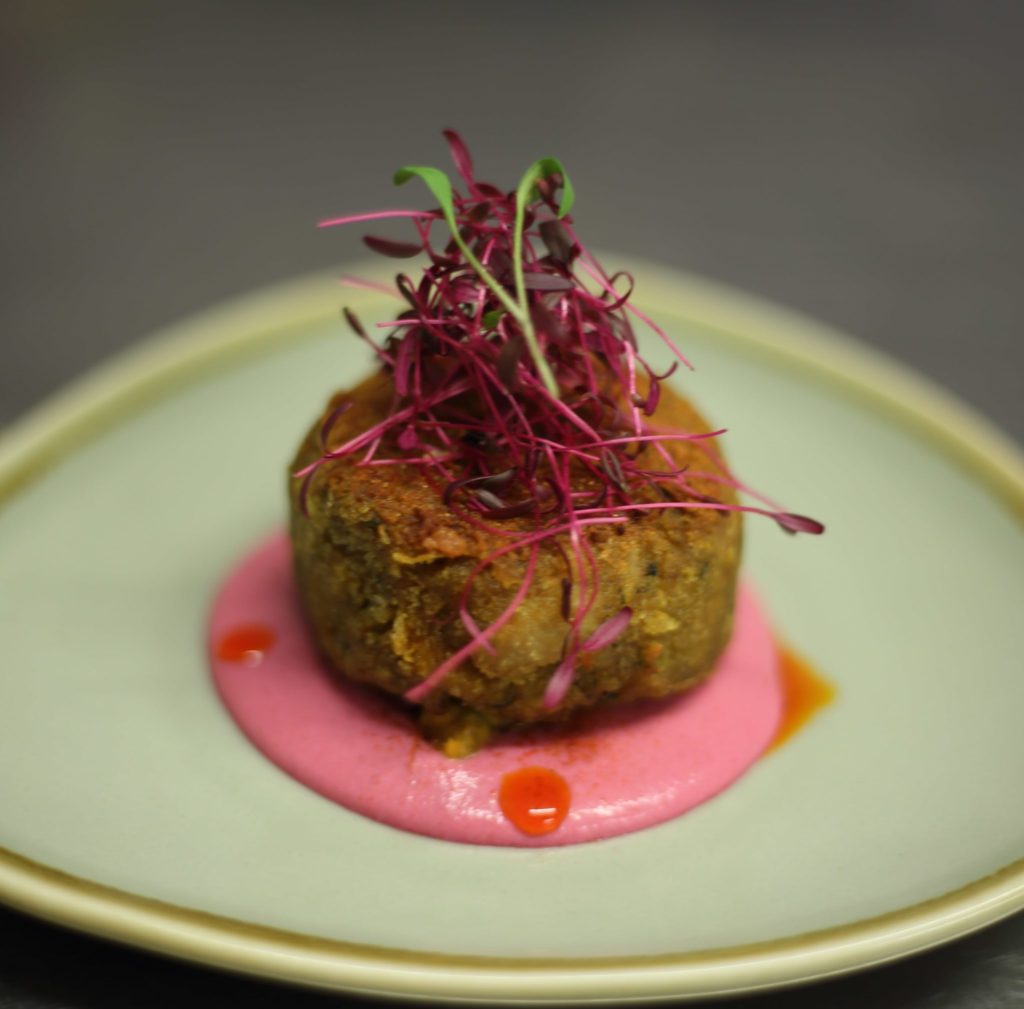 Fine Dining Indian Food Magazine 2017 : Fine dining Indian Magazine May 2017
Welcome dear all to our May 2017 Issue of Fine Dining Indian Magazine We have been very fortunate to collaborate with few great Indian chefs and restaurants through our past two Issues.Our featured Chef Gaggan from April Issue is Now No.7 In the worlds 50 best Restaurant List. A proud…
---
For promotions
---
If you would like to promote your Restaurant, service or product in Finest Indian magazine Finediningindian . Please write to us – [email protected]
---
 

Finediningindian Magazine previous issues
---