Maine Lobster Poached in Curry Buerre Fondue with
Coconut Curry and Dry Farmed Potatoes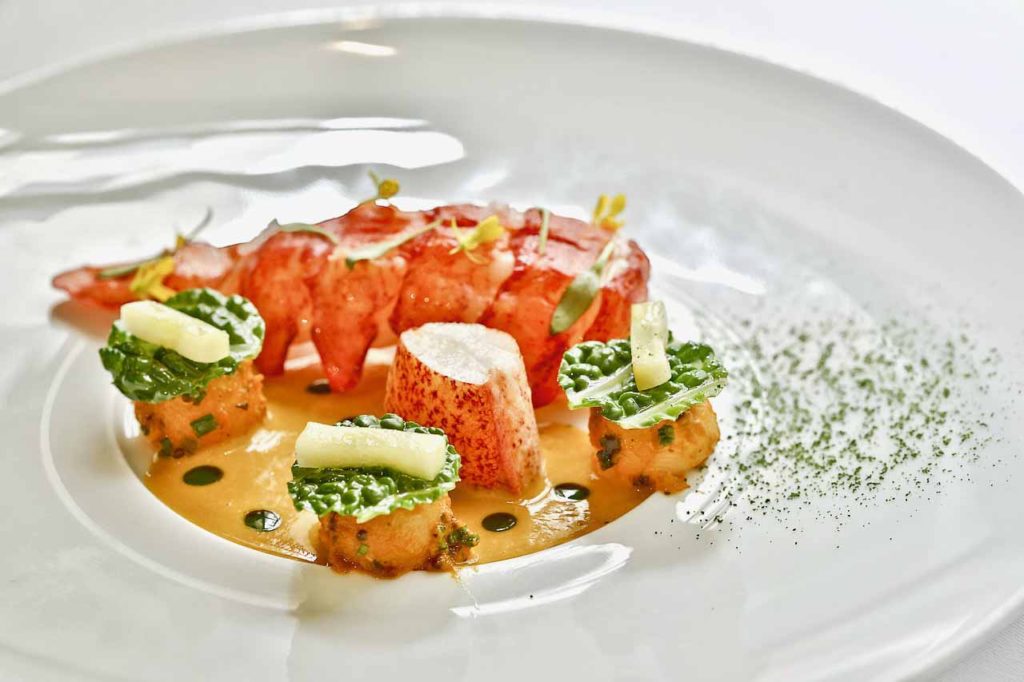 Ingredients
8  each  Lobster — Maine Lobster tail/claw  .
15  each  German Butter Ball Potatoes — David little farms, boiled and cut into disks
85  gms  Onion — Red, chopped medium dices
15   gms  Garlic — chopped finely
10   gms  Ginger — chopped finely
10   gms  Curry powder — Madras style
3    gms  Cumin — whole
450 gms  Lobster Stock or prawn stock
10    gms  Cilantro Stems — no leaves
5     gms  mustard seed
130  gms  Coconut Milk — Creamy milk, canned
15    gms  Tamarind pulp — as thick as a thick soup
Tamarind Pulp
100   Gms Tamarind paste — before rehydrating
180   Gms Water

Curry buerre fondue
450   gms  salted butter — cut into 1-inch dices
10      gms  curry powder
1        each  cinnamon stick
1        each  star anise
1        each  cardamom — broiled and crushed
Method
For Buerre Fondue
In a pan add the curry powder and sauté in dry for a minute with out burning. Add whole spices and diced butter into the pan and continue whisking until dissolved and emulsified. Add few table spoons of cold water to avoid breaking of butter. Keep the butter between 50 – 55 deg centigrade.
For Coconut Curry Sauce
 In a heavy bottom add 3 table spoons of grape seed oil, while it starts smoking, add the mustard seeds and crackle them all. Add in the onions garlic and ginger, sauté it until onions are light golden brown add the curry powder, cumin and cook it until spices are cooked Add the lobster stock; simmer in for 10 minutes covered Add the coconut cream/ milk and curry leaves Add the cilantro stems and simmer for 10 minutes Add tamarind pulp and cook for another 6- 8 minutes Adjust the seasonings and strain it through a chinois, serve it hot with Poached lobster.
To Assemble
Season the lobster with a pinch ea of kosher salt and black pepper. Poach it in the warm butter for 9- 12 minutes or until it is cooked or more, if you would like to eat the lobster cooked through Drop the potato disk in the warm butter as the same time as the lobster takes Once potato, is warm and the lobster is cooked, place the potatoes on a bowl plate with the poached lobster tail on the top of it. Serve it with coconut curry and micro cilantro Other serving suggestion: braised, sliced hearts of palm would be a great accompaniment to this dish. At Campton place, we serve with hearts of palm, potato, cilantro air and coconut curry.
Per Serving (excluding unknown items): 26895 Calories; 2502g Fat (78.1% calories from fat); 305g Protein; 1277g Carbohydrate; 337g Dietary Fiber; 0mg Cholesterol; 2291mg Sodium.  Exchanges: 3 1/2 Grain(Starch); 1/2 Lean Meat; 47 1/2 Vegetable; 55 Fruit; 501 1/2 Fat.
Buy Print Version of Fine Dining Indian Magazine July
Fine Dining Indian Food Magazine 2017 : Fine dining Indian food magazine august 2017 issue 6
Read and Download Fine dining Indian food magazine August 2017 Edition – Issue 6.we are very grateful to feature Chef Girish Gopinathan Only Two Michelin star chef in the world, Master chef India Finalist Karishma sakhrani, Street food from Kolkata, Food Tasting on Kricket restuarnt in London…
Our Vision
" To be the world's best fine dining Indian cuisine website and magazine"
We strive to achieve this by providing a platform for all Indian food lovers around the globe.
Submit Your Review
clear Instructions
0
Availability
0
To Understand
0
Quality
0
will you Share
0
Average