Steamed Handvo
Our very own humble recipe from Gujarat now offering a cupful nutrient in the comforts of your kitchen. 
Time: 60 minutes
Serves: 6  
Ingredients for Steamed Handvo
1 cup whole moong, soaked in hot water for 2 hours
1 cup green peas, crushed
2 tbsp semolina
1 tbsp gram flour
2 tbsp coriander; finely chopped
1 tsp green chilly paste
1 tsp garlic paste
1 tsp ginger paste
salt as required
1 ½ tsp fruit salt
1 tsp peanut oil for greasing
Tempering:
1 tbsp peanut oil
2 tsp mustard seeds
1/2 tsp carom seeds
2 whole Kashmiri red chillies; broken into pieces
2 tsp sesame seeds
1/2 tsp asafoetida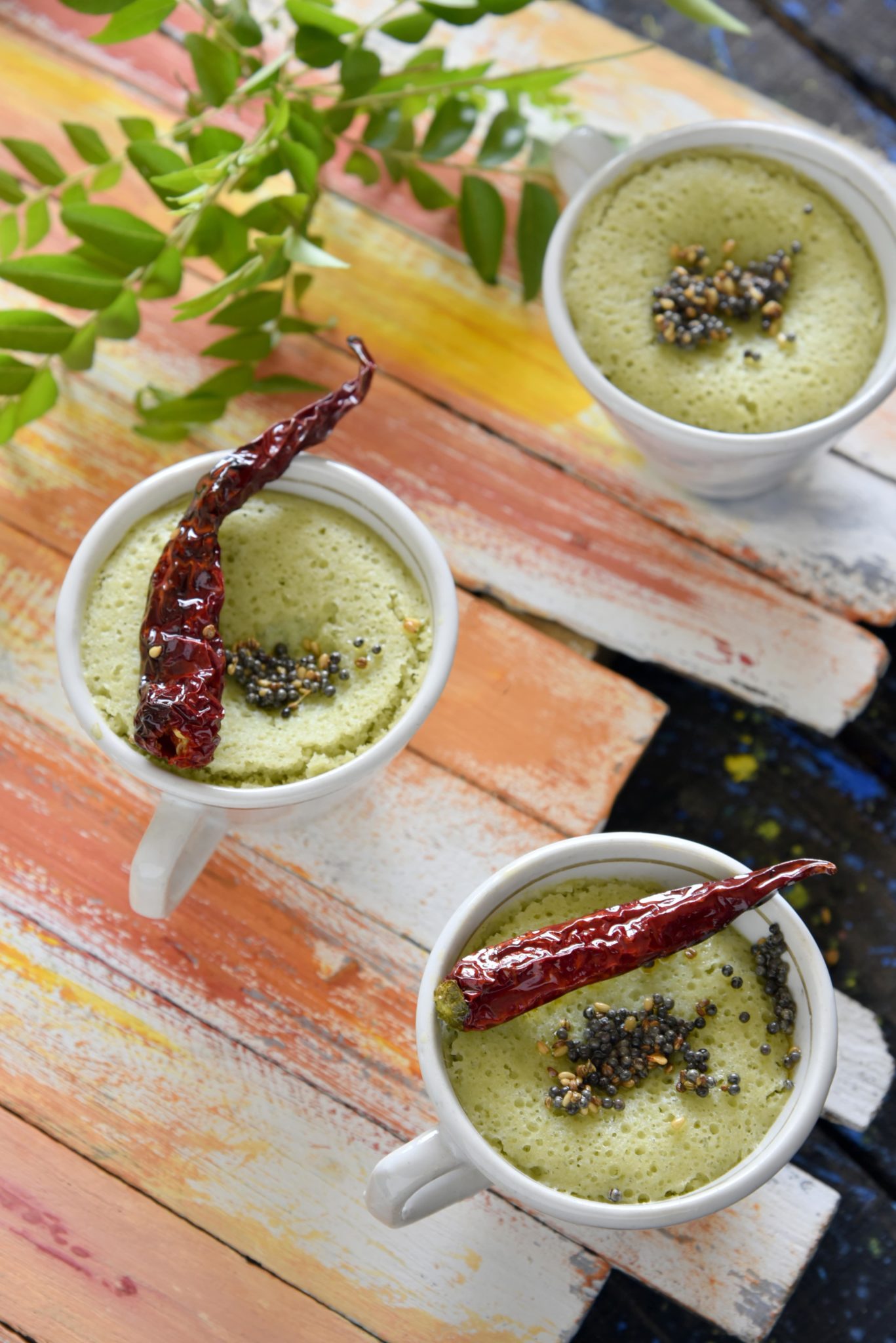 Instructions for Steamed Handvo
Lightly grease tea cups with 1 tsp peanut oil and keep aside till further use.
Grind soaked moong into a course paste using ½ cup fresh water and transfer into a mixing bowl.
To this, add semolina, crushed peas, gram flour, chopped coriander, green chilly paste, garlic paste, ginger paste, salt and ¼ cup of water. Mix well. Rest the mixture for 10 minutes.
To the mixture, add fruit salt and 2 tsp of water. Mix immediately and fill the greased cups till ¾th full.
Place in a steamed on high flame for 15 minutes.
While this is steaming, heat oil in a pan. Add mustard seeds and allow these to crackle. Add in carom seeds, Kashmiri chilly, sesame seeds, asafoetida and turn the flame off.
Spoon a little on each of the steamed handvo.
Serve hot.
Nutritional content per serving
| | | | | | | |
| --- | --- | --- | --- | --- | --- | --- |
| Protein (g) | Fat (g) | Total Fibre (g) | Carbohydrates (g) | Calcium (mg) | Iron (mg) | Energy (kCal) |
| 7.5 | 5 | 12.8 | 18.6 | 63.8 | 3.6 | 155 |
Buy our December Magazine

Dear Readers,we are happy to present our Last Quarter Issue for 2018Sincere Gratitude for all chefs who been featured in this Issue by providing timely articles, Interview, Images and Recipes.Its an Immense proud and achievement for Chef Garima Arora. Her inspiring story we could feature in our Women Pride Column. We want to feature More women Achievers in our future Issues. Do let us know We are so grateful and happy that Fine…
Submit Your Review
clear Instructions
0
Availability
0
To Understand
0
Quality
0
will you Share
0
Average