Beetroot Hummus
Left over chapatis and don't know what to do with them? Have them with this dip rich in proteins and good fats and get an appealing look by adding beetroots that are a good source of fiber.
Time: 30 minutes
Serves: 2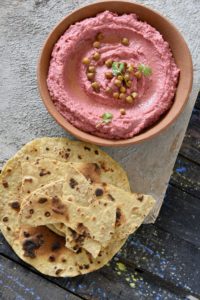 Ingredients:
For Beetroot hummus:
200 gms beetroot, roasted and peeled
1 cup chickpeas, boiled till fork tender
8 nos. garlic cloves
4 tbsp sesame seeds
3 tbsp extra virgin olive oil
3 tbsp lemon juice
Salt as required
½ tsp roasted cumin powder
½ tsp chili powder
For crisp whole wheat chapatti:
Whole wheat chapatis
Instructions
For beetroot hummus
In a grinder, transfer all ingredients for the hummus retaining 1 tbsp olive oil and 1 tbsp chickpeas for garnish.
Grind it all into a smooth and fine paste, without using water.
Transfer into bowls and garnish with reserved olive oil and chickpeas
Chill till further use.
For crisp whole wheat chapatti
Heat a pan.
Using a dry cloth, dry roast chapati by pressing them till they turn golden brown and crisp.
Serve at room temperature with chilled hummus.
Nutritional content per serving
| | | | | | | |
| --- | --- | --- | --- | --- | --- | --- |
| Protein (g) | Fat (g) | Total Fibre (g) | Carbohydrates (g) | Calcium (mg) | Iron (mg) | Energy (kCal) |
| 8 | 20 | 7 | 35 | 90 | 4 | 381 |
Myth buster
Myth: Beetroot is a source of iron
Fact: Beetroot is not a rich source of iron. 100 g of beetroot has 0.7mg of iron which does not make it a good source of iron. Good sources of iron are garden cress seeds, bajra, ragi, red chana, rajma and non veg foods.
Did you know?
Vitamin C helps in Iron absorption
Vitamin C rich food like lemon should be consumed with iron rich sources to increase iron absorption.
Buy our December Magazine

Dear Readers,we are happy to present our Last Quarter Issue for 2018Sincere Gratitude for all chefs who been featured in this Issue by providing timely articles, Interview, Images and Recipes.Its an Immense proud and achievement for Chef Garima Arora. Her inspiring story we could feature in our Women Pride Column. We want to feature More women Achievers in our future Issues. Do let us know We are so grateful and happy that Fine…
Submit Your Review
clear Instructions
0
Availability
0
To Understand
0
Quality
0
will you Share
0
Average