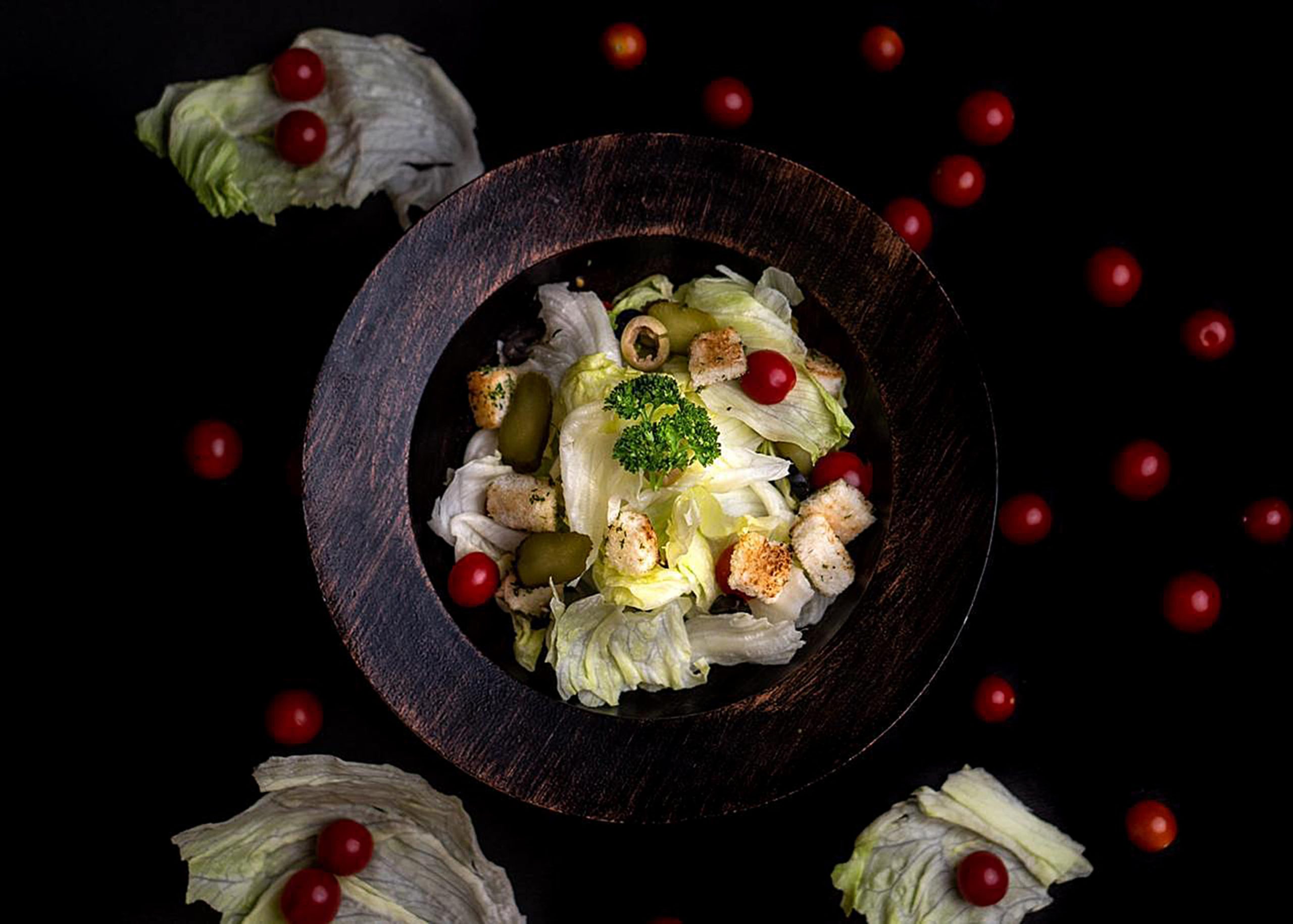 Caesar Salad Recipe
Caesar Salad Recipe
Portion Size – One
Plateware – Small Rectangular Platter
[thb_border style="style2″][thb_image full_width="true" alignment="center" image="31859″][/thb_border]
INGREDIENTS
2 cups Green Romaine lettuce, roughly torn
1/2 cup Cucumber, sliced
1/4 cup Cherry tomatoes cut into half
1/2 cup Fried Bread Cubes (Croutons)
For the dressing
2 tablespoons Classic Mayonnaise (With Egg)
1/2 teaspoon Mustard sauce
Salt, to taste
1 tablespoon Lemon juice
1 teaspoon Black pepper corns, crushed
1 tablespoon Extra Virgin Olive Oil
4 cloves Garlic, crushed
1/2 teaspoon Sugar
[thb_gap height="30″]
Caesar Salad Recipe
METHOD OF PREPARATION
How to make Classic Caesar Salad Recipe
To begin making the Classic Caesar Salad Recipe, we will first make the dressing.

 

To make the dressing for the Classic Caesar Salad
In a mixing bowl, combine the mayonnaise along with the mustard sauce, salt, lemon juice, olive oil, crushed black peppercorns, garlic, and sugar.

 

Whisk vigorously until well combined; allow it to chill in the refrigerator.

 
To make the Classic Caesar Salad
In a mixing bowl, add the roughly torn lettuce leaves and keep some ice- cubes over it for about 10 minutes. This will ensure the leaves are crunchy even after the dressing is added to it.

 

After 10 minutes, drain out all the water and ice cubes and pat dry the leaves with a clean kitchen towel.

 

To the bowl with the lettuce, add the thinly sliced cucumbers, tomato halves and bread croutons.

 

You can either buy readymade bread croutons or learn how to make Baked Homemade Croutons Recipe with Herbs.

 

To the vegetables in the bowl, add the chilled dressing and toss well. Top with parmesan cheese and serve the Caesar salad chilled.
[thb_gap height="30″]
Recipe By Umang Adhikari
SPOKESPERSON PROFILE – MR. RAHUL SARIN, CO-FOUNDER AND CEO
Mr. Rahul Sarin is the Co-founder and CEO of The Dineroom, a fine dine which has a bar as well, located at Punjabi Bagh, Delhi. A place to booze up with premium ambience, amazing food and, full fledged bar, events and cocktails in house. Rahul and his team believe in celebrating life with exhilarating cocktails and global delicacies to redefine nightlife with a gastronomical journey of flavours.