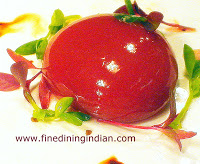 Molecular Gastronomy Its Adaptation in Benefit to Indian Cuisine
Molecular Gastronomy: Exploring the Science of Flavor (Arts and Traditions of the Table: Perspectives on Culinary History)
Book From Here This
Molecular gastronomy is around the culinary world for many years now, it may be fading its colors but there is still some great aspects we can adapt while developing modern Indian recipes.Molecular gastronomy opens doors for many doubts and solutions we faced in our culinary journey.
Imagine a Liquid Nitrogen frozen Rasasgolla , Warm jelly of Tomato Shorba, Mango lassi Full of Airy feeling, A saffron and rabdi Dust and so on the list can be as long as your creativity.
We will give you a brief and some guideliness what we achieved .Recipes may not be accurate please refer to the book we suggest in the article for some great methods Molecular Gastromy as a cooking technique
Building a Meal: From Molecular Gastronomy to Culinary Constructivism (Arts and Traditions of the Table: Perspectives on Culinary History)
Building a Meal
The term molecular gastronomy was originally intended to refer only to the scientific investigation of cooking,though it has been adopted by a number of people and applied to cooking itself or to describe a style of cuisine.
In the late 1990s and early 2000s, the term started to be used to describe a new style of cooking in which some chefs began to explore new possibilities in the kitchen by embracing science, research, technological advances in equipment and various natural gumsand hydrocolloids produced by the commercial food processingindustry.It has since been used to describe the food and cooking of a number of famous chefs, though many of them do not accept the term as a description of their style of cooking.Other names for the style of cuisine practiced by these chefs have included "New Cuisine", "Progressive Cuisine", "Nueva Cocina", "Culinary Constructivism", "Modern Cuisine", "Avant-Garde Cuisine", "Experimental Cuisine", "Techno-Emotional Cuisine", "Molecular Cuisine" and "Molecular Cooking", though no singular name has ever been applied in consensus and the term molecular gastronomy continues to be used, in many cases, as a blanket term to refer to any and all of these things – particularly in the media.Ferran Adrià prefers the term 'deconstructivist,' at least in regards to his own style of cooking.
Great Chefs who Took The Lead
These Chefs Will Definitely Inspire Us Through Their Dedication and Passion Towards Culinary World.Their Books are Given Below if your Situations Permits Read Them it will Surely Opens Up a New world of Opportunities.
Chefs who are often associated with molecular gastronomy because of their embrace of science include
Life, on the Line: A Chef's Story of Chasing Greatness, Facing Death, and Redefining the Way We Eat Grant Achatz,Ferran: The Inside Story of El Bulli and the Man Who Reinvented Food Ferran AdriàTapas: A Taste of Spain in America,José AndrésHeston Blumenthal: The Biography of the World's Most Brilliant Master ChefHeston Blumenthal,Lucido ludicoPierre Gagnaire,Will Goldfarb,Adam Melonas,Randy Rucker,Kevin Sousa,Sean Wilkinson,Will LaRue and Laurent Gras.Sean Brock,Homaro Cantu,Michael Carlson,Wylie Dufresne,Sat Bains,Richard Blais,Marcel Vigneron.
Below are the Few Attempts From Finediningindian.Com
Chefs Please Refer Some Books we attached To be More Creative and Challenge Some Traditional Recipes to Convert by Molecular Cuisine Inspiration Texturas Lecite, 300grams
Strawberry Lassi AIR,Sweet Poppadum Wafer

Fresh Yoghurt -100 gm
Strawberry Coullis – 20 gm
lecithin – 3 gm
sugar – To Your Taste
Method
Use a hand held Blender, Blend thoroughly Yogurt ,Strawberry Coulis and Sugar, Mix Lecithin and Blend vigorously till you get good froths, just take the froth and serve immediately.
Texturas Calcic, 600grams
Texturas Algin, 500grams
Texturas Eines, Set Of Tools
Beetroot and Cumin Shorba Semi-Sphere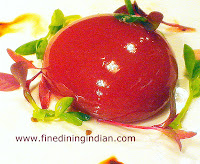 Semi Thick puree of cumin and beetroot shorba(soup) – 60 gm
Clacic – 2 gm
Algin Blend in water 500 ml – 3 gm
Sphererical Spoon fromThe Kit – 1 no:
Perforated Spoon – 1 no:
Method
Blend together 1 and 2 Ingredient , Blend algin in water with out any Lumps rest in Cold place for getting a clear Solution.
Using the Spherical spoon , Drop a spoon full of Beetroot mixture slowly to the Surface of Algin Solution.
stir slowly the Solution. Time period you leave the Mixture in solutions gives you the Outside layer thickness.
Slowly take out the sphere using the Perforated spoon, store in Clear chilled Water ,Serve Chilled
Texturas Agar, 500grams
Texturas Lecite, 300grams
Semi Jelly of Saffron Coconut ,Sugar Confit baby plum Tomato, 3 Dimensional Cardamom Air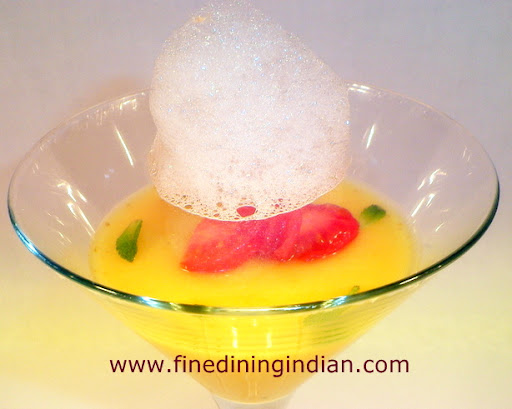 Molecular Gastronomy Xanthan Gum, Artistre, 1 x 1LB
Texturas Lecite, 300grams
Suspension Of lime and Mint Sherbet ,Cranberry Air
Some Fantastic Books Available In Market