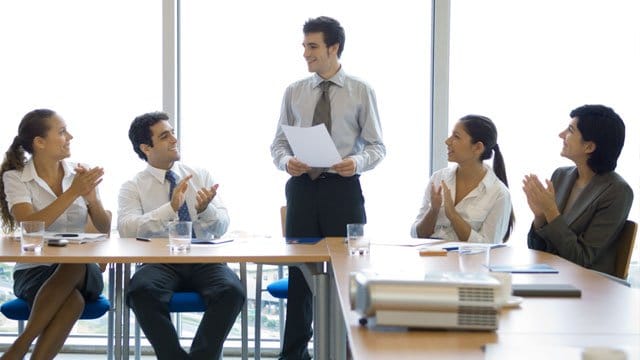 Lead and Motivate your staff
Leading your staff through change
The ability to cope with change is a basic requirement for many small businesses. Mergers and acquisitions may be prevalent in your sector, and technology is changing the way businesses work all the time.
It's important that change should cause as little disruption to the business as possible. This means your staff should be prepared for it and not fear the consequences. If their concerns are ignored or mismanaged staff will feel vulnerable and demotivated and the quality of their work may suffer. Helping staff adapt to change.
Whatever the nature of the change, leadership during this time is built on good communication. Therefore you should try to:
Eliminate uncertainty – be honest and upfront from the beginning of the change process. Give as much information as you can about the change, and the impact it will have on people and ways of working.
Be visible – try to give the key message face to face. They'll appreciate hearing it from you in person.Match the mood to the message – the way you communicate is almost as important as the message itself. If you have got bad news, give it sensitively.
Delegate – you can control the information you give by using managers who know their staff and know how best to communicate it. Give people the opportunity to input, ask questionsand provide feedback. Make sure this isn't just a cosmetic exercise, they may just have the solution to your problem.
Try to see change as an opportunity, rather than a threat. Because it requires more leadership, it's a chance for you to grow in the eyes of your employees. If you earn more respect it will increase their motivation to work for you.
What motivates employees
The way your employees feel about their job and their workplace determines how motivated they are. There is a clear link between job satisfaction and productivity.
Job satisfaction depends partly on tangible rewards – for example, how much a person is paid and what benefits they receive. See our guides on how to set the right pay rates and implement staff incentive schemes.
However, job satisfaction also depends on the culture of an organisation. This means the things that make your business distinctive and make the people who work there proud to do so.
You can motivate people with:
varied And Interesting Work – Perhaps Giving The Opportunity To Travel
high-quality Training And Development – Eg Encouragement To Study For Professional Qualifications
an 'open Door' Culture In Which Managers Are Approachable
authentic Management And Leadership Whose Behaviour Is Consistent And Genuine
respect For A Good Work-life Balance – Eg Offering The Opportunity For Flexible Working
fairness At Work, Including Promoting Equality And Diversity
proactive And Regular Communication
regular Appraisal And Positive Feedback – Restating Business Objectives And Recognising Your Staff's Contribution
requests For Feedback, Either In Person Or Via Staff Surveys, On How Employees Feel About Their Roles, The Support They Get, And Improvements To The Business
the Chance To Socialise With Colleagues At Organised Events
recognition And Reward For Ideal