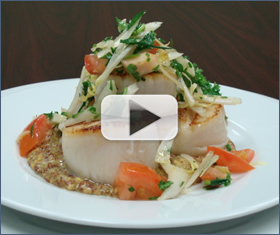 Famous French Chefs – Michel Bras-cooking Show – Our so Called Indian Star Chefs in London and India Should Learn From him so Humble even his Grand image
Michel Bras is a great chef from France.
He and his son run a restaurant and hotel in Laguiole, in the Aveyron department. He learned to cook from his mother who still makes the "Aligot" dish with maestria from time to time. His restaurant was voted 7th best in the world in Restaurant (magazine) Top 50 2008.
One of his top dish was a chocolate coulant with blue cheese.In 2008, Michel Bras worked with Kai cutlery (the producers of Shun) to create a custom knife series.
Cooking Videos
Refer the Below Video's:
https://youtu.be/T9OphPDL5uc
https://youtu.be/_rOBuw9hqtw
https://youtu.be/0e5IVQGYsN0
https://youtu.be/rQikV5-vAx8