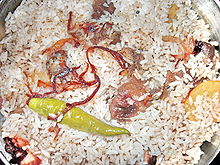 Best Biriyani Around the world and its Origin
Biryani was originated in Iran (Persia) and it was brought to South Asia by Iranian travelers and merchants. Local variants of this dish are popular not only in South Asia but also in Arabia and 
within various South Asian communities in Western countries.
The spices and condiments used in biryani may include, but are not limited to, ghee, nutmeg, mace, min, pepper, cloves, cardamom, cinnamon, bay leaves, coriander,mint leaves, ginger, onions, and garlic. The premium varieties include saffron. For a non-vegetarian biryani, the main ingredient that accompanies the spices is themeat—beef, chicken, goat, lamb, fish or shrimp. The dish may be served with dahi chutney or Raita, korma, curry, a sour dish of eggplant (brinjal) , boiled egg and salad.
The difference between biryani and pullao is that while pullao may be made by cooking the items together, biryani is used to denote a dish where the rice (plain or fried) is cooked separately from the thick sauce (curry of meat or vegetables). The curry and the rice are then brought together and layered, resulting in a dish of the contrasting flavors of flavored rice (which is cooked separate with spices) and intensely flavored sauce and meat or vegetables.
What differentiates a Biryani from a Pilaf is that in a Biryani, the rice and meat with vegetables are cooked in layers whereas in a Pulao, the rice is mixed with the meat and vegetables and cooked together. Pilaf appears to be native to India, whereas Biryani is the Mughal influence in the Indian Subcontinent.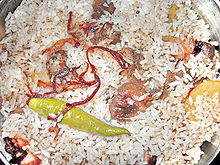 Bangladeshi home-made beef biryani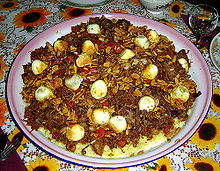 Iraqi Biryani (as served in Amman,Jordan)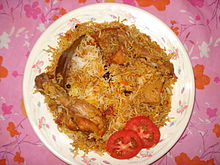 A Pakistani version of the Bombay biryani.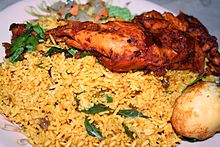 Sri Lankan Chicken Biryani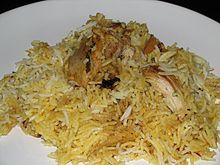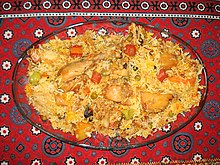 Sindhi biryani from Pakistan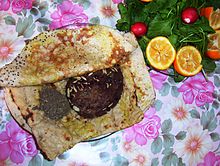 Iranian Biryani's (Isfahan)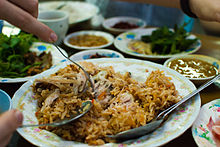 A dish of Burmese biryani (locally known as danpauk), 
as served at Kyet Shar Soon in Yangon, Myanmar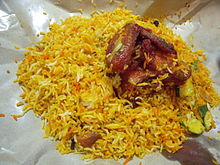 Nasi Biryani sold in Bukit Batok,Singapore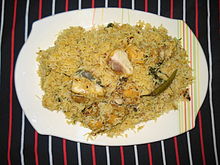 A fish biryani cooked in Pakistani style
Hyderabadi Biryani
Non-vegetarian Hyderabadi biryani is savored in all parts of India and forms an integral part of Indian cuisine. The Nizam's kitchen boasted of 49 kinds, which included biryani made from fish, quail, shrimp, deer and hare. The most famous of all, Hyderabadi Biryani is called the "Kacchi Yeqni" Biryani as both the marinated meat and the rice are cooked together.
Non-vegetarian Bhatkali biryani is a special biryany savored in all parts of coastal Karnataka and forms an integral part of Navayathcuisine. The Bhatkal's biryani evolved from the Bombay biryani which was further refined to give a distinct color taste and flavour. Bhatkali biryani can be of various kind, which include biryani made from either mutton, fish, chicken, beef, or shrimp. The biriyani is quite different from others across India in that the onions are used in larger proportions compared to other regions. The dish is cooked with the meat and onion based sauce being at the bottom of the cooking pot with a thick layer of rice on top, the rice and meat are mixed before serving. Local spices such as cardamom, cloves and cinnamon are used to get the distinct aroma.
Kacchi Biryani is a special preparation of the dish. It is called 'Kacchi' because this style originated in the Kutch region of the Subcontinent.[Kacchi Biryani is same as Kacchi Yeqni" means raw marinated meat cooked with rice] It is cooked typically withgoat meat (usually 'khasi gosht', which is meat from castrated goats and often simply referred to as mutton) or with lamb, beef and rarely with chicken. The dish is cooked layered with the meat and the yoghurt based marinade at the bottom of the cooking pot and the layer of rice (usually basmati rice) placed over it. Potatoes are often added before adding the rice layer. The pot is usually sealed (typically with wheat dough) to allow cooking in its own steam and not opened till ready to serve. The challenge in the art of cooking kacchi biryani is to cook the meat till tender without overcooking the rice. When serving up the dish the chef takes a bit of rice from the top layer and meat from the bottom layer and deftly serves it up together. A boiled egg and mixed salad often accompanies the dish. This is one of the most popular delicacies of old Dhaka, Bangladesh and Hyderabad, India. It is featured in wedding feasts in Bangladesh and is usually served with borhani, a spicy drink.
Lucknowi (Awadhi) Biryani
Lucknow and biryani have an almost symbiotic relationship. The Lucknow (Awadhi) biryani is the footprint that the Muslims of theMughal Empire left on the northern part of India. It originated in the village 'Bare Next' and although it originated in the North, Virani Biryani has also picked up flavors of the South. The Awadhi Biryani is also known as "Pukka" Biryani as the rice and meat are cooked separately and then layered. Its taste is diffrent from the other places. It cooked into the big patilas of Tamba.In the last time of cooking they put some ashes on the lid of patila/Degh to all round cooking.
This type of biryani is only found in the Moradabad city of the state of Uttar Pradesh in India. It is also known as Moradabadi Yakhni Biryani. This is so because, it is prepared with pre cooked meat boiled with spices(masalas and khushboos), which is known as Yakhni(meat stock). A slightly different version of this biryani is also found in Delhi, which is made up of slightly different spices and a different variety of rice. A special thing about this biryani is that it is flavoured with nutmeg, mace and Butter chillies(locally known as "pili Mirch"), which are not widely used in the Delhi version of the Moradabadi Biryani, and this makes it different.
The third in the list of famous Biriyanis, Calcutta or Kolkata biryani evolved from the Lucknow style when Wajid Ali Shah, the lastnawab of Awadh was exiled in 1856 to the Kolkata suburb of Metiaburj.[3] But he did not forget bringing his personal Chef with him as he was very particular about his food. Due to recession Aloo (Potato) had been used instead of meat. Later on that has been an iconic difference in Calcutta Biryani, though meat is also served along with it. In addition, Calcutta biriyani is much lighter on spices (Masala) than compared to other Biryani's.
The Sindhi biryani variant of Biryani is very popular in Pakistani cuisine and Biryani of all types are eaten in all parts of Pakistan and the world. In Pakistan Biryani enjoys substantial popularity, particularly in the cities of Karachi and Hyderabad, where the chicken version is popular. Most Biryani cuisines in Pakistan combine elements of Sindhi Biryani such as the common use of Yogurtrecipes. The national flag carrier, PIA, also serves this cuisine for most of its western bound flights to give foreigners a feel of Pakistani cuisines.
There is also another meat free version prepared in the Punjab and northern areas of Pakistan that has proved quite popular and to meet the dietary requirements. The dish offers the usual local vegetables as well as a sour yogurt to cool off the stomach from the spices.
Memoni biryani was developed by the Memon ethnic group and is very similar to Sindhi Biryani. It has variations though, among families, as do most biryanis, though the Bantva Memons community most commonly makes biryani in this form. Memoni biryani is made with lamb, yogurt, fried onions, and potatoes, and less tomatoes compared to Sindhi biryani. Memoni biryani also uses less food coloring compared to other biryanis, allowing the rich colors of the various meats, rice, and vegetables to blend without too much of the orange coloring. Memoni biryani is especially notable in Karachi, Pakistan.
Tahari, Tehri or Tehari is the name given to the vegetarian version of Biryani and is very popular in Pakistani and Indian homes. In Bangladesh, Tehari refers to Biryani prepared by adding the meat (usually beef) to the rice as opposed to the case of traditional Biryani, where the rice is added to the meat. In Kashmir tahari is served out-doors on roads and streets. This is done so that a traveler, who may be hungry, can eat this to satisfy his hunger.
The Kozhikode Biriyani variant of biryani is very popular in Kerala cuisine introduced by Muslims. This preparation is popular across the coast of Kerala—the Malabar region particularly. The biriyani may contain beef, chicken, mutton or fish as the main ingredient. The biriyani is quite different from others across India in that the rice used is generally mixed with ghee to produce a very rich flavour. Although local spices such as nutmeg, cashew, cloves and cinnamon are used, there is only a small amount of chilli (or chilli powder) used in the preparation making the dish much less spicy in comparison to other biriyanis from across India. It is also known as Malabar biriyani, which is the made all along the Malabar area in Kerala from Kozhikkodu (Calicut) to Kasargod, with minor or no taste variation.
In Myanmar, biryani, known in Burmese as danpauk/danbauk  or danpauk htamin , is popular. Popular ingredients are cashew nuts, yogurt, raisins and peas, chicken, cloves, cinnamon, saffron and bayleaf. In Burmese biryani, the chicken is cooked with the rice.Biryani is also eaten with a salad of sliced onions and cucumber. In Yangon, there are several restaurant chains that serve biryani exclusively. It is often served at religious ceremonies and luncheons. Biryani in Myanmar utilizes a special rice grown domestically rather than basmati.
In Thailand, Thai Muslims have popularized a local variety of the dish, known as Khao mok, which is popular throughout the country. Chicken and beef are the most common form but there is also a goat version that is eaten almost exclusively by the Muslim population. Along with Thai Massaman curry (Musulman Curry) and satay it is one of the most notable Muslim Thai dishes. Biryani is also another name for heena.
In Sri Lanka Biryani is most popular amongst Muslims and is usually served with chicken, beef or mutton. In many cases, Sri Lankan biryani is much spicier than most Indian varieties. Popular side dishes include Acchar, Malay Pickle, cashew curry and Ground Mint Sambol.
A popular form of biryani uses string hoppers as a substitute for rice. It is often served with scrambled eggs or vegetables.
During the Safavid dynasty, a dish called "Berian Polo"  was made with lamb or chicken, marinated overnight – with yogurt, herbs, spices, dried fruits like raisins, prunes or pomegranate seeds – and later cooked in a tannour oven. It was then served with steamed rice.
In its more original form, in some cities the dish is known as "Dam Pokht/Dam-pokhtak". The compound in Persian means "steam-cooked"—a reference to the steamed rice that forms the basis of the dish. This name is still in common use in Iran alongside "beriani". In Southeast Asian countries such as Burma/Myanmar, this older, general Persian term is in common use, as 'danpauk'.
In the central Iranian city of Isfahan, Berian is made with cooked mutton or lamb, which is stewed and minced separately, and then grilled in special small round shallow pans in an oven or over a fire. The meat is generally served with powdered cinnamon in a local bread, usually "noun-e taftoun", but also occasionally "noun-e sangak".
Al Biryani is one of many famous dishes from the traditional Iraqi kitchen. It is widespread in Iraq as well as many other middle eastern countries. It is also very popular and considered a staple cuisine throughout the Kurdish territories. Different variations of biryani can be found in the different regions of Iraq. It is believed that the cooking style of "Dum" or "cooking in steam" style of cooking has its origins in Arabia.Typically with Iraqi biryani the rice is usually saffron based with either lamb or chicken being the meat or poultry of choice. Iraqi biryani is usually quite mild in terms of its spicyness when compared to its south-east Asian variants. Some variations include vermicelli or mixed nuts and raisins spread liberally over the rice.
In Malaysia and Singapore, the dish is called Nasi Beriani or Nasi Beryani or Nasi Briani or Nasi Minyak. It is commonly served with Rendang dish and Sirap Bandungbeverage especially during wedding receptions of Muslim Malays community. Nasi Beriani Gam, a special version of the dish is famous and favourite in the southernMalaysian state of Johor, especially in Muar and Batu Pahat.
In Singapore, the dish is called Nasi Briyani by the Malays or simply Briyani by the Indians (note the different spelling and pronunciation: "briyani" as opposed to "biryani"). It is a very popular dish amongst the local population, especially Singaporean Indians and Malays, being a choice serving at weddings of both these communities. There are also speciality restaurants, commonly in Little India and Arab Street, and also regular Indian Muslim food stalls in coffee-shops all over the island that serve several types of briyani; distinctly Indian or Malay. The very common types come in either the chicken, mutton or fish versions, always accompanied with Achar (a pickled combination of cucumbers, onions, red chillies and pineapples) or Raita and a hard-boiled egg (in South Indian versions only). There are also Afghan, Iranian and Turkish manifestations of this dish available in some restaurants.
There's a version of Biryani in the Philippine's Pampanga region on the northern island of Luzon and in the predominantly Muslim areas of the southern island of Mindanao and the Sulu archipelago. The Kapampangan Nasing Biringyi is related to the Malay Nasi Beriani, see Kapampangan cuisine.
In the southern island of Mindanao, biryani style rice dishes are served during big celebrations.
This variety of briyani is quite popular in south India particularly in Dindigul, Tamil Nadu.There are quite a number of eateries serving this type of briyani. Thallapakatti literally means turban in Tamil.
Originating around Dindigul in Tamil Nadu, India is prepared using a small rice called seeraga samba and with special ingredients.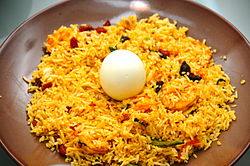 This particular variation of Biryani brings out the tender and delicate flavor of shrimp. Unlike other kinds of biryanis, it's quicker to prepare and does not require long hours of complex marinating procedures. It's usually served with a side of baingan masaledar.
The Fish Biryani is has same spices as Sindhi Biryani or Shrimp Biryani and uses different varieties of fish instead of shrimp,beef, mutton of chicken. In Europe and North America, salmon is the most popular fish used in Fish Biryani. It is also known as fish khichdi in Britain.
The Daal Biryani is offers the addition of Daal to the ingredients of vegetable biryani. Addition of daal along with basmati rice, colorful vegetables, spices and fragrance enhances nutritional value to make it a sumptuous dish.
article and picture courtesy to Wikipedia