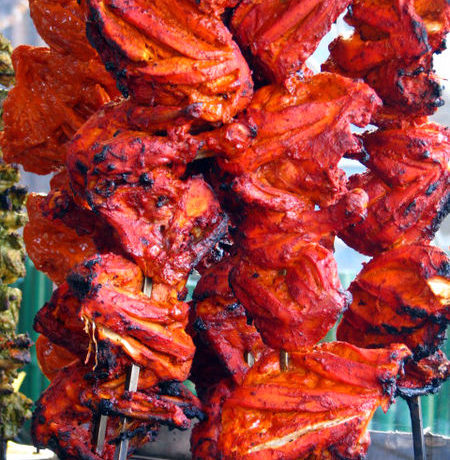 Indian Chicken Dishes Made Popular Through Famous Indian Restaurants
During our research for famous Indian chicken preparation, which mainly consist of chicken as a main ingredients following are the dishes that came unanimously during our survey around the Globe. This is not supported by any factual evidence but when you search you can find these are first three chicken dishes comes to ones mind who had a close relation with Indian cuisine. Our Dear Readers can suggest your favorite dishes we research on it if found it equally popular we will add that to the List here.
Tandoori Chicken
The story of its origins lies with Kundan Lal Gujral, a Hindu Punjabi, who ran a restaurant called Moti Mahal in Peshawar in the 1920s. Following the partition in 1947, Gujral found himself one of many Hindu refugees fleeing to India to escape the rioting and upheaval. He moved his restaurant to Delhi in a place called Daryaganj. Using new recipes to keep his patrons interested, Gujral tried cooking chicken in tandoors which were until then only used to cook naan. Tandoors are bell-shaped ovens set into the earth and fired with wood or charcoal; they can reach temperatures of about 485°C (903.5°F).
Tandoori chicken in Punjab, Pakistan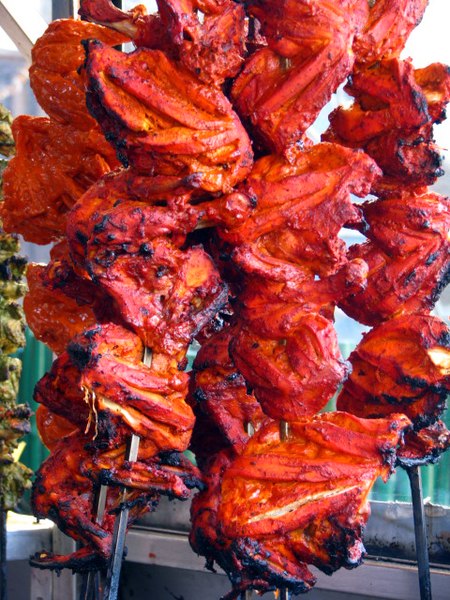 The tandoori chicken at Moti Mahal so impressed the first Prime Minister of India, Jawaharlal Nehru, that he made it a regular at official banquets. Visiting dignitaries who enjoyed tandoori chicken included American Presidents Richard Nixon and John F. Kennedy, Soviet leaders Nikolai Bulganin and Nikita Khrushchev, the King of Nepal, and the Shah of Iran.
The fame of tandoori chicken led to many derivatives, such as chicken tikka (and eventually the Indian dish popularized in Britain, chicken tikka masala), commonly found in menus in Indian restaurants all over the world.
Preparation
The chicken is marinated in Yoghurt and seasoned with tandoori masala. It is moderately piquant in India, but the heat is reduced in most Western nations. Cayenne pepper, red chili powder or kashmiri red chili powder is used to give it a fiery red hue in the original version. A higher amount of turmeric produces an orange color. In milder versions, both red and yellow food coloring are used to achieve the color.It is traditionally cooked at high temperatures in a tandoor (clay oven), but can also be prepared on a traditional barbecue grill.