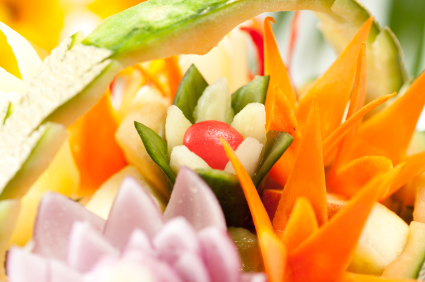 Food Styling Career for Indian Chefs
Food styling can be explained as a process of presenting food in such a manner, so that it will provide an aesthetic appeal to the presenter & to whom it's presented.Ones perception of food will not be same as other Even the colours we like may not be yours. So many points adds up to a great food presentation.
"There is a great saying we eat first with our eyes", it's a very true. statement a shabbily presented food will not increase your appetite or tickle your taste buds.
We can undoubtly compare a beautifully presented food with a well-dressed lady or wonderful piece of painting
After reading this article if you can gain some wisdom about presenting an excellent dish our vision is achieved in supporting fine Indian chefs please pass the knowledge you gained to your colleagues & juniors .help in leading a next generation Indian cuisine movement food presentation is the art of modifying, processing, arranging, or decorating food to enhance its aesthetic appeal.
The visual presentation of foods is often considered by chefs at many different stages of food preparation, from the manner of tying or sewing meats, to the type of cut used in chopping and slicing meats or vegetables, to the style of mould used in a baked dish.
The food itself may be decorated as in elaborately iced cakes, topped with ornamental sometimes sculptural consumables, drizzled with sauces, sprinkled With seeds, powders, or other toppings or it may be accompanied by edible or inedible garnishes.
The arrangement and overall styling of food upon bringing it to the plate is termed plating some common styles of plating include a 'classic' arrangement of the main item in the front of the plate with vegetables
Or starches in the back, a 'stacked' arrangement of the various items, or the main item leaning or 'shingled' upon a vegetable bed or side item. Item location on the plate is often referenced as for the face of a clock, with six o'clock the position closest to the diner. A basic rule of thumb upon plating, and even in some cases prepping, is to make sure you have the 5 components to a dish; protein, traditionally at a 6 o'clock position, vegetable, at a 2 o'clock position, starch at an 11 o'clock position, sauce and garnish.
FREE PICTURES OF INDIAN FOOD
In Today's Modern World of Chefs This Clock Styles Are out Dated many don't follow a rule it's an Abstract style, Line style or Pattern Style.
It's all The Creative freedom of Chef & His Choice how his Food will get its Fair Share of Appreciation .Some even serve Food Straight on the Cooking Pan.
Food Stying As a Career
Food Styling through Photography is a specialization of commercial photography, aimed at producing attractive photographs of food for use in advertisements, packaging, menus or cookbooks. Professional food photography is a collaborative effort, usually involving an art director, a photographer, a food stylist, a prop stylist and their assistants
As a Food Stylist
Food stylist is to make the food look attractive in the finished photograph. The main difference between how a home cook or chef may present food and what a stylist does is the time and effort a stylist takes to carefully and artfully arrange the food. Also required is the visual know how, and ability to translate the perception of taste, aroma and appeal that one gets from an actual dish, to a two-dimensional photograph.
Food stylists have culinary training; some are professional chefs or have a background in home economics. In addition to knowledge of nutrition and cooking techniques, food stylists must also be resourceful shoppers. As creative professionals, they envision the finished photograph and style the food accordingly.
The process of food photography begins with the purchase of the food and ingredients. Because only the most visually perfect foodstuffs are acceptable and multiple backup or test items are usually needed, this is a very time-consuming process. The best-looking of the purchased items is selected and marked as the "hero", i.e., the item that will be featured in the photograph. During the setup and for test shoots, it is represented by a cardboard stand-in.
The actual photography takes place in a studio under controlled lighting conditions. The light, background and setting are carefully prepared so as to present the food in an as attractive way as possible without distracting from it. The color and texture of the background is selected so as to effectively complement that of the food and to assist with its lighting.
In addition to choosing, preparing and composing plated food, food stylists use numerous techniques to make appear the food as attractive as possible. These may include:
Creating steam with cool air nebulizers or a combination of chemicals that give off smoke that gives the appearance of steam;
Spraying food with water or mixtures of water, corn syrup, or other liquids to keep food looking fresh;
Making a mixture of solid shortening, corn syrup, and powdered sugar (essentially a very stiff frosting) that can be scooped to stimulate real ice cream;
Using a variety of browning agents (usually mixtures used to brown gravies or sometimes heat activated liquids used in commercial bakeries) to enhance the colour/brownness of cooked meats and poultry;
Using heavy cream instead of milk in bowls of cereal to prevent flakes from becoming soggy too quickly. The use of white glue is generally discouraged, and is not usually encountered. (as most cereal companies prohibit this practice).
Blanching green vegetables to just bring up their bright colour, rather than cooking them completely. Other vegetables and foods may be cooked just to colour, so they do not brown or become wrinkled if they must stand under the camera for a while.
Adding water to beverages so light will filter through better and add sparkle to the drink.
NB: "For us Chef's Food styling can be used as a Restaurant, Menu, or self, Marketing Tool. Many Ideas can be used in our day to day operation provided you plan these Styling steps in advance."