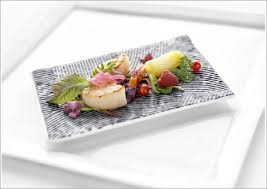 Modern Tapas Bar Menu Indian Cuisine Inspired for New Age Chefs
Tapas tapas are a wide variety of appetizers, or snacks, in Spanish cuisine. They may be cold or warm . In select bars in Spain, tapas have evolved into an entire, and sometimes sophisticated, cuisine. In Spain, patrons of tapas can order many different tapas and combine them to make a full meal.
The serving of tapas is designed to encourage conversation because people are not so focused upon eating an entire meal that is set before them. Also, in some countries it is customary for diners to stand and move about while eating tapas.
The word "tapas" is derived from the Spanish verb tapar, "to cover".
According to legend, the tapas tradition began when king Alfonso X ofCastile recovered from an illness by drinking wine with small dishes between meals. After regaining his health, the king ordered that taverns would not be allowed to serve wine to customers unless it was accompanied by a small snack or "tapa".
According to The Joy of Cooking, the original tapas were the slices of bread or meat whichsherry drinkers in Andalusian taverns used to cover their glasses between sips. This was a practical measure meant to prevent fruit flies from hovering over the sweet sherry. The meat used to cover the sherry was normally ham or chorizo, which are both very salty and activate thirst. Because of this, bartenders and restaurant owners began creating a variety of snacks to serve with sherry, thus increasing their alcohol sales. The tapas eventually became as important as the sherry. (courtesy wikepedia)
Some great chefs from ferran adria, Chef Arzak and may have taken Spanish tapas to great heights.
we at Finediningindian.com inspired by this concept of spanish cuisine to create a tapas menu for our readers , This is a guideline menu you can create more from your ideas.
Our indian cuisine has wide variety of snacks,short eats that can be easily designed to tapas style. This tapas menu will provide an excellent marketing value to your bar, tapas are very cost effective , creativity and innovation in tapas has no limits, through tapas you can showcase your culinary skills and more over tapas are and additional revenue generator for your bar or restaurants.
In current culinary trend Tapas are must for any upscale bar there are many luxury brand hotels has tapas Bar inspired by molecular cuisine, scientific gastronomy and so on to name a Few Sirocco restaurant and bar , Bar boulud , M Bar at Mandarin oriental Hongkong , Tapas Molecular Bar at Madarin oriental Tokyo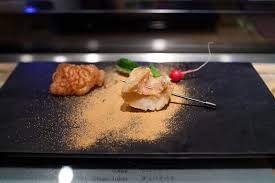 Finediningindian.com

Tapas Menu

Kamal Kakdi Frtitters
with tomatar mirch chutney
( lotus root fried with spiced batter ,roast tomato and red chilly relish)

bhutte ki Tikki
with mint air
(minced baby corn mini patties with mint and yoghurt air )

Bater ande bhurji masala
with alba truffle shaves
(quail egg scramble with spices)

Tandoori kargosh tangdi
with kashmiri apple chutney
(rabbit leg marinated and cooked in tandoor)

kariveppilla kanava porichathu
(kerala style calamari fritters with curry leaf)

Mini galouti kebab
with gold leaf
(the famous galouti kebab served a piece of edible gold leaf)