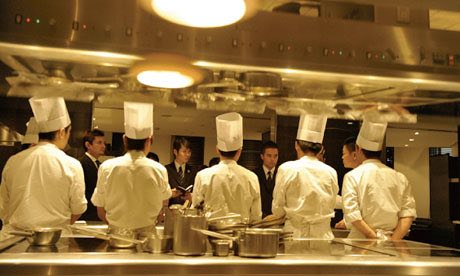 Worlds Top Ten Restaurants and Chefs 2012
1. Noma's 


innovative, inventive and – of course – ground-breaking approach to cooking has created a maelstrom in the culinary world. The restaurant, for example, has taken the tired old concept of the amuse bouche and turned it into a dazzling array of one-bite starters that are alone worth the air fare to Denmark. Through the use of innovative cooking methods, Rene Redzepi's former warehouse on the dockside has changed diners' perceptions of Nordic cuisine. It is a restaurant of extraordinary pedigree, where passion and honesty is reflected in every mouthful. 


2. El Cellar De can Roca 


The passion for cooking and hospitality shared by the three Roca brothers is palpable, but the food is playful rather than serious – caramelised olives are brought to the table on bonsai trees – and Catalan ingredients are given centre-stage billing on the menu. Clever techniques complement simple flavour combinations designed to titillate the palate and the memory rather than confuse the mind. It's clever stuff – but thankfully it is also utterly delicious.


3.Mugaritz 


is a place where diners go to have their preconceptions of food smashed to pieces. Its dishes are designed to tell a story, evoke an emotion, and bring some magic to the dining experience. The food is exceptional, of course. Andoni Luis Aduriz and his kitchen would have been found out long ago if their approach was all style and no substance, but it is the overall package that makes Mugaritz such a unique and beguiling restaurant.
 Download free ebook's              New Generation Indian Chefs
4.D.O.M.'s 


principal aim is to champion produce from Brazil and the Amazonian region, from everyday palm hearts and cassava to obscure finds from the rainforest. More familiar European fine-dining fare gets a look-in, but often in supporting roles to the likes of cambuca fruit, manioc root and tucupi juice. Chef-patron Alex Atala's one-man mission to promote and develop Brazilian cuisine – rooted in this 50-cover restaurant in the centre of the southern hemisphere's largest city – remains determinedly on course.


5. Osteria Francescana


Few chefs balance the demands of tradition and modernity as effectively as Massimo Bottura. A meal at Osteria Francescana might begin with a simple plate of local coppa ham before segueing easily into more complex plates that seek to play with or shake up the cooking of the Emilia-Romagna region. Deconstruction is a recurring theme, but the restaurant, which was awarded a third Michelin star last year, is otherwise refreshingly informal and low-key.


6.Per Se 


Perfect execution; constant evolution. These twin traits help define Per Se, Thomas Keller's superb restaurant where New York's moneyed élite dine in plush modernity overlooking Central Park. Every dish, while faultless in delivery, comes under constant scrutiny and development within the kitchen to ensure the daily-changing menu edges ever forward. The service, wine list and unshowy luxury of the space all conform to rigorously high standards, matching food that is as deeply considered as you'll find anywhere.


7.Alinea


might just be the blueprint for the restaurant of the future, but fortunately we're allowed to eat there now. Chef-patron Grant Achatz (rhymes with jackets) has entirely rethought the eating-out experience: bite-sized dishes are suspended by wires and some creations are even served directly onto the table; the food is techniqueled, using gels, foams, powders and concentrations, all served in a slickly modern interior. An extraordinary man and an extraordinary restaurant.


8.Arzak 


The philosophy of father and daughter chefs Juan Mari and Elena is simple: take good, honest Spanish food and raise it to new heights of flavour and texture, and transform eating it into a multisensory experience. While certain dishes, such as monkfish with gooseberries, are now served on computer screens, classic Basque recipes remain the bedrock of all the restaurant does, and flavour the guiding principle.


9. Dinner By Heston

The conceit at Dinner involves the reworking of historical British recipes from as far back as the 14th century by Blumenthal and chef Ashley Palmer-Watts. The food delivers big flavour and texture hits: diners can revel in the mandarin-tinged, supersmooth creamy chicken liver parfait of the meat fruit or the sweet fluffy indulgence of the Sauternes-soaked tipsy cake. These are dishes that will remain at the forefront of your taste memory-bank for years to come.


10. Eleven Madison Park 


Chef Daniel Humm and general manager Will Guidara now co-own Eleven Madison Park, which has not only leapt from having one Michelin star to three in a single bound, but can now celebrate entry into the world's top 10. The pair have charted each step of its journey together, including creating a menu format where diners choose one core ingredient for each of four courses. A relaxed but dynamic dining experience that's deeply rooted in New York.

 Download free ebook's              New Generation Indian Chefs
Source :  www.theworlds50best.com