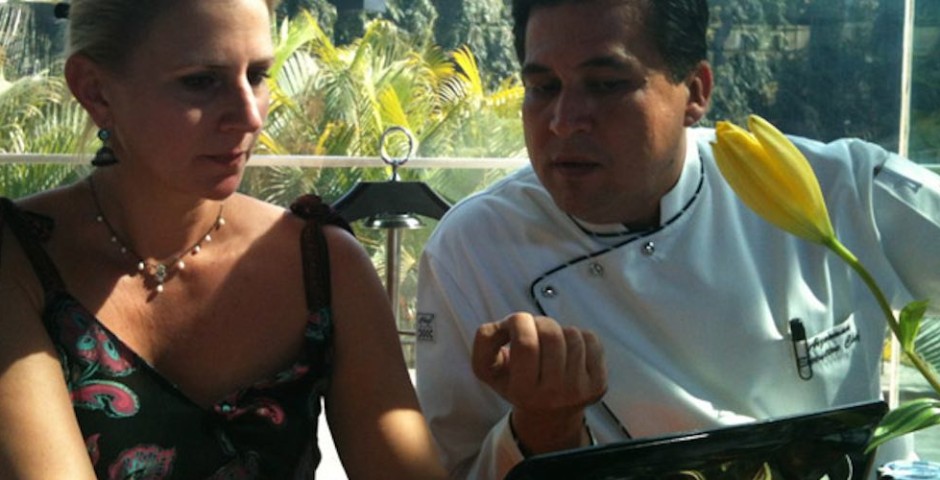 An E-mail Interview with Exe-chef Arzooman Irani of Taj Hotels
In Conversation with Chef Arzooman Irani
Where are you from?
I was born and brought up in Pune, Maharashtra. I lived there with my parents and family in an old type of home setup, with 5 rooms surrounding a central courtyard. I studied at St. Vincent's School after which I completed my pregraduation at Wadia College, Pune. And then I thought it was time to spread my wings and explore what this world had to offer.
Tell us about your background.
At seventeen, I left for Australia, where I studied at the Canberra Institute of Technology, doing a Diploma in Hotel Management. As part of my development program I had the opportunity to work in various food outlets sometimes doing even two jobs in a day (need of the hour!).
Having completed three years in Australia, I decided to go to the other side of the globe. I left for Baltimore International College, Maryland, USA to learn more about my passion. There I completed a degree in Professional Cooking. Whilst in Baltimore, I gained experience by working in different sectors of the food industry right from malls to cafes to fine dining. At one such stint I worked at The Chef Paulino Gourmet Cafe where I actually got to learn what it takes to be a good chef.
Now that I had seen the rough side of life, I thought it was time to visit the birth place of hospitality, "Switzerland". And I was on my way to Hotel Management School, Les Roches where I completed my Management studies in Hospitality, focusing on Human Resources and Organisational Behaviour.
What inspired you to be a chef?
Having grown up in a joint family my love for food was instilled in me by my grand-mother. When I watched her cook different kinds dishes using the same basic ingredients to suit or should I say pamper us it created a kind of storm in my little head. For me, at that time it was more like magic rather than cooking. It was amazing how one could be so creative. For example, a mango. We could have it raw, or she could make anything from it. Right from juice and syrups to a mango sabji to pickles. She would in those days even make a special mango liquor at home, which all my neighbours swear by. That's what totally intrigued me and then curiosity got the better of me…
Which cuisine do you specialise in?
The Mediterranean being the centre of the three largest continents provide more than enough for a seasoned palate to handle. However, I personally take pride in Italian Cuisine. As I mentioned earlier, I trained to be a Chef at an Italian restaurant and since then I have always worked towards giving my food the authentic Italian touch.
Italians by nature are a fun loving and passionate group who in the true sense have the capability of enjoying each day of their lives. And that is exactly what they portray in their food. Every meal is special …Every meal is to be savoured and enjoyed and lingered… To make this possible, their food possesses all the qualities that a perfect meal can encompass. Italian cuisine is as vibrant as their style of living. It has a subtle blend of aromatic herbs and spices, the finest meat preparations and not to forget the best wines to compliment each course come from this part of the world …
How have travel and world exposure influenced your cooking?
While travelling the globe I have come to realise that people are complex, and complex people have complex needs. Catering to these complex individuals would need a lot of flexibility and creativity. Hence I insist on not restricting myself or my team where experimenting is concerned. There is no place for rigidity. One should be able to adapt and grow with the times in order to make the most of every situation.
What do have to say about the culinary scene in Bangalore?
As it is proved Bangalore has evolved as the IT hub of India. With an influx of people from varied cultures and backgrounds the scope for expansion of the food industry in Bangalore is tremendous. There was a time, that one would hesitate to order a different cuisine, or may be the more bold ones (travelled ones) would have a dish from the odd, along with their comfort food. But change is inevitable; today's diner enjoys and indulges himself with the different cuisines of the world more frequently and is more experimental with his food.
What is your culinary mantra?
I basically have no "mantra" so to speak. But yes, what I do believe in is that, "if you get your basics right then the world is your playground"
Your ingredient obsession?
I wouldn't call it an obsession but, as I get to hear of new ingredients from different sources, I do like to find out everything there is, possibly to that ingredient. The various ways in which it can be used, all the possible combinations etc. Until I am fully convinced that I have explored the ingredient to the maximum, I do not settle down. Like I said, playing with different ingredients is like creating magic.
Your idea of a perfect meal?
It's simple, "Home cooked food". My profession demands that I taste every meal before it reaches the guest, but at the end of the day, I most definitely enjoy eating a pleasant meal at home, which doesn't have to be tasted but simply devoured!
Your signature dish?
A while ago when I was the Executive Chef of a Mediterranean stand alone restaurant in Pune, called The Ivy, I had created a dish called 'Rum n tamarind roasted spatch-cock with smoked corn custard and harissa jus'. This is the one which is close to my heart, for which I had spent quite a few working hours trying to get it right. And like always, hardwork never kills anybody. It turned out to be the best on the Menu.
We had people come to us and only order that dish, twice a week for six months. Some of them even took packing orders. I sometimes actually sat down with my guests and asked them what they enjoyed in the dish so that I could create something different on the same lines. And they just had to say, that it was so complete and yet it left them longing for more, and that's why on every occasion they came to us.
Your pet peeve?
Is seeing the newer generation, not having the enthusiasm and passion in what they are doing. Taking charge, getting things done.
Your source of culinary inspiration?
This is not something that I can put a finger on…It could just be anything…From markets down to road, to my novels and movies, to my kids jokes and their imagination… Just anything sets off the trigger…
What are the 3 things you can't do without in a kitchen?
Detail! Detail! Detail! As they say "God is in the details"
What has been your most memorable meal till date?
It was the time when I was out with family and close friends in Old Goa and we were just lazing around looking for a place to eat. That's when we came across, a small home style restaurant located in the by-lanes of a residential area in Margao. The place was run by a couple, where the husband would go fishing each morning and the wife cooked and served whatever was caught. The fun of the place was that, it had a very informal atmosphere, yet it was warm and friendly just like, one would expect of the Goan tradition of Susegad. It had a couple tables set along the outside in the courtyard and we had to go into the kitchen to check out the fresh catch of the day. We chose the fish we wanted and the preparation in which it was to be cooked. Once the food was ordered, the next thing we did was to parch our thirst. So we simply opened the fridge and took out the beer bottles as we needed it. There was no accounting, no checking… just pure trust.
The food was served shortly after. It was cooked to such perfection that it left a lingering taste in my mouth. The use of different spices and different cooking methods was very fresh and pleasing to the palette. It was an experience that made me think again that when you really cook with your heart you can make a simple thing so wonderful. At the end of meal, even the cheque was not presented to us. The lady just came with a note pad and asked us what we had and how much. We kept ordering and she kept cooking. It was truly a unique experience. Very rustic… yet very satisfying…
What advice would you give to aspiring chefs?
Culinary Trends are just that, trends. Stay updated on the latest happenings, but never forget, the Classics or the basics, those never ever go out of style.
The best compliment you have received so far on your food?
I am not one for compliments, my guests coming back is by far the biggest compliment.
Any culinary book that you would like to recommend?
Still to find one
Who is your culinary hero?
I have no specific culinary hero. I try to learn something from each chef I meet. (including the unsung hero's of the kitchens at home, the housewife's.)
If not a chef you would have been…
I have been told I should have been a lawyer, though I beg to differ!