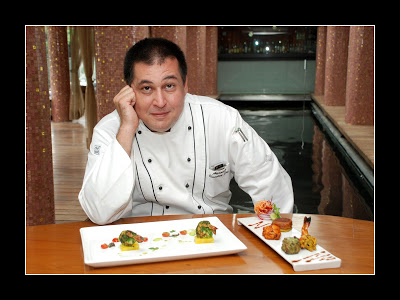 Chef Arzooman Irani
Executive Chef Arzooman Irani
loves to cook and believes that magic happens in his kitchen. "Wild at heart, deep in soul" These words aptly describe the food as well as the chef behind them.There is definitely an inventive streak to taste, to mix and match new ingredients and create food that people enjoy and take home the very essence of it.
Born and raised in Pune, Arzooman has a Diploma in Hospitality from Australia, a degree in Professional Cooking from the Baltimore International Culinary College, USA and has a Diploma in Management studies from the Swiss Hotel Association – Les Roches, Switzerland. Whilst gaining theoretical and technical knowledge, Arzooman has also been hands on, hence making him very versatile in his trade.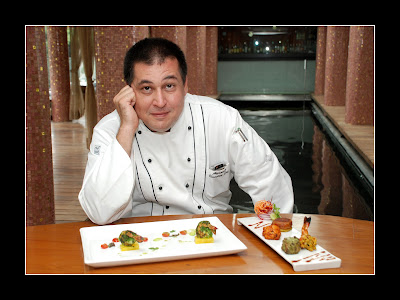 Since then, his career has taken him to hotels and restaurants from Australia to the United States to back home to his native India.
Though Executive Chef Arzooman Irani specializes in Mediterranean Cuisine, as a result of his travelling and absorbing the cuisines of different places, he has picked up a lot of cooking techniques, ingredients from each and every place that he has worked and brought about some element of his own creativity to that cuisine.
READ E-MAIL INTERVIEW WITH CHEF IRANI

Chefs Linkedin Profile
During his career as a Chef with the Taj Group of Hotels he has worked at the Taj Fisherman's Cove, Chennai, The Taj Green Cove Resort, Kovalam, Kerala and The Taj Fort Aguada Beach Resort, Goa and now at Vivanta Whitefield Bangalore.
Executive Chef Arzooman Irani FOOD PHILOSOPHY:
"Cuisine is experimentation, research, imagination and most importantly, guest's appreciation and I have built my food philosophy on the harmony of all these aspects
CREATIVE PROCESS:
"Seeing the colors and breathing in the aromas of fresh ingredients are all the inspiration I need," "From there, I begin to visualize the combinations and construct the recipes."
SOME SIGNATURE DISHES:
Black & White Sesame Crusted Sea Bass, beetroot reduction and lemon scented rice.
Pizza con Salmone e Mascarpone, handmade thin crispy pizza with smoked salmon and mascarpone.
Mildly spiced "Goan" Crab Cake, Kokum fluid gel, basil seeds.
WORDS HE LIVES BY IN HIS KITCHEN :
Let's not even talk about what we can't do, let's just talk about what we can do!
Check our Gallery