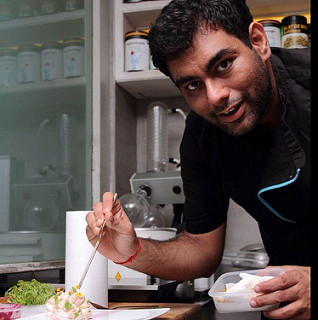 Gaggan Number 10 at Asias Best Restaurants Award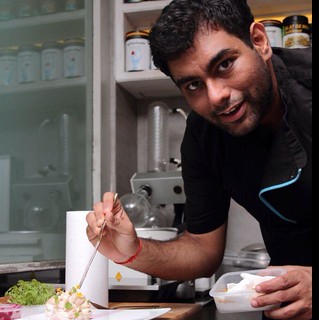 Its with immense pleasure and proud to write about chef Gaggan Anand .The man behind Gaggan in Bangkok. A Kolkata Native worked with finest Taj Hotels, Moved to world Famous Luxury lebua Hotels in Thailand

Trained with finest chefs of elbulli and few great Michelin star chef, Created his own eatery and now the world looks towards him.

At finediningindian.com we congradulate him on being in the list that only few Indian chefs and not a single London Indian chefs in the List worlds50best in Asia
Another proud moment chef Gagan anand is a passout from the same Institute  where i did my culinary lessons with great bunch of esteemed faculties, Chef Dennis, Chef Rajshekar, Chef Ivan, Chef pai salute you all in planting the first seeds of passion.

chef gaggan anands bio(picture and article courtesy gaggan.com)


A Kolkata native, showed his passion for cooking from an early age and, till this day, presents many of his mother's home style recipes. After finishing his diploma in Hotel Management he worked in Taj Group at Orient Express and Zodiac Grill. As a young chef of just 22 had the honour of cooking for former US President Bill Clinton. He has also travelled with His Excellency Abdul Kalam, the former President of India, personally taking care of all his culinary needs.
Having achieved all of the goals in India, Gaggan came to Thailand in 2007. Taking the helm at contemporary Indian restaurant Red Bangkok he quickly established a reputation as a talent to be recognised; food critics soon heralded his food as revolutionary. Indeed, the international press compared Gaggan's work to that of chefs at international Michelin-starred restaurants.
Eventually seeking fresh challenges, he became chef de cuisine for Bangkok's Lebua Hotels and Resorts, where he was part of one of the most thriving F&B operations in all of Thailand. However pursuing his dream, he along with three other friends, decided to create 'Gaggan'. While the restaurant was being renovated, Gaggan left to a once-in-a-lifetime chance – he interned with the research team of Spain's famed El Bulli, under the inspiring Ferran Adrià of Catalonia.
Gaggan was the first Indian and just the second Asian ever to enter through the hallowed doors of this extraordinary laboratory. Although he was only able to spend a few short months there, he considers his time at the nirvana of culinary knowledge one of true enlightenment. Gaggan is a chef with simple recipes made elegant by exotic presentation and futuristic cooking techniques. What he does with passion is translate those recollections of his roots into modern, innovative dishes; providing simple solutions that are authentically Indian, but also success to bridge the culinary divide between East and West.