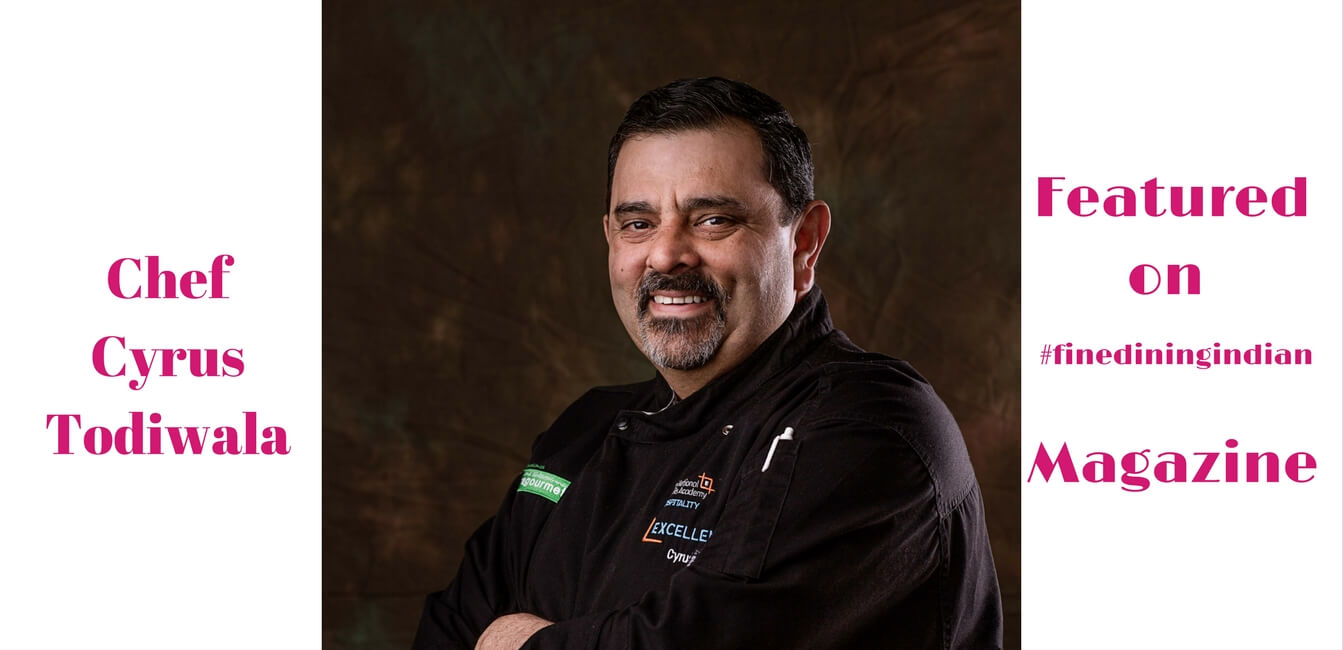 Journey and success of Chef Cyrus Todiwala
Biography as at March 2017
From 'chef of genius'ʹ to 'creator of the classiest curries in the City' and in 2014 'BBC Food Personality of the Year' this Bombay-born Parsee chef has been called all manner of good things, but the Chef Patron of Cafe Spice Namaste, Mr Todiwala'ʹs Kitchen, and The Park Café in Victoria Park East still has his feet very much on the ground…running.Chef Cyrus Todiwala 
---
Photo Credit for Chef Cyrus Todiwala :  Nitin Kapoor
[thb_gap height="70px"][thb_image alignment="center" image="4514″ img_size="full"]
[thb_gap height="70″][thb_image alignment="center" image="4510″ img_size="full"]
He cooks, teaches, writes, runs successful restaurants and does more than his fair bit for charity and the community, but Cyrus' restless, entrepreneurial soul means he's never going to stand still. He's never said no to a challenge, whether it's leaving a secure Executive Chef role in the Taj Group of Hotels in Goa 21 years ago to start all over in the UK, or bravely daring to combine flavours, spices and ingredients in ways no other Indian chef has done before.
His 'worst kept secret' Khaadraas Club Dinners held at Café Spice Namaste every 4-5 weeks feature heirloom recipes from his mother and aunts in Bombay and India. They've become coveted rituals, introducing his rich Parsee culinary heritage to a wider audience.
In 2011, with Pervin Todiwala he opened Mr Todiwala's Kitchen, the signature restaurant at the Hilton London Heathrow T5 and in 2013, The Park Cafe at Victoria Park East. A new restaurant is planned in Canary Wharf in late 2017. Cyrus Todiwala also teamed up with Scottish Chef Tony Singh in the hit prime time series on BBC2, 'The Incredible Spice Men'. He likewise appears in the travelogue 'Galleons of Spice', broadcast on the History Channel, taking viewers through a tour of the culinary traditions and influences of Goa and Portugal. Despite being a hands-on chef, he also manages to make regular media appearances, and is a popular guest chef on BBC Saturday Kitchen.
Cyrus is the author of 6 books: 'ʹInternational Cuisine: India'ʹ, 'ʹCafe Spice Namaste: New Wave Indian Cuisine'ʹ, 'ʹIndian Summer'ʹ, as well as "The Incredible Spicemen" with Tony Singh, 'Mr Todiwala's Bombay: Recipes and Memories from India', and his latest, 'Mr Todiwala's Spice Box: 120 recipes with just 10 spices'.
He appears regularly at top food festivals around the world, including Taste of London, The BBC Good Food Show, Ludlow Food Festival and the Abergavenny Food Festival in Wales (where his hand-made line of gluten‑free pickles and chutneys, Mr Todiwala's Splendidly Spicy Pickles and Chutneys, almost always sell out before the end of the show).
A passionate campaigner for sustainability and buying British, Café Spice Namaste'ʹs list of green awards includes the Sustainable Food Award from the Corporation of London and a 'ʹSpecial Achievement Award'ʹ for his commitment to the environment from the Footprint Forum. In 2016, Café Spice Namaste won a coveted Triple Bottom Line Ethical Procurement Award and the Eat Out CSR Award. Cafe Spice Namaste, which has just celebrated its 21st year, is the longest standing Michelin BIB Gourmand restaurant, having achieved every year the award since 1997.
Cyrus is the Patron of the British Lop Society, one of the rarest pig breeds. In 2016, Café Spice Namaste was once again nominated for a City of London Sustainability Cities Award. Cyrus is the proud recipient of a Craft Guild of Chefs 'ʹSpecial Award and has been made Fellow of the Royal Academy of Culinary Arts and the Master Chefs of Great Britain.
He is a member of the Asian Restaurant Skills Board, which aims to raise the prestige and profile of the Asian cuisine industry as a career choice – a cause very close to his heart, having opened the pioneering Asian & Oriental School of Catering in 2000, which went on to inspire others chefs to open their own training restaurants. Ever the innovator, ten years later, in 2013, Cyrus launched Zest Quest Asia, a first of its kind, with the Master Chefs of Great Britain, to help introduce Asian cookery to a new generation of 'homegrown' talent. He is a Founding Member of the Guild of Entrepreneurs and a Freeman of the Worshipful Company of Cooks. He is an active Ambassador of Springboard UK, the industry careers charity, the Clink Charity, an Enterprise Champion of LeSoCo and an Honorary Professor of the University of West London. He also holds an Honorary Doctorate from London Metropolitan University.
Cyrus was awarded an MBE by HM The Queen for services to education & training and an OBE for his contribution to the hospitality industry. He is a Deputy Lieutenant of Greater London. In 2012, he cooked the very first luncheon for HM The Queen's Diamond Jubilee Tour, featuring his now famous 'ʹCountry Captain'ʹ.
Written and prepared by: Gina McAdam MA, Marketing Director, Mr Todiwala's Collection, London
[thb_gap height="70px"][thb_image alignment="center" image="4513″ img_size="full"]
[thb_gap height="70″][thb_image alignment="center" image="4511″ img_size="full"]
And many more please read the magazine in detail below
---
For promotions
---
If you would like to promote your Restaurant, service or product in Finest Indian magazine Finediningindian . Please write to us – Chef@finediningindian.com
Finediningindian Magazine previous issues
---
[thb_image image="4358″ img_link="url:http%3A%2F%2Ffinediningindian.com%2F2017%2F04%2F15%2Ffinediningindian-food-magazine-march-issue-2017%2F|title:Finediningindian%20Magazine%20March%202017%20Issue|target:%20_blank|"]
[thb_image image="4356″ img_link="url:http%3A%2F%2Ffinediningindian.com%2F2017%2F04%2F15%2Ffinediningindian-food-magazine-march-issue-2017%2F|title:Finediningindian%20Magazine%20April%202017%20Issue|target:%20_blank|"]
[thb_image image="4455″ img_link="url:http%3A%2F%2Ffinediningindian.com%2F2017%2F05%2F07%2Ffinest-indian-food-magazine-may-2017-issue%2F|title:Fine%20dining%20Indian%20Food%20Magazine%20May%202017%20Issue||"]