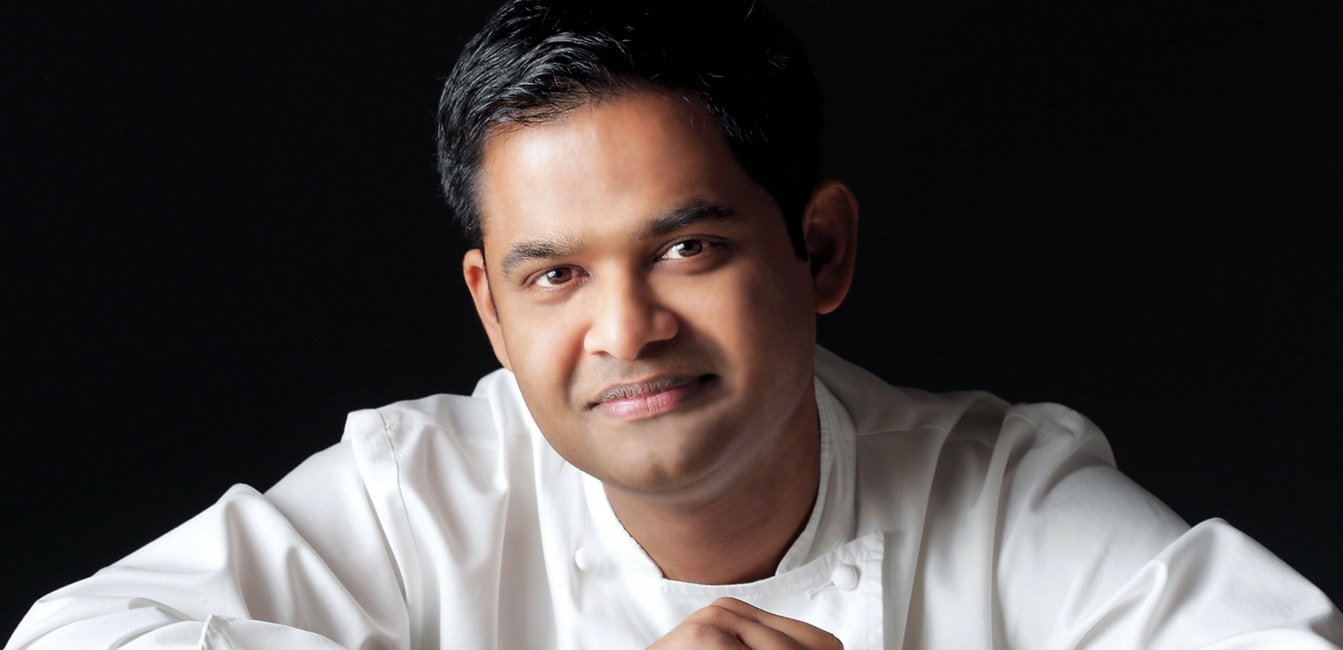 Chef Srijith Gopinathan
[yasr_overall_rating]
Chef Srijith Gopinathan 
Chef Srijith Gopinathan : San Francisco's Taj Campton Place Executive Chef:
The only two Michelin star Indian chef
As a child, Chef Srijith Gopinathan grew up being influenced by the exotic spices of Southern India that filled the air of his childhood home. His backyard blossomed with ginger and turmeric and he was often tasked by his grandmother to collect these culinary treasures and bring them into the family kitchen where he observed lessons on utilizing every part of an ingredient and spice. If his grandmother were alive today, she would be proud to know that he just earned two Michelin stars as the Executive Chef at San Francisco's Campton Place and is the only Indian Chef in the nation to receive such distinction.
His journey from the perfumed kitchen of his family to culinary school and beyond is proof that early lessons on the importance of flavour and spice are the building blocks to the precise execution of great cuisine. After graduating from the Culinary Institute of America, Chef Srijith worked in the illustrious kitchen of Raymond Blanc and Gary Jones at the Michelin two-starred Belmond Le Manoir aux Quat' Saisons in England, where he honed his extensive repertoire of classical European techniques.
Chef Srijith also spent time in upscale hotels in India before taking the helm at Taj Exotica in the Maldives.
" studied in my little home town in Kanyakumari district, southern extreme of India didgraduation in hotel management and culinary science from the University of Bangalore. cooking for fun initially later turned out to be passion and followed by taking it seriously very gradually, and here I am ….cooking and food has influenced my life, and here I am trying to change others haha."

 what you want to be known for and what legacy you want to leave behind?
I am glad and honoured to be one of the earliest ones in united states to present Indian cuisine in upscale fashion and also one of the first bunch of chefs to tell the story of Indian food American audience. As a chef and being an Indian, I would like to see Indian cuisine to be one of the mainstream cuisines along with Italian, French, Japanese and likes.
About being only 2 Michelin Indian star chef, what difference it made in your life. Challenges in retaining the star?
Very thankful to Michelin establishment for recognising our restaurant and bestowing with two precious stars but that comes with some responsibilities of delivering quality. We are trying hard to provide the same. No particular challenges but we see it as a moral responsibility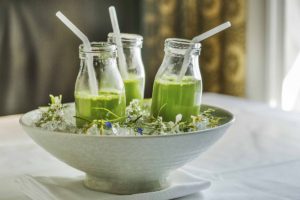 Name top five Indian restaurants around the world according to you?
I am sorry I cannot comment on restaurants I have not dined at These are no secret… Indian accent, Quilon, Konkan Cafe at Taj President and Bombay canteen ( that makes it 4 ). Campton place of course lol
Name Top Five Indian chefs in your generation and a generation before you?
Gaggan, sriram, manjit gill, ananda soloman, floyd cardoz and manish merhotra
What was your exposure and training in modernist cuisine?
I received no specific training on any modernist training. I do take every opportunity to stage with every possible chef when we have an opportunity.
How you conceive a dish, improvise traditional dish in international style?
Mostly inspired by a traditional dish or a seasonal ingredient.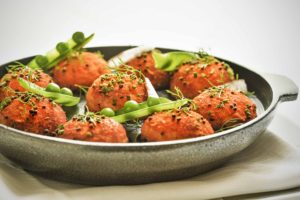 How you keep up to date, which web sites or books you refer when compiling new menu and your approach to designing a menu?
Honestly, nothing in specific but my childhood is certainly my reference book.
what guidance do you like to provide for Indian chefs; to follow a successful career like yours?
Before getting into improvising and innovating Indian food …please learn the basic simple Indian food and then make your moves further.
How you train your team with an international mix?
Constant repeating and communicating helps in teaching them. Repetition is certainly the best exercise for perfection
one of your worst food critic or comment you received?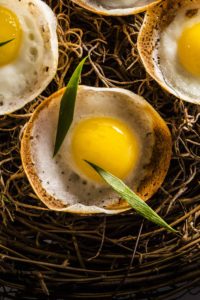 I had a vegetarian dish with potatoes in the menu.  A guest was given 1 star out of 5.  she mentioned as following,  "  I am a vegetarian and tried the veg tasting menu….3 out of 6 savoury dishes tasted like a dish my mom use to make when I was young, so I decided to give only one star. ….I till date did not understand what she meant actually by that comment. I found to be one of the best compliments I received.
Three daily rituals you do as a chef and why it's important?
Call up kitchen phone every morning regardless of I am working or not.Check on all proteins in walk in with out fail the moment I reach the kitchen "tasting and encouraging my colleagues to taste food" every time a portion of food is about to get plated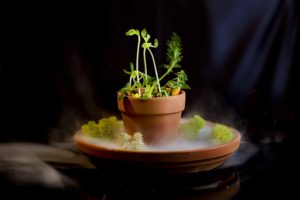 If you had given a chance to pick your dream team that includes famous Indian chefs who you pick. Include yourself in any position to run a kitchen for a day?
Chef Sriram of Quilon
Chef Floyd cardoz from paowallah
Vivek Rawat from Mandarin oriental las vegas
How you judge a young chef and how you test him for the long term?
passion, patience, details and responsibilities
Who you look up to, who you approach to get guidance from?
Unlike the old days ….today we look up to the trained, accomplished chefs swell as the fresh young kids for ideas and advice. Technology has honestly changed the ball game altogether. Information is easily available.
What will be Indian cuisine future according to you, what should be Indian chef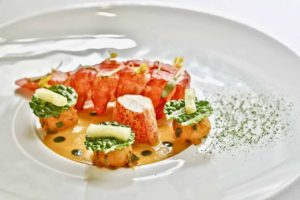 approach in making Indian cuisine best in The World?
I feel Indian cuisine will have the added personality of the respective chefs who do the menu and also we will start seeing particular Indian cuisines ….means more accurate regional cuisines will start popping up
Chef Srijith Gopinathans Lobster Curry Recipe
Buy Print Version of Fine Dining Indian Magazine July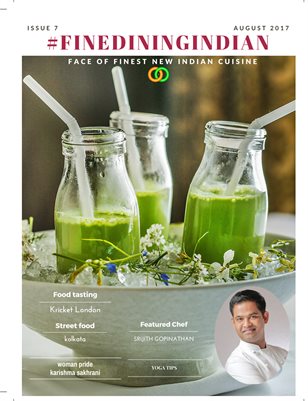 Fine Dining Indian Food Magazine 2017 : Fine dining Indian food magazine august 2017 issue 6
Read and Download Fine dining Indian food magazine August 2017 Edition – Issue 6.we are very grateful to feature Chef Girish Gopinathan Only Two Michelin star chef in the world, Master chef India Finalist Karishma sakhrani, Street food from Kolkata, Food Tasting on Kricket restuarnt in London…

Our Vision
" To be the world's best fine dining Indian cuisine website and magazine"
We strive to achieve this by providing a platform for all Indian food lovers around the globe.
Finediningindian Magazine previous issues
---
[thb_image image="5008″ img_link="url:http%3A%2F%2Ffinediningindian.com%2F2017%2F07%2F05%2Ffine-dining-indian-magazine-july%2F|title:Finediningindian%20Magazine%20July%202017%20Issue|target:%20_blank|"]
[thb_image image="4356″ img_link="url:http%3A%2F%2Ffinediningindian.com%2F2017%2F04%2F15%2Ffinediningindian-food-magazine-march-issue-2017%2F|title:Finediningindian%20Magazine%20April%202017%20Issue|target:%20_blank|"]
[thb_image image="4455″ img_link="url:http%3A%2F%2Ffinediningindian.com%2F2017%2F05%2F07%2Ffinest-indian-food-magazine-may-2017-issue%2F|title:Fine%20dining%20Indian%20Food%20Magazine%20May%202017%20Issue||"]
Submit Your Review
[yasr_visitor_multiset setid=2]