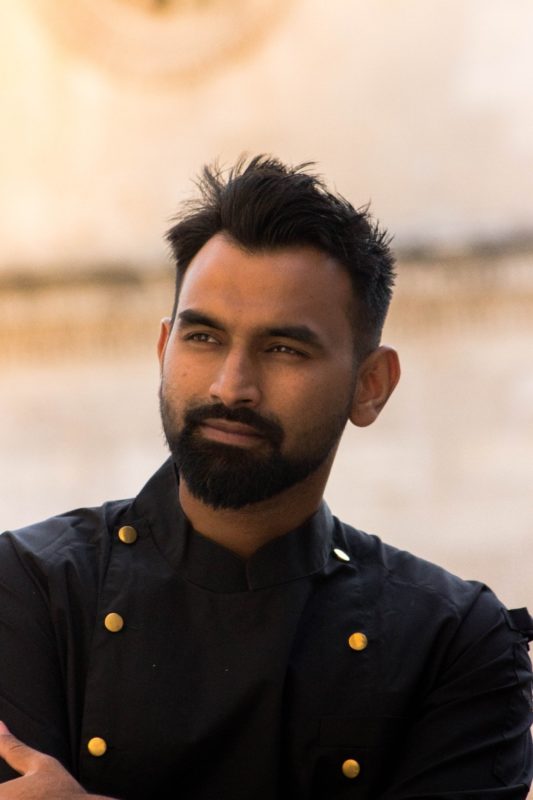 Vinesh Johny
[yasr_overall_rating]
Vinesh Johny is Asia's top pastry chef

Vinesh Johny is Asia's top pastry chef, Forbes Under 30 Asia 2016. CNN 20 under 40 and Expert for WorldSkills India. As co-founder of Lavonne Academy of Baking Sciences & Pastry Arts, India's first international baking academy.
How you become a chef and why? 
It was back during my hotel management days, when I realized my love & passion for pastry arts. After graduating from culinary school, I went on to work with The Oberoi Group of Hotels and Starwood Hotels & Resorts, in various capacities within the realm of Pastry. Every experience I have had during university, internships and my hotel days, through the people I have met and worked with has only helped in strengthening the bedrock of passion I have towards baking and pastry art. More than anything, I absolutely love what I do, and my love only grown stronger each day!

What message you want to give to young chefs out there?
If you are looking at being a part of the baking world, it surely means that you have already been inspired in the past and you have developed a certain degree of passion for the craft.
This in itself is amazing and I am sure it has set the foundation for all the glory you will receive in the days to come. However, it is extremely imperative that you solidify your dreams and aspiration with some formal education and learning. The initial investment made in educating yourself will surely take you a long way in understanding the art, the chemistry of ingredients and the science involved. Education will also help you understand the fundamentals of basic subjects like storage, safety, hygiene, shelf life, costing, entrepreneurship, etc. Learning never stops. Therefore, my only advise to all is to constantly keep learning.

How you explain your style of cooking?
I usually look for and incorporate lesser known but intriguing flavours & ingredients. It is imperative that the final product compliments every flavour profile and must surely have a balance of the right textures. Some sponge, a little mousse, jelly and most importantly the crunch. There is also a lot of focus on the finish and garnish. The cakes and pastries are mostly modern, stylish & luxe.

What are your memorable achievement in your professional life? Why it was important for you?
It definitely would be being featured on the Forbes 30 Under 30 list and the continued association after. It was important because it came to me at a time when I was least expecting an award of such grandeur. It was so surreal for me when the final list was announced. Each day after that has only reminded me of the times, the situations, the people and events that have contributed to my presence here today with you. It is such a proud moment for the people back in India right now. My team, my students, my friends and my family. I want to thank them all for being supportive and sticking by my side. All of this has been a very emotional and a humbling journey for me. I have immense gratitude to Forbes for recognizing my art under their mighty graciousness.

What is your concept of a writing a menu for your Restaurant and how a new dish makes to the menu list?
For both my team and myself, pastry has always been about flavour pairing, texture combinations, mouth feel and of-course the look. Each dish on the menu is always approached with these components in mind. A lot of time is spent in our test kitchen doing numerous trials, research and tastings, before we finalize on a particular dish.

How you develop your team, what responsibilities and freedom you give to your juniors?
I have always encouraged my team to implement their creativity in coming up with new recipes and ideas. We spend a lot of time in the test kitchen in designing, creating, critiquing and tasting new menu items. During research and development, we are always in the lookout for lesser known ingredients, working with both classic and newest techniques to be able to create flavours, textures and most importantly; a memory. All of the recipes, be it for the academy or the pastry shop has always been a combined team effort. And I'm so proud of my team! Even in my absence I am rest assured that nothing will obstruct the flow of production.

How you keep up to date with a constantly evolving world's culinary scene?
Although it is true that the culinary landscape is constantly evolving, it is very important for chefs to have a strong foundation of the very basics. Age old techniques and recipes are still the foundation of all the incredible dishes we see every day. It is therefore imperative to know your basics very well, respect the art and also keep yourself upbeat by constantly learning. Learning for me happens every day. From books, the internet, to the people I meet, the chefs I work with and most importantly; travel. Although keeping up pace may sometimes be challenging, to be relevant in todays world, I firmly believe that travelling is the best teacher of all.

One of your worst food critic or comment you received and how you dealt with it?
Every day, chefs are constantly criticized and judged. You may have created a brilliant dish, but there is always room for criticism, thoughts, opinions and judgements from people who may know less or more than you. The key is to listen closely and take in what is relevant but also remember the once that are not.
What would you like to do more for a chef support system in helping each other in achieving success? Cross promotion?
Today's culinary and pastry world is mostly dominated via social apps such as Instagram, Facebook & Snapchat. I try my best to promote my chefs and also people from across the world who doing their best to add value to the art. Likewise, many chefs across do the same for each other. Apart from this, at Lavonne we make it a point to keep bringing down Chefs from across the globe for Master & Demo classes. Through this programme, chefs get to showcase their art to a brand new audience and vice-versa.
Any daily rituals you do and how it helps you to stay active, Motivated?
Cross fit is a big part of my fitness regime. Ever since I took it up, there's been no looking back. Fitness now occupies a big part of my day to day activity. Cross fit in particular has been great for me and I love spending time at the gym and pushing my limits each day. Having said that, it is your food plan for the day which is most critical towards maintaining a healthy body and mind.
How you judge a young chef and how you test him for the long term? 
Young Chefs are the future of our culinary world. It always amazes me to see so much enthusiasm and passion for the art. However, their success is mainly dependant on their attitude and endurance levels. It's too easy to go on giving it your all for a while, before you drop the ball. It is very important to be fully committed and be prepared for all the nuances that come along the way. A lot of people assume that being a chef is easy. But the reality is quite the opposite. However, as long as you truly love what you do, your long term success won't be too hard to achieve. So, when I talk to interact with young chefs, apart from the work that they do, I look closely for their love for food, a sense of responsibility, and an attitude to keep bettering themselves.
What will be Indian cuisine & Indian chef's future according to you, what should be Indian chefs approach in making Indian cuisine best in The World?
Indian cuisine is already widely popular across the globe. It surely stands out among the top few preferred cuisines globally. Today, our culture and history is so visible in the food we prepare and eat. With hundreds of incredible regional cuisines within India, it is sometimes too easy to forget a majority of them. With so much modernization happening globally, I sincerely hope that ancient recipes, techniques and methods won't be forgotten. I would love for children to also experience the awesomeness of Indian home cooking at their time as well.Vinesh Johny is Asia's top pastry chef
Name top five Indian restaurants around the world according to you?
Indian Accent – New Delhi
Karavalli – Bangalore
Gaa – Bangkok
Bukhara – New Delhi
Bombay Canteen – Mumbai
Name a few top Indian chefs according to you?
Chef Manish Malhotra
Chef Vineeth Bhatia
Chef Gaggan Anand
Chef Manu Chandra
Chef Amninder Sandhu
Chef Thomas Zachariah

How you choose an Indian restaurant to eat with the family, what dishes you look for in the menu?
Indian food is so good at home that we rarely go out to Indian restaurants. Once in a while however, when we do find ourselves at an Indian restaurant, the dishes that are usually ordered are mostly soups, naans, grills from the tandoor, rich gravies, biryanis, tawa fries, and pretty much all of the desserts. It's the whole mumbo jumbo, when we dine Indian!
Does classic or modern dishes stand ahead of time, why according to you?
Classic Indian recipes and cooking in my opinion will always be close to my heart. With so much modernization happening globally, I sincerely hope that ancient recipes, techniques and methods won't be completely lost. With the influence of social media, more and more chefs are getting quite experimental with their approach. Although, they come up with fascinating results, the dish itself does not stand the test of time and is soon replaced with another brand-new creation.Vinesh Johny is Asia's top pastry chef.
The worlds Best Indian fine food and Luxury life stye magazine "Finediningindian".
In our September Issue we cover few great Indian chefs . Amazing Recipes from the talented Chefs .
An inside story from an Influencer who focuses On Food .
Inspiring story of chef Bali from Oberoi centre for Learning and development .
Chef anupam Gulati of Fourseasons Mumbai
we are Growing bigger and Bigger in our reach
Sincere Gratitude
for our success and leading the Indian Cuisine Vision
Finediningindian Magazine previous issues
---
[thb_image image="5008″ img_link="url:http%3A%2F%2Ffinediningindian.com%2F2017%2F07%2F05%2Ffine-dining-indian-magazine-july%2F|title:Finediningindian%20Magazine%20July%202017%20Issue|target:%20_blank|"]
[thb_image image="4356″ img_link="url:http%3A%2F%2Ffinediningindian.com%2F2017%2F04%2F15%2Ffinediningindian-food-magazine-march-issue-2017%2F|title:Finediningindian%20Magazine%20April%202017%20Issue|target:%20_blank|"]
[thb_image img_link="url:http%3A%2F%2Ffinediningindian.com%2F2017%2F05%2F07%2Ffinest-indian-food-magazine-may-2017-issue%2F|title:Fine%20dining%20Indian%20Food%20Magazine%20May%202017%20Issue||" image="7339″]
Submit Your Review
[yasr_visitor_multiset setid=2]