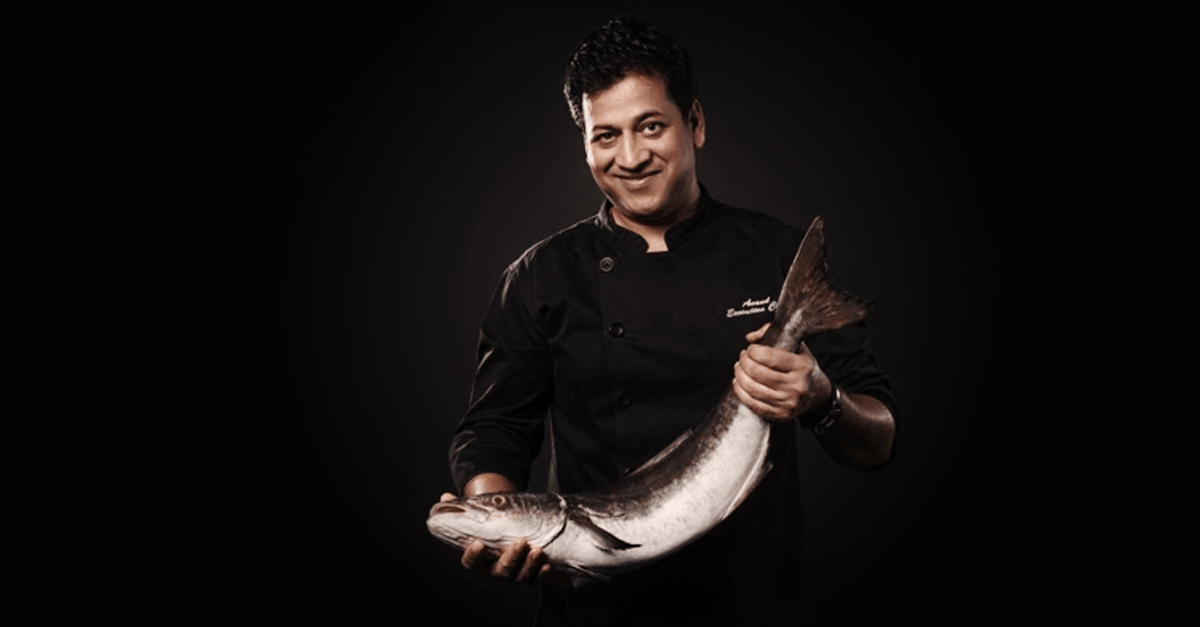 Chef Anand Kumar
[yasr_overall_rating]
Chef 
Anand Kumar Hilton Bangalore
Article By Sana Qureshi

How you become a chef and why?
Since my teenage days I had to cook at home because I was the only son staying with my parents at home and where ever my mom used to fall sick I used to cook for them as I was very attached to my mom's style of cooking.  I really took lot of years to understand her tips and tricks. And I was so impressed with cooking food, so I wanted to take admission in Hotel Management later and thanks to my parents who supported me to pursue my career in that. However, to be very honest I wanted to be in Air force but I believe it is all about destiny.
words from Chef Anand Kumar Hilton Bangalore
What message you want to give to young chefs out there?
Anything will not come easily in life, you have to grab it and make it happen. If you have the passion then go for it and trust stops you. I took 11 years to become an Executive Chef and that too during very tuff situation. Last thing I would like to tell you all is that Chefs are the greatest artist in the world.
How you explain your style of cooking? Chef Anand Kumar Hilton
I believe in simple cooking, minimum use of ingredients and make the food good.
I always follow my three principle in the hotel and home kitchen, which is A, B, C
Always keep the food simple
Be aware of the recipes
Cook with a good heart.
So do not complicate the food as you see in the TV channels, YouTube and Google etc.
What are your memorable achievement in your professional life? Why it was important for you?
Hystar Diamond and Gold at Hyatt regency Mumbai
Certificate of 15 Years Completion
Conducted corporate cooking session – WITH DELL
Conducted Cooking session on Health and nutrition – WITH DELOITE
Awarded as Best Chef Team Lead Chef of the year – 2017
Awarded as Best Chef of the Year -2017
Hyatt on Skills Training certificate
Attended as speaker in gearing women power
Got appreciation letter for handling CEO visit in India
Recognised as Best F&B experience in Hilton Bangalore EGL
15 years completion with Hyatt
Participated The Business of F&B in Indian at London and Dubai
Awarded as best Global dining restaurant in Bangalore by Chef Marco
Awarded as the Best European Restaurant in Bangalore (The Salt grill)
This is very important for me because that really helped me to be recognised in the Market.
Achievements of Chef Anand Kumar
What is your concept of a writing a menu for your Restaurant and how a new dish makes to the menu list?
As you all know I follow 3 principal (A, B,C) , I always try to use lot of Local availability, I highlight 3 options in the menu like , Gluten free, sugar free, Vegan, Lactose free, heart healthy etc. We also have a concept of Farm to fork which is actually a special dish which is locally sourced. I also make sure that there is something for everyone.
In terms of menu changes we change those dishes which is slow and non-moving and which is new and innovative.
End of the day simplicity wins.
How you develop your team, what responsibilities and freedom you give to your juniors? Chef Anand Kumar Hilton
Training, and empowerment to the all the employee across all the level, I share guest feedback to my team on a daily basis, and ask for suggestions. I make sure that they are involved with me, which will help me achieving my goal. I also got awarded for best team lead chef
How you keep up to date with a constantly evolving world's culinary scene?
Research the market trend, visiting all small Food and beverage joints, online study etc. I had also gone for Food and Beverage trend workshop in Dubai. There are many Chef's forum etc.
One of your worst food critic or comment you received and how you dealt with it?
There were a lot in past 17 years, but one which I remember is a guest at our restaurant, who had taken a parcel & came up next day complaining about the food being bad & because of which his wife got an upset stomach. The person was not ready to listen about anything. As per hospitality standards, there are food testing labs we collect samples & as usual the day's sample was also approved, but being adamant the guest didn't listen to any of us. Blaming us that our reports are fake. But since we were genuine & true to our value we confidently allowed him to do whatever he feels fit as it wasn't any of our mistake. He did try to deteriorate our image contacting lawyers & people to do the needful but the truth has to always win & finally getting no heads up from any ways he wrote an apology letter to us with all the statement, we did accept that but have banned that guest in all our hotels.
What would you like to do more for a chef support system in helping each other in achieving success? Cross promotion.
As a brand we always do cross promotion. We also have different chef's forum where we exchange many happening in the city and the world. We also exchange different speciality chefs to do cross promotion.
Any daily rituals you do and how it helps you to stay active, Motivated?
I always have one question to my team – what have you done for yourself and for the guests which makes both happy. Be natural and I personally love to see guest and team happy. I always believe every day is important and we should do good to the society.

How you judge a young chef and how you test him for the long term?
I always look an attitude and nothing else; if you have the right attitude then you can do anything and I can teach everything but if you do not have it in you then no one can make you learn anything.
What will be Indian cuisine & Indian chef's future according to you, what should be Indian chefs approach in making Indian cuisine best in The World?
I believe that Indian cuisine is one of a kind and it is very vast, India has lot of regions and they are unique in their characteristics. The Indian food and getting lot of recognition around the world and there is a huge demand of Indian food and chefs across the world.
Keep innovating the food keeping the authenticity and simplicity in mind. Innovate experience rather complicating the food.
Name top five Indian restaurants around the world according to you?
Indian Accent
Khansama
Kebabs and kurries
Amritsar Restaurant
Mom's Kitchen
Name Top Five Indian chefs of all Time according to you?
Imtiaz Qureshi
Madhur Jaffrey
Vikash Khanna
Sanjeev Kapoor
Atul Kochhar
A Book or an Incident that influenced you and how it changed your approach to life?
Off course an incident which is very hard to believe but yes that has change my life completely.
How you choose an Indian restaurant to eat with the family, what dishes you look for in the menu?
I always choose Indian restaurants with the taste of the food. Off course experience plays a vital role in that.A good Dal tadka and a good chicken dish, but for my son a good international food.
Does classic or modern dishes stand ahead of time, why according to you?
Classic Dishes always as these are attached to the authenticity and simplicity. I have seen lot of restaurants has average ambiance but food is highly appreciated as they focus on authenticity of food.
The worlds Best Indian fine food and Luxury life stye magazine "Finediningindian".
In our September Issue we cover few great Indian chefs . Amazing Recipes from the talented Chefs .
An inside story from an Influencer who focuses On Food .
Inspiring story of chef Bali from Oberoi centre for Learning and development .
Chef anupam Gulati of Fourseasons Mumbai
we are Growing bigger and Bigger in our reach
Sincere Gratitude
for our success and leading the Indian Cuisine Vision
Finediningindian Magazine previous issues
---
[thb_image image="5008″ img_link="url:http%3A%2F%2Ffinediningindian.com%2F2017%2F07%2F05%2Ffine-dining-indian-magazine-july%2F|title:Finediningindian%20Magazine%20July%202017%20Issue|target:%20_blank|"]
[thb_image image="4356″ img_link="url:http%3A%2F%2Ffinediningindian.com%2F2017%2F04%2F15%2Ffinediningindian-food-magazine-march-issue-2017%2F|title:Finediningindian%20Magazine%20April%202017%20Issue|target:%20_blank|"]
[thb_image img_link="url:http%3A%2F%2Ffinediningindian.com%2F2017%2F05%2F07%2Ffinest-indian-food-magazine-may-2017-issue%2F|title:Fine%20dining%20Indian%20Food%20Magazine%20May%202017%20Issue||" image="7339″]
Submit Your Review
[yasr_visitor_multiset setid=2]