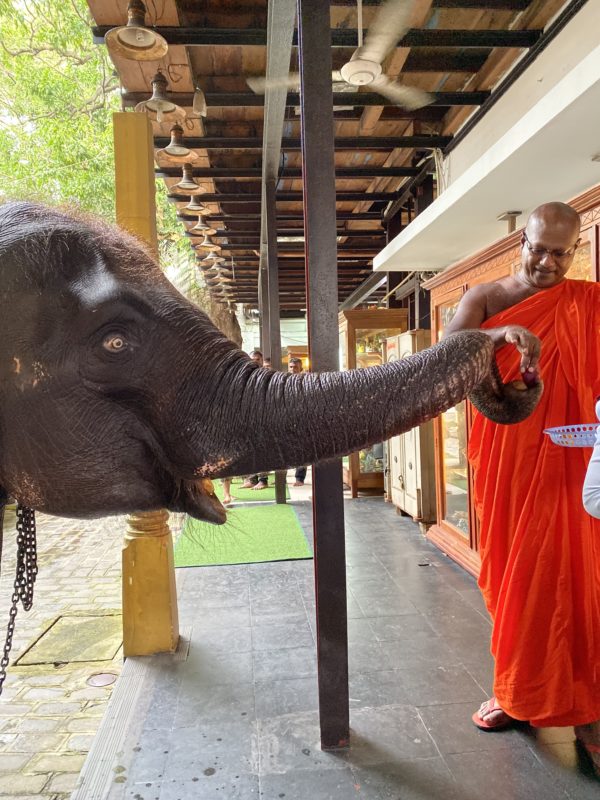 Srilankan Culinary Tour chef Kanthi
[yasr_overall_rating]
Srilankan Culinary Tour
By Chef Kanthi Kiran Thamma

As a chef who loves to travel,
I'm often inspired by my experiences on a trip….and food, of course, is a big part of it all. So, it's always rewarding to introduce my fellow gourmands to stuff they've seldom heard of, or haven't yet experienced before.
While I'm constantly on the hunt for recipes that wow me, it's the stories behind them that are the real deal, really !
The stories of eager traders and adventurers all those centuries ago, just trying to make a living, but making history while they were doing it all — Stories, of a colonial past, of trade, of empires – but essentially, stories of a grand intermingling of cultures.
All these stories, begin, and revolve around, one point in the larger script ……FOOD.

Now, I was always familiar with these stories about how Southern India and Europe were trade partners and learning things about each other, but during conversations with friends from Sri Lanka, I was fascinated to learn that they had very similar stories to tell.
So, I just had to come down here, and experience this fabled land for myself, before I could introduce it all to a larger audience out there…
It's been a fantastic trip– travelling around, meeting people — street vendors, chefs and others, people that just LIVE food and culture—and working with them to create this really unique experience.

Srilankan Culinary Tour
This will be your window, into their world — and food will be the language we interact in.
Sri Lanka is no newbie to history, She's been around forever…The Pearl of the Indies, a little south of the subcontinent, but very special, and unique in every way. Few places out in the world offers a traveler everything that Sri Lanka does…unbroken vistas of emerald green forests rich in all sorts of life, pristine sun kissed beaches, and the blue ocean beyond— charming cities and little towns with a place each for all the gods up in heaven…temples dating back to when the Buddha himself walked this earth, Churches, Stupas, Mosques and the lot. For such a small country, an island out in the ocean, it has 8 UNESCO world heritage sights, so that in itself is just something you should come here for! And the country is so clean, they take such things very seriously here. The people really seem happy to have you here, big warm smiles everywhere I go…..They are proud of their heritage, and rightly so, and want you to experience it too..
Nature, is a big part of the lifestyle here, and almost every place I've seen driving about, seems to ask me to slow down a bit, relax a while and smell the flowers and really feel the space around.

The wildlife reserves here are filled with a mind-boggling variety of life of all kinds….
Much like the rest of the world, this country was recently a victim of terrorism…many lost lives, and many more lost their livelihoods due to those dastardly acts…. but it's impressive — and very touching– to see how resilient people here are, they don't dwell on it for too long. Life, they believe, is to be lived, and that too with a smile on their face and a song in their hearts. Live today right and tomorrow will be just fine, or so they seem to think…

I stayed in one of the hotels that was affected and was amazed at how positive the people there were, I'm much the richer for that experience. I also visited St. Sebastian's in Negombo — one of the bomb blasts took place there — Things are repaired now, but the victims still have their loss and pain to deal with—and the authorities were telling me what they were doing to address it all and I was inspired to do my bit—we'll be planning a few fundraising events soon to contribute in our own way.
I must say this though; I never felt a threat anywhere, felt safe in every possible way.
Now, for the food part…..I must tell you that I, like many other chefs, was rather  blasé earlier…..being from the Indian South, with similar landscapes and lifestyles and culture, I didn't think it would be very different out here…after all, Most of the peninsula, is just about an hour's flight away you see…

But I couldn't have been more wrong! Sure, there are some common notes here and there, but it's a totally different tune they dance to here. The methods of cooking, techniques involved — and the interplay of history, trade, nature and circumstances has resulted in this culinary culture that's distinctly their own. The local produce and the ocean's bounties lends come together in a hundred different ways, seasoned with every imaginable spice under the sun – with a nice steaming cup of Ceylon tea on the side.
The king coconuts are something I'll never forget, and I've seen coconuts alright, but this is something totally different!  Being in the middle of all searoutes from out west, first going north to India, and from there around Sri Lanka to the east, the influences are many—Portuguese, Dutch, Arab, Tamil and so on…While the traditional and local fare — rice curry platters, Biriyanis and Sambols — were engaging enough by themselves, it was remarkable to see what  some chefs nowadays are doing here, taking the food experiences to a totally different level, claiming quite the spot on the global culinary map.…I kid you not, this is like Disneyland for Chefs, trust me……now, I'm inspired to think about possibilities in food, that I'd never known before. But yeah, I'll be coming for more here, and more often too !
When you travel with me, you will see, taste, and experience Sri Lanka, like very few do. These tours are indulgent forays into what this land has to offer, with our senses responding to the life around us in ways truly Sri Lankan.

Srilankan Culinary Tour
Food will be the axis around which we'll spin ….. a vital part of everything we do !
Be they the vintage jeep tours delving into its colonial past,  little sightseeing trips delving into the countryside, …..tucking into street food en route, and evenings at Asia's finest restaurants … wilderness trips in jungles, staying at carbon neutral campsites….sharing the local gossip while visiting millennia old cave temples.…tea tasting sessions sampling varieties you'd never heard of….or a scenic train ride across world famous plantations…or sunsets on a remote lagoon watching dolphins in the surf…. and much more, that will make for memories of a lifetime, only with me in Sri Lanka.
I've partnered with Tropical Ceylon to craft this really special itinerary for select groups of people, choosing to feature hotels and resorts for their philosophy of responsible tourism that's part of their DNA — eco-friendly spaces that ensure sustainable livelihoods for local communities.

Come! Join me on this culinary and cultural adventure — a slice of Sri Lanka — which will be your very own, for all time to come.
LIVE the TRIP, at SPICE CIRCUIT
The worlds Best Indian fine food and Luxury life stye magazine "Finediningindian".
In our September Issue we cover few great Indian chefs . Amazing Recipes from the talented Chefs .
An inside story from an Influencer who focuses On Food .
Inspiring story of chef Bali from Oberoi centre for Learning and development .
Chef anupam Gulati of Fourseasons Mumbai
we are Growing bigger and Bigger in our reach
Sincere Gratitude
for our success and leading the Indian Cuisine Vision
Finediningindian Magazine previous issues
---
[thb_image image="5008″ img_link="url:http%3A%2F%2Ffinediningindian.com%2F2017%2F07%2F05%2Ffine-dining-indian-magazine-july%2F|title:Finediningindian%20Magazine%20July%202017%20Issue|target:%20_blank|"]
[thb_image image="4356″ img_link="url:http%3A%2F%2Ffinediningindian.com%2F2017%2F04%2F15%2Ffinediningindian-food-magazine-march-issue-2017%2F|title:Finediningindian%20Magazine%20April%202017%20Issue|target:%20_blank|"]
[thb_image img_link="url:http%3A%2F%2Ffinediningindian.com%2F2017%2F05%2F07%2Ffinest-indian-food-magazine-may-2017-issue%2F|title:Fine%20dining%20Indian%20Food%20Magazine%20May%202017%20Issue||" image="7339″]
Submit Your Review
[yasr_visitor_multiset setid=2]