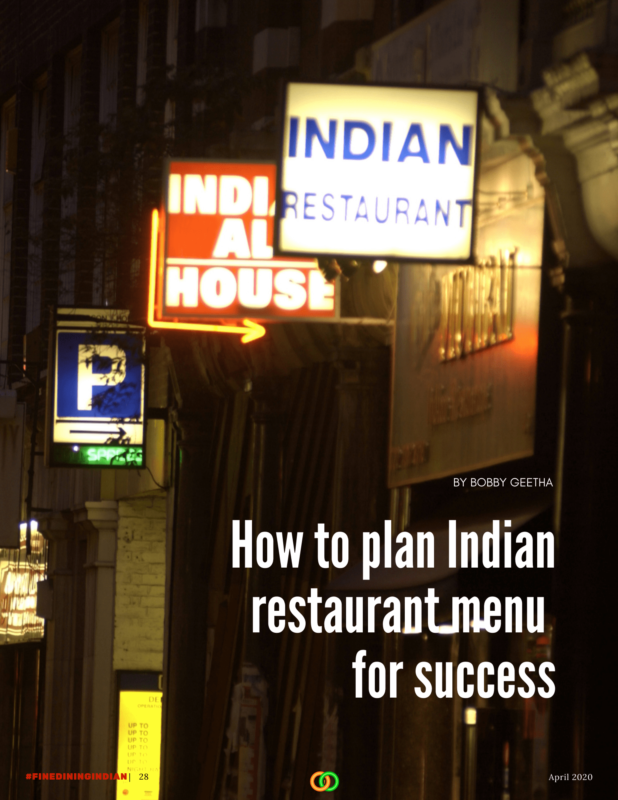 Indian Restaurant Menu Planning
Indian Restaurant Menu planning

Your Menu is the single Important Tool for your Restaurant Business. learn Indian Restaurant Menu planning How to do This professionally .
What we can learn from each Key team players
As a General manager what I look For in my Menu
My investment must be safe with substantial return.Menu must be costed effectively with minimum 70% GP margin . Overhead must be well under 35% . Menu must not contain Low Margin items .My menu items must be locally available with zero food miles, except dry Indian spices and pulses.
As a chef how i plan my Menu
Use my experience and creativity to the fullest formRather ego boosting dish i focus on creative ,quality and money making Indian dishes .I will source and develop relation with local Indian suppliers  , support my community .I will immerse my self in learning competition to understand where is the market gap, how to price for success .
As a sous chef ;
what menu i like
Menu focuses on maximum utilisation of fresh ingredients .  This can be fast to produce and plate . Items which can be trained easily and maintained for consistency even i should train Non Indian nationals. It must be cleverly designed with multi use of ingredients in various forms which will keep a low inventory of my stock holding .

As a cook what i need
from my menu
I am fully trained with recipes , spec for each dish to execute as per standard . Also have enough and suitable plate ware for the menu which easily stackable and handy with in my section .The required equipment and storage space for the menu. I have flexibility in menu to create signature dishes or Guest special orders.
As a proud supplier to RR kitchen
Roger rings me up when he plans his menu. He checks with me the seasonal availability of supplies . Chef tries to negotiate with me the best possible rate he can get with out losing my trust and relation.As a supplier i look out for new farmers and producers from local community , introduce them to Chef RogerWhen i have over stock roger helps me in selling those as a special in his menu
As a guest im a foodie too ;
i like 
Menu gives me value for money i paid.I don't have to wait for longMenu is not too adventurous and has complicating items.I could come again and invite my guest over as im confident i get same food next time .I get good seasonal ingredients with out losing its nutritional value .The menu is small as im sure they make it fresh every day .
As a delivery boy i like a menu that is
Ready with 15 minutesEasy to pack and deliver with out ruining the appearance , taste or texture .My packaging suits the portions size and keeps the food in its standard temperature .My packaging for menu is Eco-friendly as my customers love those also possible to micro wave if need to be .If the menu says its crispy i have to deliver its crispy as my customer expects.
As  a Food Critic i am genuine with my feedback
I can make or break a restaurants futureSo be aware when you plan a menu .I read details in your menu and checks the specification is met when i eat those dishes.Don't try to out smart me with writing fancy words , organic , Home made , artisan . if you cant deliver that to the core .I can write review in Trip advisor , social media and news papers so be genuine and
deliver all day every day .
In general a Marketing person 
is taken less serious
But here in RR Kicthen . Chef Roger and Mr.Parker takes my input seriously.Menu must help me in creating  a story to tell that keeps the customers hooked .I want my menu to be a door to my customers heart .my menu to have dishes that can trigger emotions to my customer .In the current technology oriented world i prefer my menu dishes are more instagram friendly .Its Important Dishes that can be produced and created to be viral with social media focused generation .