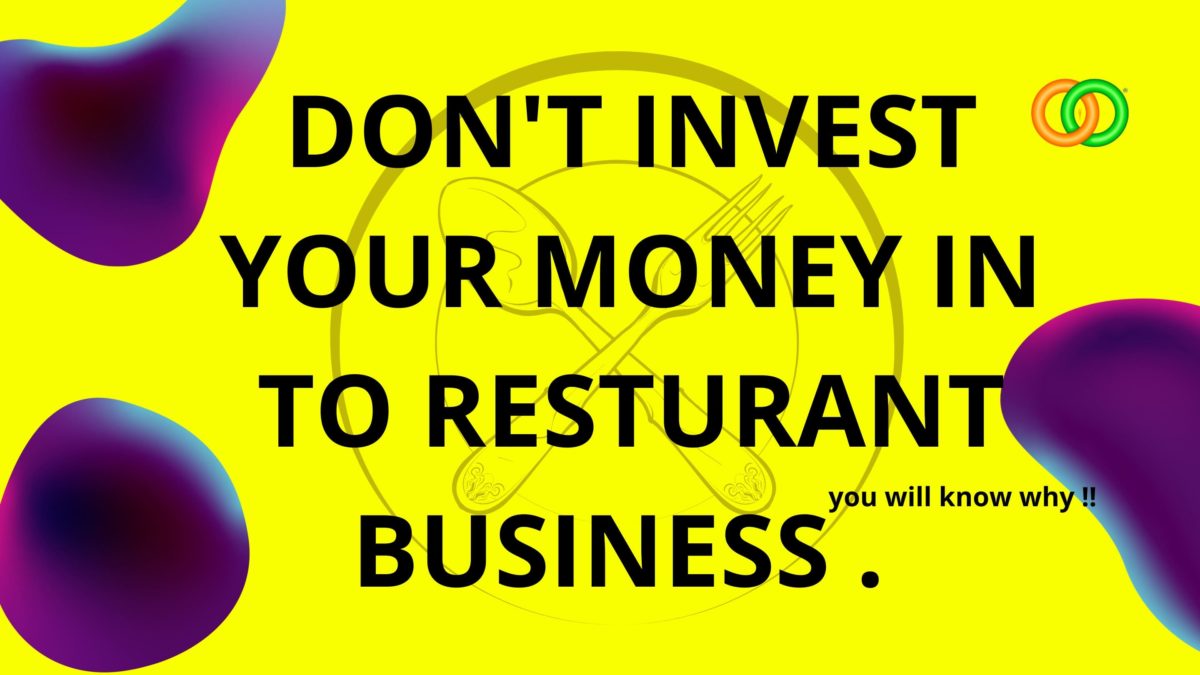 Investing In Restaurants
Do not Invest Your Money in to Restaurant Business . 

Being a food magazine and team that backing Indian restaurant business why we are brutal and advising you like Do not Invest Your Money in to Restaurant Business ?.
Its a hard hitting truth even-though , world Wide food related Industry is worth more than 3 Trillion us Dollars . The Gross profit Margin restaurant business make is very marginal mostly 3 to 5 % . In exceptional cases above 10 % . you will learn in below slides . You can also download a PDF copy to share with your friends advise them if they really want to do This . Learn From More Videos on Restaurant Consultancy Service .
If Money making is the only motive "don't Invest in restaurants " as You don't make it as you would do in other business

Remember You are competing for a grain of wheat in a field full of chickens. Restaurant Business is a highly competitive world and easy to copy business model . 

Its Not going to help you !!! Even if you have a great chef , Manager or you are one of them before. You may have your experience in Running restaurant for other People . But when you want to invest in your business minimise the risk always . If doing it alone start small and gradually grow . Do Not put all your saving rather we advise to find bank Funding that will not hold you responsible when things go wrong . 

Just enough Capital investment ..forget it .Thumb rule is you must have enough capital to run business for next 6 months after you open. Dont rely on cash flow and use it for the initial days operation .

You got a best deal to buy out a restaurant..still . But keep in mind why they are selling if its money making is it in a great location with high foot fall , how many competitorsAny law issues with authoritiesAny incidents in past that can screw you.

You don't know sh..t about a menu planning. I will put what ever i like in the.It's not what you want to eat but your customersNo time for research or getting information what the customers want or can relate to .

Want to please every customers .You will be closed with in a year trying to please all kind of customers .You may argue there are restaurants doing that – Think about timing and resourceIf you don't find your niche market in the location you want to operate . better dont invest.

You cant adapt to change or evolve .This happens to large chains or franchise . living in myth we were best for last decade and people will come to us

Cant maintain good Profit margin .Profit margin in restaurant business are too low mostly 3 to 5 % leading up to 15% in a good business environment. High over head cost and low margin cost of sales will kill any restaurants .
Don't have passion and patience . Passion is crucial to hold on to restaurant business; without this you will be out of frustration .Patience – restaurant is not a get rich quick business model . You must give its time to grow. Hence like we said before capital reserve in hand is crucial .
You know where people tend to save Money in a restaurant . start by cutting corners . First they stop or reduce the marketing Budget. This is a complete NO . Marketing is the blood line for Restaurant Industry . You need to keep pushing your brand out in the Market .

[thb_gap height="30″]
Share The video and Download a PDF Copy 
---
---
[thb_gap height="30″]
Finediningindian Magazine previous issues
---
[thb_image image="5008″ img_link="url:http%3A%2F%2Ffinediningindian.com%2F2017%2F07%2F05%2Ffine-dining-indian-magazine-july%2F|title:Finediningindian%20Magazine%20July%202017%20Issue|target:%20_blank|"]
[thb_image image="4356″ img_link="url:http%3A%2F%2Ffinediningindian.com%2F2017%2F04%2F15%2Ffinediningindian-food-magazine-march-issue-2017%2F|title:Finediningindian%20Magazine%20April%202017%20Issue|target:%20_blank|"]
[thb_image img_link="url:http%3A%2F%2Ffinediningindian.com%2F2017%2F05%2F07%2Ffinest-indian-food-magazine-may-2017-issue%2F|title:Fine%20dining%20Indian%20Food%20Magazine%20May%202017%20Issue||" image="7339″]
Submit Your Review
[yasr_visitor_multiset setid=2]