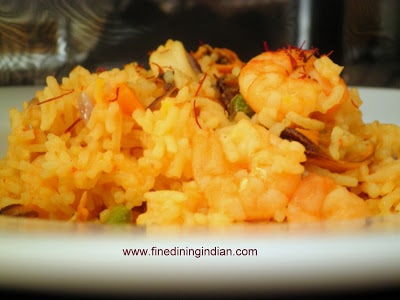 Easy Cook Spanish Paella Recipe-make With in Minutes at Home or Restaurant
Paella

is a Catalan word which derives from the Old French word paelle for pan which in turn comes from the Latin word patellafor pan as well. Patella is also akin to the modern French 
poêle, the Welsh padell,the Italian padella, the Old Spanish padilla, the Polish patelnia,and the New Mexican Spanish puela .
There are three widely known types of paella: Valencian paella (Spanish:paella valenciana), seafood paella (Spanish: paella de marisco) and mixed paella (Spanish: paella mixta), but there are many others as well. Valencian paella consists of white rice, green vegetables, meat (rabbit,chicken, duck), land snails, beans and seasoning. Seafood paella replaces meat and snails with seafood and omits beans and green vegetables. Mixed paella is a free-style combination of meat, seafood, vegetables, and sometimes beans. Most paella chefs usecalasparra or bomba rices for this dish. Other key ingredients include saffron and olive oil.
(source:wikepedia)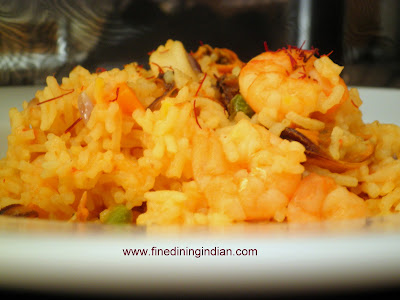 chopped white onion 200 gm
spanish rice/short grain rice 200 gm
hot water or chicken broth 400 gm
First, heat the oil and when it is hot enough, add chopped onion saute well

Add sausage and chicken (lightly salted ) and fry unitl lightly browned. 

Add rice,seafood  saute along with meat when its mixed evenly add white wine and allow to absorb 

saute in chopped tomato,

pour water or stock  

check the salt and adjust seasoning add saffron

c

ook all the ingredients for about 20 minutes over a slow fire 

when the broth is absorbed 50% add fresh peas  

All the broth should be absorbed when finished. 

Take the paella off the fire and let stand for about 10 minutes covering the top with grease 

proof paper.

 If the rice has been cooked correctly, the rice grains should be loose, not clumped together or having a mushy texture.
Disclaimer: Recipe may differ from old paella