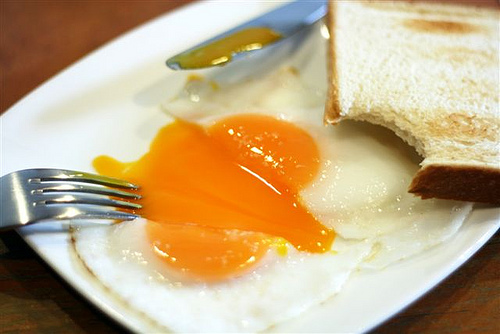 Chef You Can Try Noma Style Duck Egg Cooked by Your Guest on Table-adapt to Your Style of Cooking
An Inspirational Dish from Chef Rene Redzepi of Noma The best Restaurant in the world , Cooking that lies close to nature and heart Chefs you can surely get inspired by the thought tweak and twist the idea that be best suited to your restaurant.
A well thought dish part of a grazing menu concept , duck egg cooked on table a pan similar to sizzler , placed on hays along with egg , a potato spiral crisp , a green fresh sauce similar to a warm dressing made of wild Ramson-( Ramsons, also known as buckrams, wild garlic, broad-leaved garlic, wood garlic, bear leek, and bear's garlic — is a wild relative of chives native to Europe and Asia.Latin name is due to the brown bear's taste for the bulbs and its habit of digging up the ground to get at them; they are also a favorite of wild boar Ramsons leaves are edible; they can be used as salad, spice, boiled as a vegetable,in soup, or as an ingredient for pesto in lieu of basil. The stems are preserved by salting and eaten as a salad in Russia. The bulbs and flowers are also very tasty).
Its a curious thing to watch this concept can be inspired to Indian cuisine for making a live chaat (India savoury snack ) or something similar which requires bare minimum time in cooking or even an Akuri or egg bhurji (Indian style spiced scrambled egg ) on table with imported ingredients say – truffle , saffron, single press almond oil…

Watch the video below and get Inspired,