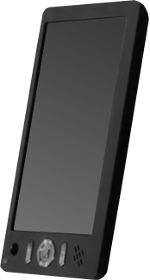 What Aakash cheapest tablet Pc in the world – is Indian?
Aakash
It is a tablet computer designed in India as a low cost but full functioning device in order to attempt to bridge the digital divide. The commercial version of the tablet will be retailed under the brand name UbiSlate.The original prototype named Sakshat (Sanskrit: साक्षात् "Embodiment") was unveiled in 2009, purported as a "$10 laptop".A new prototype, costing $35 after government subsidy, was unveiled in 2010. The device was formally launched on 5 October 2011 as Aakash, made by the UK-based company DataWind. Aakash will be assembled at DataWind's new production centre in the southern city of Hyderabad. Initially, the device will be sold to the Government of India at $50.It is expected to be sold for $60 in the retail stores.
The device has been developed as part of the National Mission on Education through Information and Communication Technology that aims to link 25,000 colleges and 400 universities on the subcontinent in an e-learning program via an existing Sakshat portal.
History
While it was once projected as a laptop computer, it is actually a tablet computing device.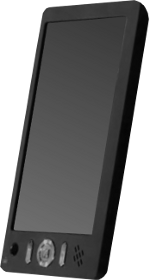 At the inauguration of the national Mission on Education Programme organized by the Union HRD Ministry in 2009, joint secretary N. K. Sinha had said that the computing device is 10 inches (which is around 25.5cm) long and 5 inches (12.5cm) wide and priced at around $30. However, he refused to comment as to why was it being projected as a laptop when it was not.
India's Human Resource Development Minister, Kapil Sibal unveiled a prototype on July 22, 2010. The price of the device exhibited was projected to be around $35 per piece, gradually dropping down to $20 and ultimately to $10 each. After the new device was unveiled, OLPC Chairman Nicholas Negroponte offered full access toOLPC technology,
cost free to the Indian team.
Doubts about the tablet being vaporware were dismissed in a television program "Gadget Guru" aired on NDTV in August 2010.The device was demonstrated running the Android operating system and shown to be able to deliver videos,
Wi-Fi, 3G, 2 GB RAM among other capabilities.
As for 2011 the price of the Tablet has changed to USD$49. However the government of India said that can cover half of the price. Their hardware remains the same.
In Sept 2011, HRD Minister Kapil Sibal assured that the much anticipated slate will be released on October 5th.
Design
Minimum functionality, As per the Invitation to Innovate published by MHRD,Government of India, the specifications and minimum functionalities of such devices are stated as:
Support for video web conferencing facility; multimedia content viewer for example .pdf, .docx, .ods, .adp, .doc, .xls, .txt, .jpeg, .gif, .bmp, .odt, .zip, AVI, AC3, etc.; searchable PDF reader; unzip tool to unzip zip files; possibility to install suitable firmware upgrades; computing abilities such as Open Office, SciLab, cups (for printing support); media player able to play streamed and stored media files; Internet browsing, JavaScript, PDF plug-in Java; wireless communication for audio/video I/O; cloud computing option; remote device management ability; rendering YouTube and other online video services
(open source Flash players, e.g., gnash or swfdec).
Other preferable
Playback: AVCHD
Multimedia I/O interfaces: DTV, IPTv, DTH
Internet browsing: Flash player (Adobe)
Specifications
HDMI port
Hardware
7-inch 800×480 resistive touchscreen
Rugged casing with a rubberized feel
Wi-Fi enabled (802.11 a/b/g WiFi)
Mini and full USB
MiniSD card slot
Subscriber Identity Module (SIM card) slot
Video out
Headphone jack
256MB of RAM
2 GB of stoage memory. Expandable via microSD memory card
2 Watts of power consumption with solar charging option
Software
Android2.2 operating system
Document Rendering
Supported Document formats: DOC, DOCX, PPT, PPTX, XLS, XLSX, ODT, ODP
Educational software developed at Indian Institute of Technology
Web browsing, video conferencing and word processing software
PDF viewer, Text editor
Multimedia and Image Display
Image viewer supported formats: PNG, JPG, BMP and GIF
Supported audio formats: MP3, AAC, AC3, WAV, WMA
Supported video formats: MPEG2, MPEG4, AVI, FLV
Communication and Internet
Web browser – Standards Compliance: xHTML 1.1 compliant, JavaScript 1.8 compliant
Separate application for online YouTube video
Safety and other standards compliance
CE certification / RoHS certification
Development and Testing
Kapil Sibal has stated that a million devices would be made available to students in 2011. The devices will be manufactured at a cost of Rs1500 (23 Euro) each, half of which will be paid by the government and half by the institutions that would use it. In January 2011, the company initially chosen to build the Sakshat, HCL Infosystems, failed to provide evidence that they had at least Rs600 million (Rs60 crore) in bank guaranteed funds, as required by the Indian government, which has allocated $6.5 million to the project.
As a result, the government has put the project out for bidding again.
In June 2011,the HRD announced that it received a few samples from the production process which are under testing. Also it mentions that each state in India provided 3000 samples for testing on their functionality, utility and durability in field conditions.
Launch
The device was launched was launched under the name Aakash on 5 October 2011 in India.The maker of the device is DataWind, a UK-based company owned by a Suneet Singh Tuli, a Canadian of Indian descent.
The 7-inch tablet has resistive touch screen with 800×480 reolution and weighs 350 gm, 256 MB RAM and internal storage of 2GB flash memory. The tablet also supports expendable memory of 32 GB and USB port. The pre-loaded software includes internet browsers, PDF reader, video conferencing facilities, open office, sci-lab, media player, remote device management capability, multimedia input-output interface option, and multiple content viewer.
The Government of India purchased 100,000 units of the device at $50 each. The tablet is expected to be sold for $60 in the retail stores.
source courtesy : Wikipedia