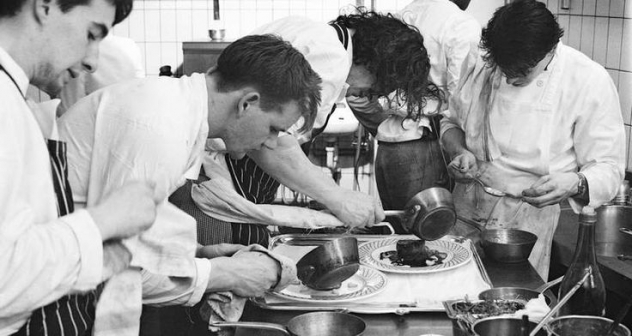 Chef Marco Pierre White | devil in the Kitchen
Chef Marco Pierre White
Marco Pierre White (born 11 December 1961) is a British celebrity chef, restaurateur and television personality. He is noted for his contributions to contemporary international cuisine, and his exceptional culinary skills.White has been dubbed the first celebrity chef, the enfant terrible of the UK restaurant scene and the Godfather of modern cooking. White was, at the time, the youngest chef ever to have been awarded three Michelin stars.He has trained chefs such as Gordon Ramsay.
Early life
Chef Marco Pierre White was the third of four boys born to Italian mother Maria-Rosa Gallina, who had come to Britain to learn English, and chef Frank White,who had struck up a conversation with Maria at the Griffin Hotel in Leeds while he was playing cards.
After marrying in 1954, they lived in a council house in East Leeds, and had sons Graham (1955), Clive (1957) (also a chef) and Marco. Six years later, Maria gave birth to a fourth son, Craig Simon. Two days afterwards, she collapsed and was taken back to St James's University Hospital, Leeds, where she died of a brain haemorrhage at the age of 38.
After leaving Allerton High School in Leeds without any qualifications, White decided to train as a chef. He began his training in the kitchen at the Hotel St George in Harrogate, North Yorkshire and later at the Box Tree in Ilkley, West Yorkshire. Arriving in London as a 16-year-old with "£7.36, a box of books and a bag of clothes",he began his classical training as a commis under Albert Roux and Michel Roux at Le Gavroche, a period that would lead Albert to describe him as "my little bunny". He continued his training under Pierre Koffman at La Tante Claire (now the site of Gordon Ramsay), moving to work in the kitchen of Raymond Blanc at Le Manoir aux Quat' Saisons and Nico Ladenis of Chez Nico at Ninety Park Lane. He then branched out on his own, working in the kitchen at the Six Bells public house in the Kings Road with assistant Mario Batali.
Career
On completion of his training in 1987, White opened Harveys in Wandsworth Common, London (now the site of Chez Bruce), where he won his first Michelin star almost immediately and was awarded his second in 1988, before moving on to become chef-patron of The Restaurant Marco Pierre White in the dining room at the former Hyde Park Hotel, now Mandarin Oriental (where he won the third Michelin star), and then moved to the Oak Room at Le Meridien Piccadilly.
By the age of 33, Marco Pierre White had become the youngest chef to be awarded three Michelin stars in England.
During these years White had working for him Gordon Ramsay, Eric Chavot (The Capital), Heston Blumenthal (The Fat Duck), Bryn Williams (Odette's), Matt Tebbutt (The Foxhunter), James Detalier-Stocks, Donovan Cooke (Est est est) and in front of house Max (Mark) Palmer, one of the few English Maître d' of a Michelin 3-star, Claude Douart, Philippe Messy (youngest sommelier to gain 3 Michelin stars) and Chris Jones, unusual in being an English sommelier in a 2-star Michelin French restaurant at the age of 21.
Although White worked for 17 years to pursue his ambition, he ultimately found that, in spite of his accomplishments, recognition and fame, his career did not provide him with adequate returns in his personal life. So in 1999, he retired and returned his Michelin stars.
I was being judged by people who had less knowledge than me, so what was it truly worth? I gave Michelin inspectors too much respect, and I belittled myself. I had three options: I could be a prisoner of my world and continue to work six days a week, I could live a lie and charge high prices and not be behind the stove or I could give my stars back, spend time with my children and re-invent myself.
During his early career in the kitchen, White regularly ejected patrons from his restaurants if he took offence at their comments.
When a customer asked if he could have a side order of chips with his lunch, White hand-cut and personally cooked the chips but charged the customer £25 for his time.A young chef at Harveys, who once complained of heat in the kitchen, had the back of his chef's jacket and trousers cut open by White wielding a sharp paring knife.
Retirement
White announced his retirement from the kitchen in 1999 and cooked his final meal for a paying customer on 23 December at the Oak Room. After his retirement he became a restauranteur. Together with Jimmy Lahoud he set up White Star Line Ltd, which currently owns the Belvedere and L'Escargot restaurants in London.
White also has a stake in The Yew Tree Inn, a 17th-century dining pub near Highclere in North Hampshire. This was the setting for much of "Marco's Great British Feast," screened on ITV in summer 2008. In January 2009 it was reported that White was to charge £5 for a pint of real ale at the venue, making the Yew Tree "one of the most expensive places to drink British real ale in the country". White was quoted saying "Most pubs undercharge. You're not just paying for beer, you're paying for the place you drink it in and the people who serve it."
White is also dining consultant to cruise line P&O Cruises. A fine-dining Mediterranean restaurant called The White Room on board the cruise ship Ventura was launched in April 2008.
In February 2009 White opened the MPW Steak & Alehouse with James Robertson in the Square Mile in London. As co-owners they also operate the Kings Road Steakhouse & Grill in Chelsea (from 2010). Robertson had worked for White from 1999 – 2003 as a Maitre'D before leaving the group although the pair remained close friends.
In January 2010 he franchised a restaurant called "Marco Pierre White's the Swan Inn" in Aughton, which serves a selection of classic pub foods.
White has published several books, including an influential cookbook White Heat, an autobiography called White Slave (entitled The Devil in the Kitchen in North America and in the paperback version), and Wild Food from Land and Sea.
White appeared in trailers for the 2004 film Layer Cake.
In March 2010, White signed to promote the Bernard Matthews Farms brand of processed turkey products. In July 2011, White's range of Bernard Matthews ready meals were dropped amid poor sales, but he remained brand ambassador for Bernard Matthews Farms.
Hell's Kitchen
In September 2007, White was the Head Chef in ITV's Hell's Kitchen television series. Asked in April 2007 whether he would be following in the manner of the show's previous incumbent, Gordon Ramsay, White said, "Gordon did it his way; I'll do it my way. We all have different ways of expressing ourselves. I want my emphasis to be on the food and the kitchens rather than the swearing."
White also commented, "I might be the hardest person they'll have ever met but I've got a heart just as big. It's about picking people up off the floor and inspiring them to want to carry on 'til the end."
However, his publicity for Hell's Kitchen did not go as smoothly as planned during an interview for Radio Times' "One Final Question" feature. White took offence at one of the questions put by journalist Jenny Eden and abruptly ended the conversation. The next day, Eden received a copy of White's autobiography, The Devil in the Kitchen, with a note of apology inscribed inside the cover.
At one point during the series, controversy ensued when White said, "I don't think it was a pikey's picnic tonight." The remark prompted criticism from the Commission for Racial Equality. However, the show was defended by an ITV spokesperson, who indicated that warnings about its content were given before transmission, and that White's comment had been challenged by one of the contestants, Lee Ryan.
The book accompanying the show, Marco Pierre White in Hell's Kitchen, was published on 23 August 2007 by Ebury Press.
White returned to ITV's screens to present the 4th series of Hell's Kitchen in 2009.
The Chopping Block
On 18 March 2008, it was announced that White would be the host of an American version of the Australian cooking competition series The Chopping Block.The series, produced by Granada America, the production company behind the American version of Hell's Kitchen, aired on NBC in March 2009 but was pulled after three episodes due to low ratings. After a three-month hiatus, 'Chopping Block' returned to complete its season.
Celebrity Big Brother 2011
On 27 August 2011, White was a houseguest on the UK version of Celebrity Big Brother to set a cooking task.
Personal life
White has been married three times. His first wife was Alex McArthur, who was the daughter of a surgeon from Buckinghamshire, and who worked at his local fishmonger. After a year-long romance, they were married at Chelsea Register Office on 8 June 1988; neither family attended the ceremony. White then met 21-year-old model Lisa Butcher at a London nightclub. They were engaged within three weeks. White says today that he was so intoxicated by her looks that he forgot to think about her personality.Engaged for two months, Butcher sold the wedding in a £20,000 deal to Hello! magazine. The wedding took place at the Brompton Oratory on 15 August 1992, where Albert Roux was best man, and Lisa had forgotten to invite his father and brothers. White says he knew the marriage was a mistake when he saw her £3,000 floor-length, backless Bruce Oldfield dress with cutaway sides. White told a reporter that she looked dressed to go down the catwalk rather than the aisle. Butcher says of their 15-week marriage: "We went to the Scilly Isles for our honeymoon. On the first day Marco turned to me and said, 'I don't love you.' We spent two miserable days when we didn't speak and he went shark fishing. Then I left." In her one interview about the marriage, Butcher has hinted that something unspeakable happened on the honeymoon: "Something very bad did happen but I'm not going to say what it was. It really wasn't a very pleasant experience for me and my family."
In 1993, White started a relationship with Matilde "Mati" Conejero, the bartender at The Canteen.and went on to have two sons: Luciano (born December 1992), Marco Jr., and a daughter, Mirabelle, born after White retired and the couple had married at the Belvedere on 7 April 2000. At the wedding, Gordon Ramsay turned up with a TV crew having told neither White nor his bride. White and Ramsay have not spoken since.After White became friends with city financier Robin Saunders, Mati wrongly suspected an affair between the two. White and his wife had a fight, after which White spent 14 hours in the cells of Notting Hill police station in January 2005.White and Mati began divorce proceedings in 2007 after she confronted two of his waitresses over affairs and his close relationship with singer/actress Martine McCutcheon.
White has a Japanese assistant called Mr Ishii, who chauffeurs him everywhere, as White does not have a driving licence. White originally met Mr Ishii while he managed the Mirabelle restaurant in Curzon St, Mayfair. The restaurant became available for sale and was quite sought-after, but his relationship with Mr Ishii persuaded the Japanese owners to sell to Marco. In his leisure time, White can be found freshwater fishing and game hunting.
Source : wikepedia