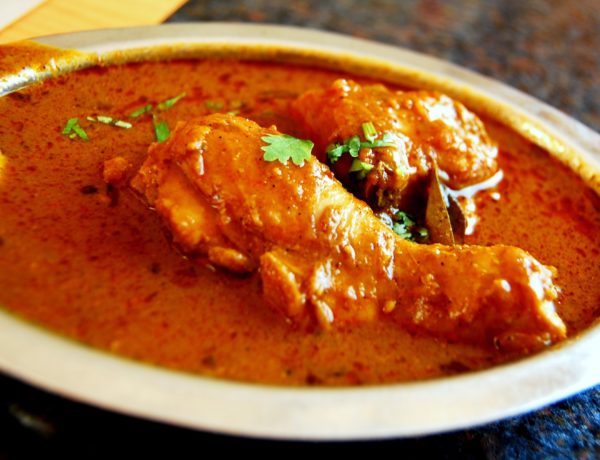 Indian Chicken Dishes Famous All Over The World
Butter Chicken Masala
Butter chicken (or murgh makhani) is part of the Indian cuisine, popular in countries all over the world. The origins of butter chicken can be traced back to Kundan Lal Gujral, a Hindu Punjabi,who ran a restaurant called Moti Mahal in Delhi. Butter Chicken is regarded to have been first introduced by Moti Mahal in Daryaganj, Delhi. Butter chicken is usually served withnaan, roti, parathas or steamed rice. It should not be confused with chicken tikka masala, a similarly coloured Indian chicken dish that originated among the South Asian diaspora in the U.K..
The global chain of restaurants called Moti Mahal are not directly linked to the original restaurant in daryaganj.
Preparation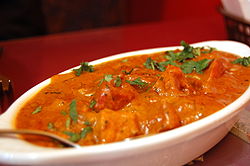 Dressed chicken (with or without bones) is marinated overnight in a yogurt and spice mixture usually including garam masala,ginger, garlic paste, lemon or lime, pepper, coriander, cumin, turmeric and chili. The chicken is traditionally cooked in atandoor, but can also be grilled, roasted or pan fried, depending on convenience or the chef's preference.
Makhani, the sauce, is made by heating and mixing butter, tomato puree, and various spices, often including cumin, cloves,cinnamon, coriander, pepper, fenugreek and fresh cream. Cashew paste can also be added, and will make the gravy thicker. Of all the spices added to the dish it is dried fenugreek leaves (Urdu/Hindi: Qasuri Methi) that makes the greatest contribution to the characteristic flavour of the dish.
Once the sauce is prepared, the prepared chicken is chopped and cooked until the gravy and chicken have blended. The dish may be garnished with white butter, fresh cream, sliced green chillies and Qasuri Methi.
Chicken Chettinadu
A famous chicken preparation made with unique concoction of spices mainly available in the chettinadu Region of Tamilnadu – called Karaikudi – a curry called karaikudi kathrika kolambu is equally famous in India – chettinadu is a pioneer in Indian cuisines and many famous chefs are from that region who works in famous star hotels of India , who led a culinary revolution through south Indian cuisine.
Spices used
In Chettinad food, the most important spices are marathi mokku (dried flower pods), anasipoo (star aniseed) and kalpasi (a lichenknown as the "black stone flower", also known as dagad phool). In addition, tamarind, whole red chillies and saunf (fennel seed) are also used along with cinnamon, cloves, bay leaf, peppercorn, cumin seeds and fenugreek.
Chettinad cuisine is the cuisine of the Chettinad region of Tamil Nadu state in South India. The Chettiar community, who are a majority in this region, are a very successful trading community. Chettinad cuisine is one of the spiciest and the most aromatic in India.
Chettinad cuisine is famous for its use of a variety of spices used in preparing mainly non-vegetarian food. The dishes are hot and pungent with fresh ground masalas, and topped with a boiled egg that is usually considered essential part of a meal. They also use a variety of sun dried meats and salted vegetables, reflecting the dry environment of the region. The meat is restricted to fish, prawn, lobster, crab, chicken and lamb. Chettiars do not eat beef and pork.
Most of the dishes are eaten with rice and rice based accompaniments such as dosais,appams, idiyappams, adais and idlis. The Chettinad people through their mercantile contacts with Burma, learnt to prepare a type of rice pudding made with sticky red rice.
Chettinad cuisine offers a variety of vegetarian and non-vegetarian dishes. Some of the popular vegetarian dishes include idiyappam, paniyaram, vellai paniyaram, karuppatti paniyaram, paal paniyaram, kuzhi paniyaram,kozhakattai, masala paniyaram, adikoozh, kandharappam, seeyam, masala seeyam, kavuni arisi & athirasam.
source and image courtesy wikepedia.