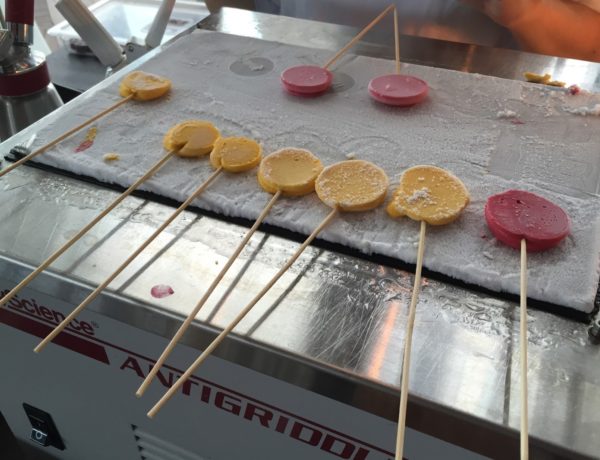 Learn about ** ANTI GRIDDLE ** Reverse anti griddle
Anti-griddle the complete opposite process what a normal griddle does, if you get a seared and hot food from the griddle. An Anti griddle gives you a quick frozen food, wheather it may be fruit,coullis sauce ..
Anti griddle is manufactured by Polyscience USA, it works to a temperature of -30F on the metal surface that temperature is good enough to produce a quick frozen product of moderate thickness

The Anti-Griddle™ is a traditional cooktop with an amazing twist: the device quickly freezes sauces and purees instead of heating them! Inspired by Chef Grant Achatz at Alinea Restaurant in Chicago, this unique innovation opens a new dimension in freezing sauces and purees, crèmes and foams.
Develop solid or semi-frozen creations with stable, crunchy surfaces and cool, creamy centers. The tantalizing dual-textures create a surprising and unique experience in restaurants. On buffets and at catering events, the Anti-Griddle always attracts diners when preparing a frozen appetizer or dessert right in front of their eyes. Let your culinary imagination run wild!
(source cuisine technology.com)
Within 5-10 minutes the Anti-GriddleTM surface will reach a temperature at -30 °F. Applying a thin film of olive oil before freezing the griddle surface will work as a release agent.
Some Anti-Griddle inspired creations:
Frozen salmon mousse
Rhubarb Jasmine Merengue
Caramel-Rosemary vanilla lollipops, liquid center and served on a rosemary stick
Vanilla-orange swirl with strawberry wings
Peanut butter brownie in a frozen crème anglaise coating