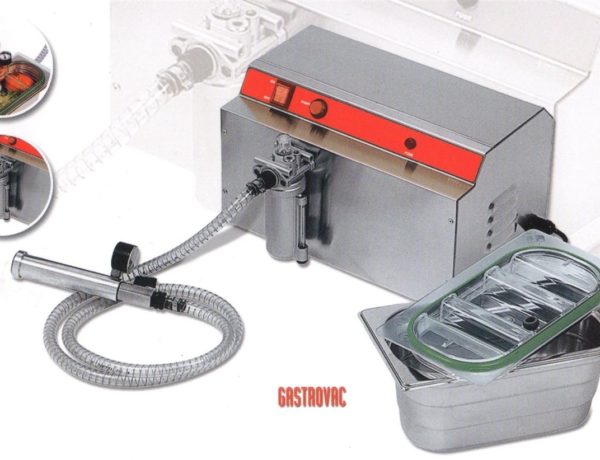 Learn About GASTRO Vac
The Gastrovac is a compact appliance for cooking and impregnating in a vacuum. It is patented in over 160 countries and developed with the Universidad Politécnica de Valencia and the 
cooks Javier Andrés (La Sucursal Restaurant, Valencia) and Sergio Torres (El Rodat Restaurant, Jávea).It functions as follows: by creating an artificial low pressure, oxygen-free atmosphere, the Gastrovac considerably reduces cooking and frying temperatures, maintaining the texture, colour and nutrients of the food.
Moreover, the Gastrovac creates the "sponge effect": when the atmospheric pressure is restored, the food absorbs the liquid around it, allowing infinite combinations of foods and flavours.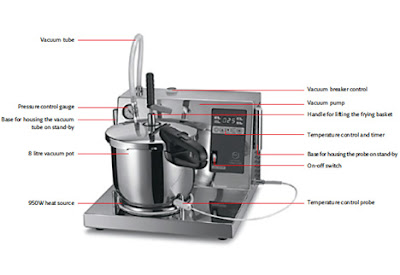 Gastrovac is an appliance for cooking and impregnating in a vacuum. This system allows cooking and frying at low temperatures, and impregnating without losing texture properties.The pot has a device which allows the inner basket to be lifted, without losing the vacuum, and to prevent impregnation.Maximal vacuum level reached is approximately -0,8 bar depending on working temperature.
The temperature is controlled by a probe plugged the pot the bottom.This equipment has a time counter with acoustic signal from 1 to 99 minutes.
Gastrovac is equipped with:
Vacuum pump

Hotplate

Time and temperature control

Pt100 temperature probe

Pot with lifting device

Vacuum breaking valve

Condensation outlet

Vacuum measure gauge
Approx price – 3700 euros
source and image courtesy : cookingconcepts.com