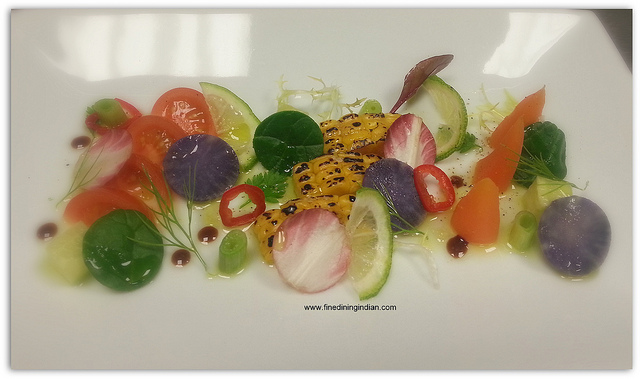 Michelin Equivalent Seasonal Salad From Five Star Kitchen
Seasonal salad from Sofitel st james London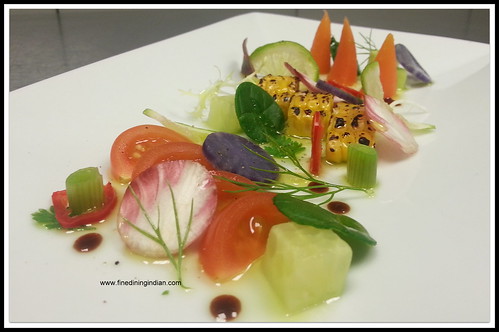 By Finediningindian.com Published: January 28, 2013 A very refreshing salad made with radicchio, purple potato,cucumber,chilli…., the ingredients are picked from Chef Vincent's New winter ala carte menu for Balcon 4.0 stars based on 5 reviews Prep time: 30 min Cook time: 30 min Total time: 1 hour 00 min.
Ingredients,
Baby Cucumber
Spring onion
cherry tomato
baby spinach
Red chicory
curly endive
Purple potato
Sweet corn
Lime
Red chilli
Chantanay carrot
Dill leaf
chervil
Extra virgin olive oil
oak wood aged balsamic vinegar glaze
Smoke sea salt crystals
crushed black pepper
Preparation,
Dice cucumber into 0.5cm cube keeping the seed side for texture and visual effect, using a circle cutter cut baby spinach, radicchio ,pick dill, chervil and frisse keep in cold water.
Thinly slice red chilly in rounds remove seeds keep in same cold water , slice lime to very thin rounds cut each to half keep in same container with rest.
sweet corn boil to soft cut in to long strip season and blow torch to give roast flavour, chantenay carrot boil and peel skin, trim to equal size.
Purple potato boil with skin and then slice and cut with same cutter we used for leafs spring onion cut and lightly blanch.
Take a long plate with slight deep curve inside , drizzle olive oil on base arrange the vegetables and leafs as shown in picture and drizzle with balsamic glaze on top, sprinkle some salt and crush pepper using a pepper mill
The style you can use for all seasonal salad , taste is very refreshing with tinch of lemon, spiciness of fresh chilli, nutty flavour of olive oil.
The plate is picture perfect and so is its nutritional value.