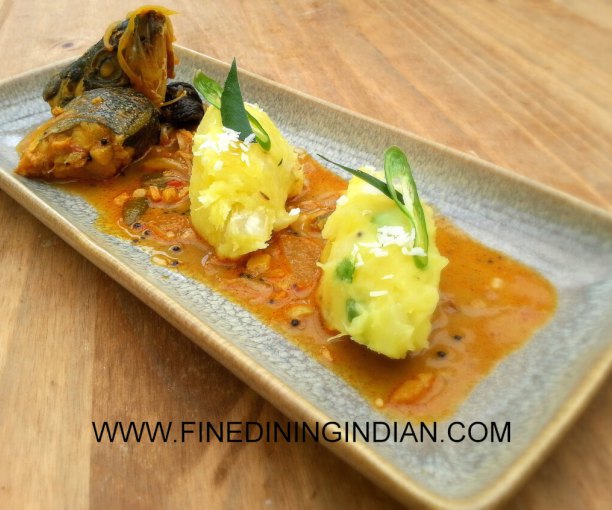 Beyond Curry New Cook Book on Fine-dining Approach Towards Gods Own Cuisine- Kerala ,south India
Beyond curry – Now available in Amazon world wide to purchase the first edition
To buy and see the interior of the book click the link below
few snippets from the book.
Indian Cuisine has much more to offer than Curries and Tandoors.
Kerala the southern state of India, 
Advertised by state tourism as gods own country for its natural beauty. When considering international recognition for Indian cuisine Kerala has not yet received its deserved place.  
As a chef I am proud to represent my homeland, In this book the basic recipes are preserved to its complete origin from my mother even its presented in its luxurious way.
This book is done as a chef-learning diary than normal cookbooks; all the recipes are tested and tried in my home kitchen.
Through the book, we will discuss more than Kerala cuisine recipes, like food designing, plating concept, restaurant business and more.
"Chefs always aim to own and cook in your restaurant, 
While working for others"
Factors in food design concept
These factors have to complement each other rarely even contrasting when combined will result in excellent food presentation scenario.
 How to maximise on your cooking skills and Ingredients used. Sometimes you need to play with contrasting colours when presenting complex dishes(more than three main Ingredients)
We learned cooking is the art and science of good eating. In addition, it can be defined as the study of food and culture, with a particular focus on gourmet cuisine. One who is well versed in gastronomy is called a gastronome, while a gastronomist is one who unites theory and practice in the study of gastronomy. However, many occasions chefs who challenge the laid down path have succeeded in creating a name for him-self.
Many food presentations are closely related to the people culture & their eating habits, even religions have greater influence how food is cooked & presented. In Indian cuisine the cultural influence is food is very high and as Indians, we have to preserve our cultural heritage. Being modern in cooking & presentation skills is not to copying the west but to present in global standards while keeping our authenticity.
Once you have decided to work for yourself, it is a great and bold decision you made for your life stick to it. I will suggest it is better to have a service industry background to start a restaurant business. If you are only a promoter its fine when you have an expert team to take care of your business.
Kerala cuisine is an unexplored area of Indian cuisine. Its possibilities are unlimited and very cost effective in terms of producing fantastic dishes. 
Kerala dishes are simple and lean compared to other rich cuisines of India it is mainly due to the coastal influence in Kerala cuisine.
Kerala cuisine has a fantastic legacy of seafood recipes, which will be an added advantage for any Indian restaurants.
Kerala cuisine has to be marketed to bring in clients since it is a new taste than the normal Indian cuisine restaurants.
There has to be a strong plan and decision to be made before you take your first step. Once you made your decision never look back whatever hardship it may take make your plan a reality.
'Any remarkable Journey starts with a single step'. 
Given are some snippets about the content of book with hand picked recipes of kerala dishes from my mother.
Enjoy reading and Cooking