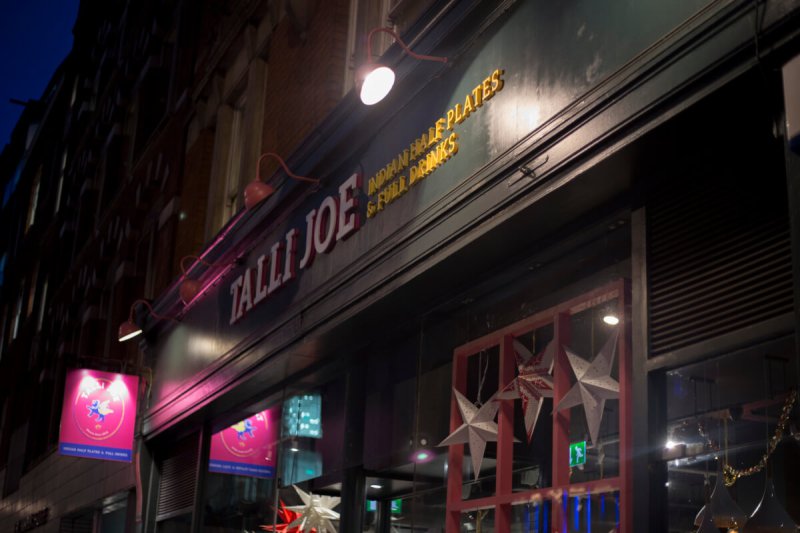 Talli Joe London | United Kingdom
Talli Joe London
December 2016.
Our policy is to write about the tasting experience after few weeks we dined . That helps us in writing a genuine article as we are not influenced by the immediate distractions we have at the dining Moment.
" We believe food is memory, if its stays in our memory then that dish requires appreciation. "
The stand out dishes were Bebinca and Kochi Beef Fry.
Here we go and what we taste at
Talli Joe London.
Dishes name will not be as the restaurant listed . It may differ as our chef Reviews wrote in down in his own words.
Truffle Kulcha Talli Joe London :
Our first dish arrived cottage cheese stuffed naan Kulcha with ghee black Truffle. The Kulcha is of good texture , cottage cheese cant be felt . For Truffle it seems like the Kitchen is using black truffle trimming and olive salsa a cheaper option than truffle. The result is good kulcha but the truffle cant be sensed at all.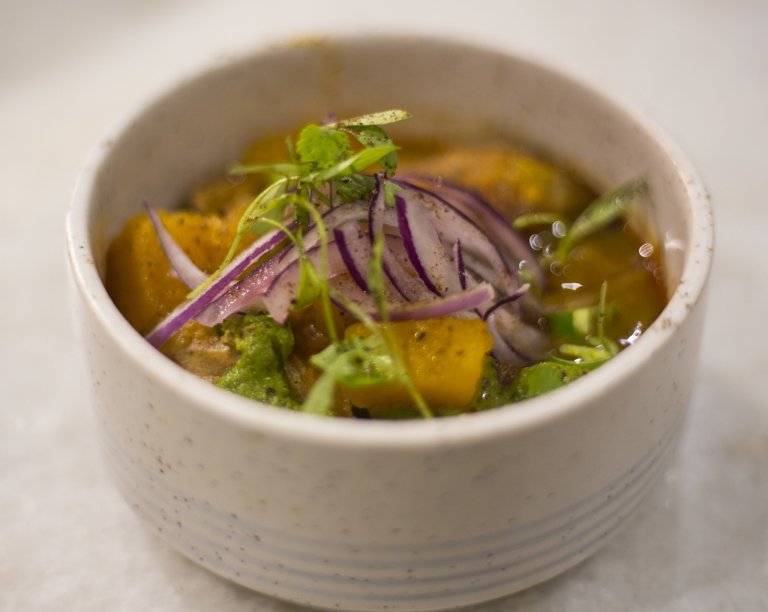 Butter squash Talli Joe London :
Slowly cooked butternut squash lightly spiced. topped with sliced red onion and green chutney. Its a pure hit and miss. In south India – Kerala there is an amazing dish with Pumpkin, called eurushery cooked with coconut .Squash could have treated same way with some Punch as it lacks the Indian kick.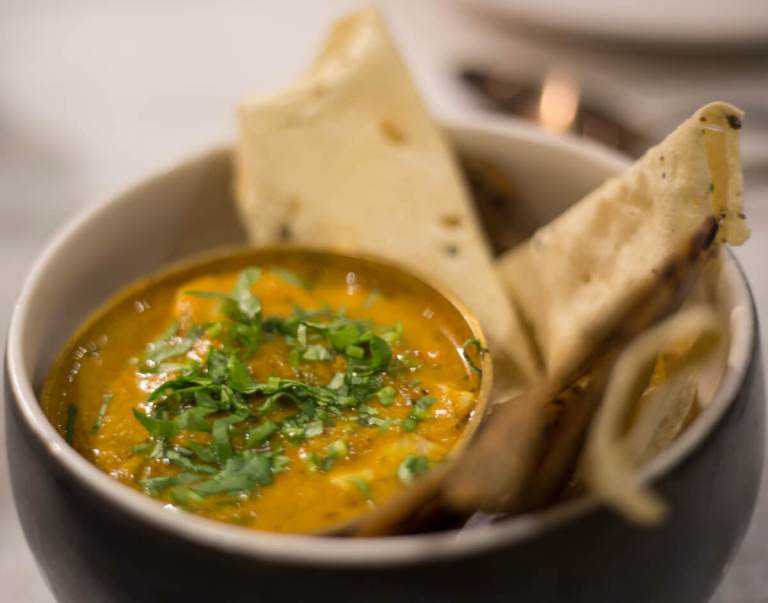 Pappad Subzi :
Agreed its different and a traditional Rajasthani dish . Millet is rich in fiber and high source of vitamin, Iron, calcium. Subzi is well-balanced again the same pattern of spice level and under seasoning . Rajasthani dishes are famous for their spice levels as Hot spicy dishes are good for desert climate to Re-hydrate your body. Rajasthani cuisine is influenced by the life styles of Rajput Warriors.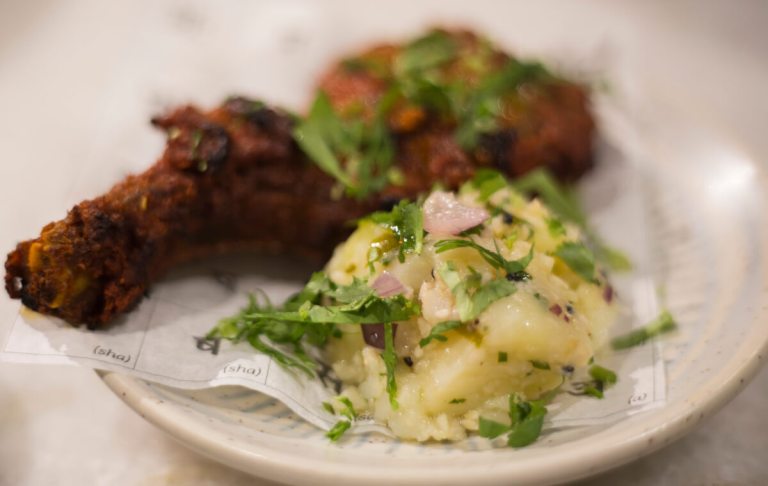 Kohlapuri Lamb Chop with Potato Salad :
Kolhapur is a famous culinary region of Maharashtra .Kolhapur is famous for its sandals and Mutton dishes. Kohlapuri spice mix is very spicy with chilli,cinnamon,pepper and more… At talli-joe lamb chop is spicy , it's not trimmed neatly may be to keep the cost tight they kept the fatty layer, resulted in bit chewy texture. Potato salad is very cold would have tasted better when served room temperature.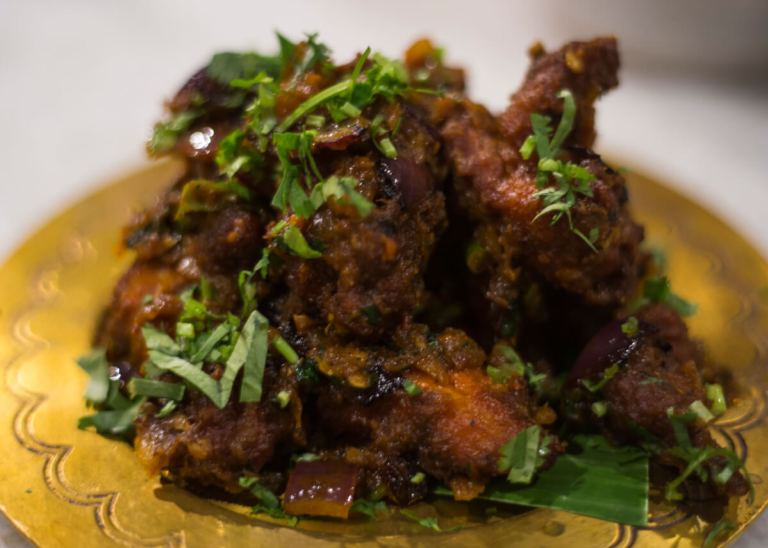 Chicken 21 :
In south Chennai and Hyderabad has similar dish named Chicken 65 originated from Buhari Hotel in Chennai from 1965. fried chicken with spices tossed in yoghurt and curry leaf . can't understand whats the concept of 21?? tend to be… The spice mix is very like chicken 65 . but the pieces tend to bit hard as its fried more than just cooked .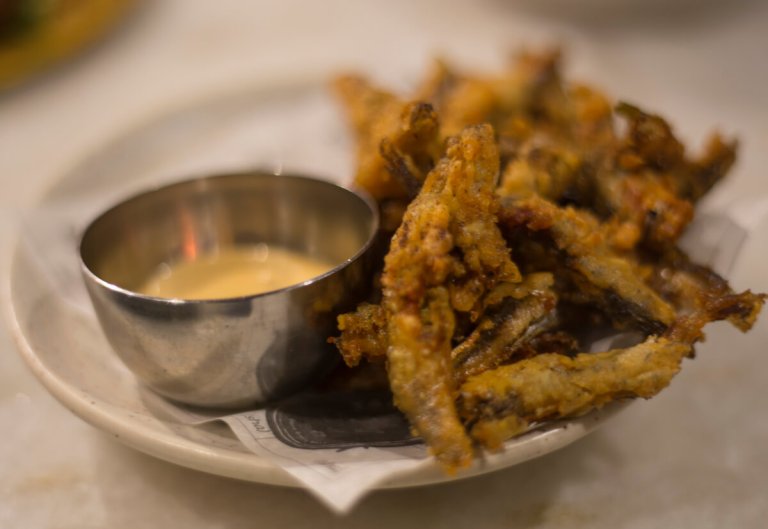 White Bait Kempu :
Traditionally and more familiar with Gobi Kempu bezule one of the star dish at Southern spice restaurant in Taj coromandel. Kempu bezule style is originated from Karnataka. Which is slightly spicier and reddish . Here the white bait is crispy and juicy in middle . But seasoning is very poor. The tadka mayonnaise , tadka flavour is missing and the consistency is runny than a thick dip.

Banana Flower :
Banana flower In kerala what mothers at home cooks with . It is a very high source of fiber and great for health benefits as even ayurveda advice. For this particular dish from a chef point of view its made bit complicated; if let alone the main ingredients to come clean on its value the dish could have been great addition to London culinary scene. To make it like an American slider; the additional items which cant remembered at this point ; takes away the flavour of Banana flower. Not sure whether the Banana flower is as fresh considering the food miles or a canned product now available in Indian supermarkets. Where it must have travelled from south India or srilanka.

Kochi Beef Fry :
Its a beef Ularthiyathu origante from kottayam side where the christian community makes the best ones . In kerala there are different beef preparation where meat is taken from Buffalo , in trivandrum its called beef dry fry. In Kerala its eaten with porotta its different than usual north Indian breads . Here at Talli joe the dish is a hit and loved the flavours. the paratha is cooked in tandoor but the layers or lachha is not clear and flaky.

Bebinca :
It good to see Indian restaurants focusing on Indian desserts than making con-fuision cuisine desserts like chocolate samosa, cheese cakes and so on. In India we have a great collection of desserts by chefs talent it can be bought fine dining scenes. BEBINCA is a classic goan sweet which has 7 layers. made with flour , egg yolk , sugar and Nutmeg . each layer is baked or ideally gratinated one by one on Top. Here the desert is nice bit on sweeter side than normal but very light than traditionally firm versions.​

Black Carrot Halwa :
Black or Purple carrots the part of Heritage carrot originates from Turkey or middle east and asia. The dish Here is different from the traditional carrot halwa only by color or carrot choice. The peanut brittle or nougatine gives a nice crunchiness. It would have nice if accompanied with Rabri sweet condensed milk goes well together .

Berry Malai :
An adaptation of berries and cream . Malai is Hindi word for cream or reduced milk . Not sure why it's called malai when the description says its baked yoghuty it should be 'Dahi'. The dish is light and well-balanced sweetness. Dark berries are fine in winter but strawberries not great pick for winter menu.

At Night :
Outside of Restaurant Logo and restaurant is highly Visible. During the conversation with chef about logo he said once you get Intoxicated you feel like a Lion with wings ready to take the world.

Our Food Review Talli Joe London

Its best not to call our tasting experience as a restaurant review – for the Fact for a perfect review you need to visit Restaurant at-least three times judge the average for consistency . Our effort is to Recognise the best effort in Indian culinary world appreciate the Research.

To BOOK Talli Joe

If You visited. Talli Joe.please Give your Review Below

Disclaimer :

We are not responsible in any way supporting or demoralising the restaurant business we only write about the dish we tasted on that particular time. It may be better or worse at times depending on various circumstance going in kitchen . Consistency is key for any restaurants success.