Tandoor chop House London Food Tasting
Tandoor chop house is fairly new kid on Block. Nestled with historic places and story in world famous Trafalgar square London.
Tandoor chop house in their own Words
"Tandoor Chop House is the meeting of a North Indian communal eatery and a classic British chop house. It brings together the characteristics of these two traditional restaurants – the tandoor ovens, Indian spices and marinades, select prime cuts of meat, and buzzing atmosphere. The result is a place diner can come to socialise over drinks and share plates of hearty, comforting food."
[thb_gap height="70px"][thb_image alignment="center" image="4533″ img_size="full"]
World needs more places like this that serve Simple Indian food in a high quality environment. congrats to the owners to move out of the normal expected Indian restaurant concept.
Tandoor chop house advertise is quality Naan and Fine cuts.
Personally for me the tag line doesn't adds up. Read so many review by famous Food reviewers. Naan is fairly normal. It's not high quality than any other Indian restaurant. Bone marrow Naan – Bone marrow is in dripping melted form – I expected to see few pieces of bone marrow. will explain more to the dish below.
Fine cuts!!!  – don't know Rib eye, lamb cutlet, whole chicken and Chicken tikka is considered ass Fine cuts… For me or any other culinarian you expect a rib on Bone 'cote de-boeuf, they could have use good quality English bred Pork chops with some Goan recipe. T-bone steaks or similar trendy cut. when you say it's a chop house. Just saying it's up to them to Re-Invent.
[thb_image alignment="center" image="4539″ img_size="full"]
I was there with my 6-year-old daughter. she had to adjust with pieces of bone marrow naan and chip without their Gun powder spice mix. Gunpowder a spicy mix we have in south India with Idli and dosa. They use it for seasoning the chips good idea it seems. There is no Kids menu or entertainment for kids clearly it focuses on non-family clientele.
The dishes we tasted
IPA squid and Prawn
Bone marrow Naan
Green Masala Pollock
Halwa Pudding
[thb_image alignment="center" image="4534″ img_size="full"][thb_gap height="70″]
---
IPA squid and Prawn

Indian Pale ale(IPA) which has a long standing history of beer exported to India for east India company during their Indian colonisation period. First to export was George Hodgsons Bow Brewery.
The beer batter using the concept of fish and chips batter with Indian spices is a nice concept the fried batter gives a pleasant beer aroma and it light. There was a chilli dip accompanied with the dish which is bit underwhelming. Personally I would have used some lightly spiced dip with garlic flavour. Similar to the lines of Italian calamari fritters. A burned garlic raita would have been perfect.
---
---
Bone marrow Naan

Bone marrow naan the texture was nice thin and air pockets crisp and soft as expected from a good naan. Was it fine as they wrote on their glass window and tag line – not for me. Bone marrow is completely melted over the naan the flavour is there. but that's not what I expect from a good restaurant serving bone marrow. It should have been poached and diced, for additional texture could have mixed with spiced panko crumbs. Once the naan is taken from tandoor spread the bone marrow mix on top flash lightly in a hot salamander cut and serve. you must dust with some home-made chaat masala.
---
---
Green Masala Pollock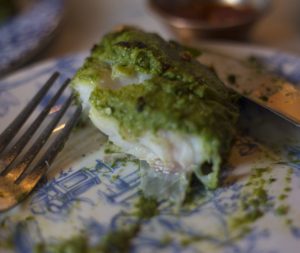 Chosen the fish to taste. Pollock in high profile restaurant agreed its sustainable but would you go to a similar restaurant to eat Pollock I doubt.
For mains there was rib eye, chicken and lamb but can't find any of the fine cuts unless my kind of awareness about fine cut is different to that of Tandoor chop house.
Pollock I must say its cooked perfect juicy and and right texture. But not hot as it's should have been straight out of Tandoor. Green masala it's bit too much. it gives a light bitter taste not sure what green herbs used if coriander, mint the balance need to be tested or adjusting ratio of yoghurt.
It is served with burned lemon wedge. And no sauce if the fish was bit overcooked the whole dish is a disaster.
---
---
Halwa Pudding

Carrot halwa combined with sticky toffee pudding. It should have been a grate combo to hit bulls eye. But failed to reach the finish line. The dish is served in a bowl where hot sticky toffee pudding topped with cold Carrot halwa and clotted cream. Pudding is hot but bit tough elastic texture that you get when it's heated in microwave. would have better resultt if heated in a combi oven with 50% steam and bake.  carrot halwa is cold and you don't enjoy right flavour when it's cold. Clotted cream gives a richness. But personally I would go for a creamy Madagascar vanilla flavoured ice cream.
The most striking part is its garnished with curry leaf !!! can't find the Logic behind the leaf gives bitter taste to clotted cream
The Bill came around 36£ the concept of the restaurant and ambience is great More Indian cuisine restaurants must take this route casual but refined dining. Remember but on the path don't lose essence of our great Indian cuisine. Focus on Simple Indian cooking using local produce.
---
Good wishes to the Team of Tandoor Chop House.
And many more please read the magazine in detail below
---
For promotions
---
If you would like to promote your Restaurant, service or product in Finest Indian magazine Finediningindian . Please write to us – Chef@finediningindian.com
Finediningindian Magazine previous issues
---
[thb_image image="4358″ img_link="url:http%3A%2F%2Ffinediningindian.com%2F2017%2F04%2F15%2Ffinediningindian-food-magazine-march-issue-2017%2F|title:Finediningindian%20Magazine%20March%202017%20Issue|target:%20_blank|"]
[thb_image image="4356″ img_link="url:http%3A%2F%2Ffinediningindian.com%2F2017%2F04%2F15%2Ffinediningindian-food-magazine-march-issue-2017%2F|title:Finediningindian%20Magazine%20April%202017%20Issue|target:%20_blank|"]
[thb_image image="4455″ img_link="url:http%3A%2F%2Ffinediningindian.com%2F2017%2F05%2F07%2Ffinest-indian-food-magazine-may-2017-issue%2F|title:Fine%20dining%20Indian%20Food%20Magazine%20May%202017%20Issue||"]