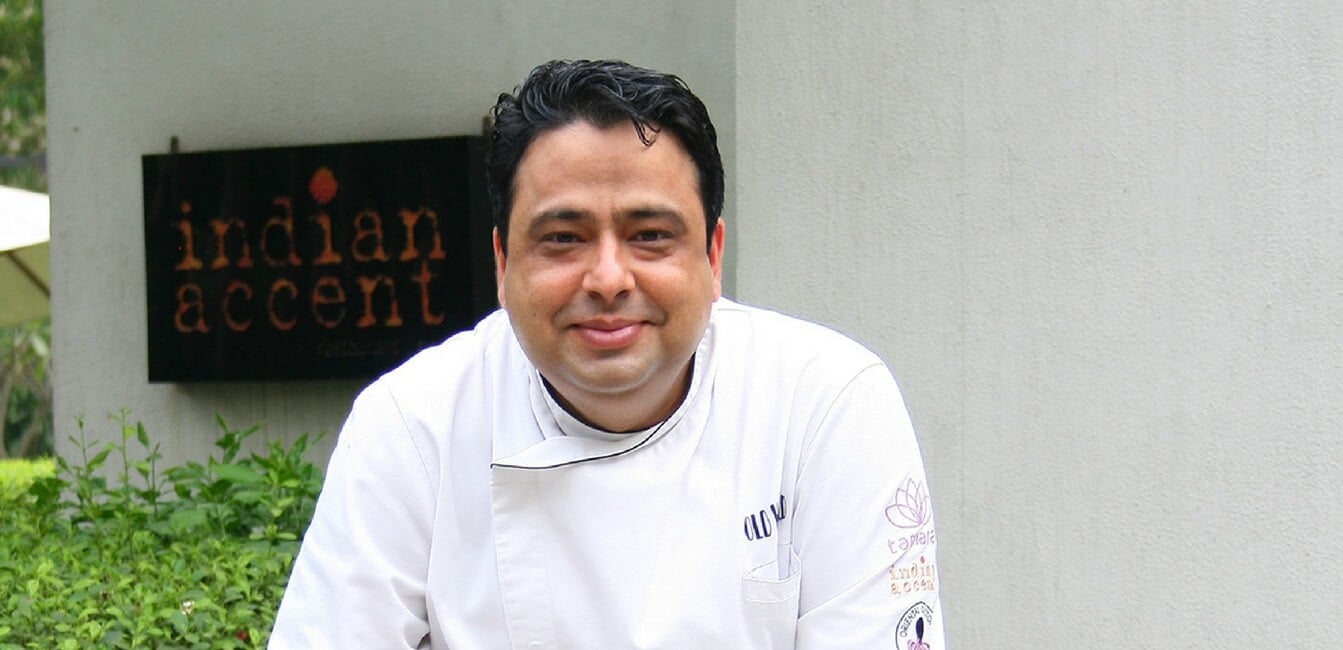 Chef Manish Merhotra on Fine Dining Indian
[yasr_overall_rating]
Chef Manish Merhotra
Leading Fine dining Indian Innovation
A great Insight to the World of Chef Manish Mehrotra's Leading from the Front The Great Indian Food Revolution.Taking Street foods to Fine dining Indian Level
My entry to Hotel school was a clear-cut career decision.
My first hotel or professional  Kitchen experience was at Taj President was I use to go as waiting staff. My career started as a hotel operation trainee in Thai Pavillion.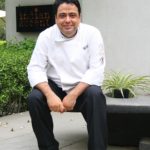 I have been trained for 7 years as a specialty Pan-Asian chef then turned my vision to Indian cuisine and it helped me to think from a different angle.
An idea of innovation in Indian cuisine struck while working in London. We had a restaurant called Thamarai (Lotus) a South Indian restaurant. At that time I eat out a lot infamous London restaurants and of course in Indian restaurants. And this gives me a rude shock despite a great cuisine and a rich heritage of the cuisine. We were far behind among other cuisines in the world.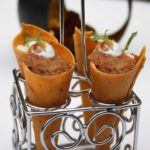 About convincing My boss to believe in a Modern Indian restaurant .what I remember.When I have given the opportunity to open a new restaurant we all agreed upon with Indian accent concept. There was a consensus in implementing the concept, and of course, the boss was on our side.
In the beginning, it was hard to convince people as we were not serving the usual Indian dishes, an Indian restaurant without any usual Indian dishes.There were times people read the menu from outside and walk away. But eventually what we believed in slowly turned out to be a success. And rest is history.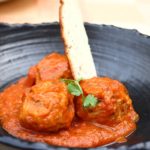 There is tremendous pressure to play at this level, but at the same time, it makes me feel so proud that we are leading an Indian cuisine the world look up to. Definitely not, it didn't hinder my creativity, it encourages me.
I have a huge collection of books. I still believe in reading great books. And I rarely look the internet for inspiration.
My inspirations are from the books,  I opened up to all modern techniques through reading. I  am not a big fan of molecular cuisine. In my kitchen, I do a lot of slow cooking, and for me boiling of any dishes or gravies is a complete disrespect to the ingredient.
Yes, I prefer to stay calm, but there are instances when I have to repeat myself how a dish should be produced, lack of consistency make me upset and it shows.
What I will be doing in kitchen depends on what the situation demands. When there is a new menu coming up I will be cooking or sometimes I will be at the pass. My team and my head chefs are trained long enough with me and they understand what I need.
How I behave in Kitchen depends on the execution of standards set and which is high. End of the day it's my menu and my vision. So when there are any changes from the set standards I will be upset and it shows. And for all the good job done I am the first one to appreciate.
Training is the most crucial element. We give all our international chefs an opportunity to work for  Indian accent in New Delhi for 3 months. They will be continuously observed and motivated by our head chefs and senior chefs.
For me the recipes are there only for a guideline, tasting and understanding the process is more important. And my head chefs will ensure the consistency, quality and taste are met.
It's very difficult to keep the team together for a long time. People move on for better opportunities and when they stay with us we reward them with better exposures. Both of my head chefs at New Delhi and New York been with me from the beginning.
On the development of the team and taking on new team member 'Atitude' Is main focal point. They need to listen and execute my instruction as it's my menu. All my head chefs are promoted within the team.
To Make the chef's stay with you pretty tough now. competition is severe and yu need to treat, reward your chefs really well. In a way, it's good for the Industry and talented chefs to get what they deserve
There are no daily Rituals I do, I like to take the day as it comes
A comment from a famous Food critic at our early years – " It's not Indian Accent, Its Indian Accident " but we proved them all wrong.
I don't believe in signature dishes all dishes in my menu are my favorites otherwise it should not be there
Indian chefs playing at top of their game in my view: Gaggan Anand doing amazing things, Atul Kochar, Vineet Bhatia, Himanshu Saini in Dubai who trained under me
When I plan a dish I think about does it fit in the menu, does it has a story. Then work on improvising presentation and textures while keeping the originality intact.
As future project, many are in pipeline can't disclose, yes we are working on an Indian accent in London.
My legacy I want to leave behind to make Indian cuisine more acceptable to the International elite diners. It's not all about curries and North Indian. There are so many Amazing regional cuisines need lime light.
As far as my mentor there are many I could thank for. But one man stands tall above all of them. Chef Ananda Solomon of Taj president when I joined Taj Hotels as a Trainee chef.
For any young chefs out there or anyone who wants to be a chef. your Attitude is the key to your success. Stay humble, stay Hungry for Knowledge, Make your basics strong before Innovating.
Yes, I believe Indian culinary education system needs an overhaul. I still see the same curriculum being taught in Hotel schools which I used t study. Indian cuisine must be given its priority than the French basics we study.
And many more please read the magazine in detail below
---
For promotions
---
If you would like to promote your Restaurant, service or product in Finest Indian magazine Finediningindian . Please write to us – Chef@finediningindian.com
Finediningindian Magazine previous issues
---
[thb_image image="4358″ img_link="url:http%3A%2F%2Ffinediningindian.com%2F2017%2F04%2F15%2Ffinediningindian-food-magazine-march-issue-2017%2F|title:Finediningindian%20Magazine%20March%202017%20Issue|target:%20_blank|"]
[thb_image image="4356″ img_link="url:http%3A%2F%2Ffinediningindian.com%2F2017%2F04%2F15%2Ffinediningindian-food-magazine-march-issue-2017%2F|title:Finediningindian%20Magazine%20April%202017%20Issue|target:%20_blank|"]
[thb_image image="4455″ img_link="url:http%3A%2F%2Ffinediningindian.com%2F2017%2F05%2F07%2Ffinest-indian-food-magazine-may-2017-issue%2F|title:Fine%20dining%20Indian%20Food%20Magazine%20May%202017%20Issue||"]
Submit Your Review
[yasr_visitor_multiset setid=2]