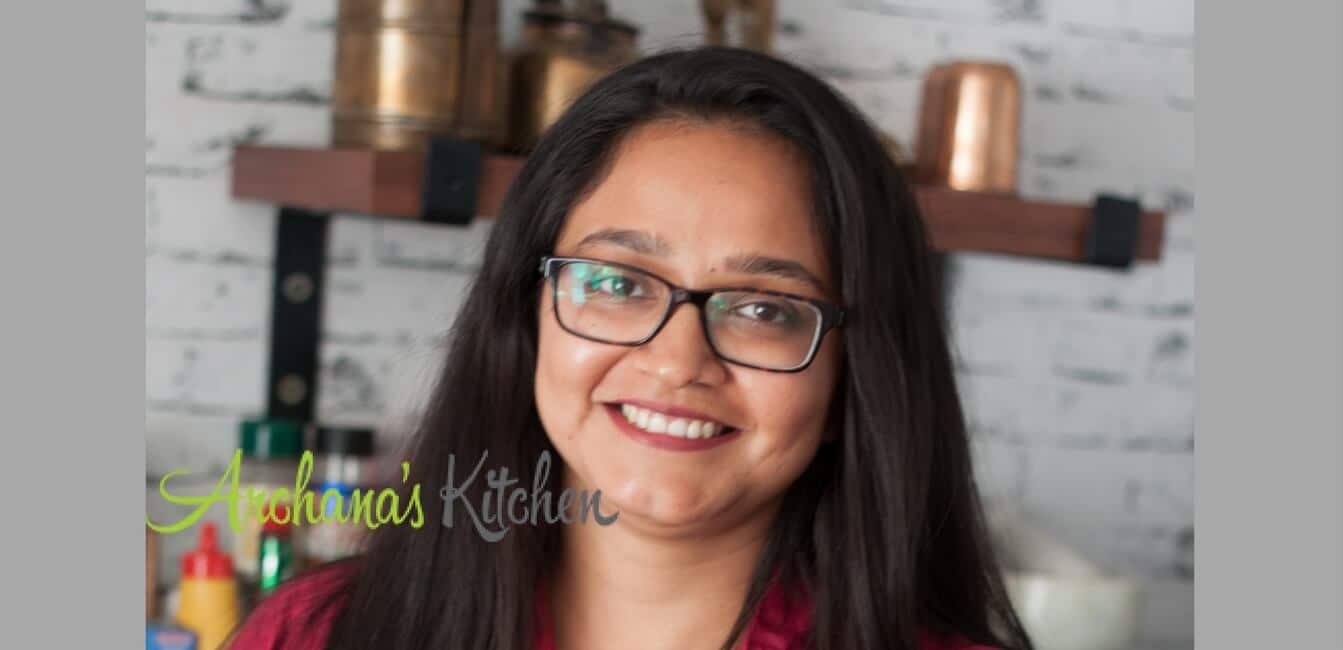 Archana's Kitchen Famous Food Blogger and presenter
[yasr_overall_rating]
Archana Doshi Of Archana's Kitchen
[thb_gap height="70px"]
In India, we have some great bloggers, Food presenters and recipe developers who popularize Indian recipes all over the world and the evolution of Indian cuisine is not possible without their participation.
We, at Finediningindian will be showcasing these bloggers, particularly women Indian food bloggers and food presenters who are taking Indian cuisine to the next level.
These stories can be inspiring to anyone who wants to pursue their passion and turn it into a gainful occupation.
Our Featured Indian Women Pride
Introduction
 A Brief 150 word Intro… as who, what you do now, why you do..
I am the founder of Archana's Kitchen and an accomplished entrepreneur for the last 9.5 years
I am very passionate person with a perseverant personality who has self-driven motivation to make an impact in the society at large.
I conceived, created and launched Archana's Kitchen in 2007 and built it into one of the largest recipe and food discovery websites in India, enabling everyday users to become confident in their everyday cooking.
What was the motivation behind starting your website and having your name on it?
My love for food and cooking started at a very young age. At the age of eight, I put an on apron and began cooking with my mother and have never looked back.
Even though I was formally trained as in software engineering, my heart remained in food. Over the years, as I cooked for friends and family, the single most problem which they would share with me was they found cooking too difficult and intimidating. I would listen and tell them, "It's not difficult, just start experimenting with ingredients and things will slowly start falling into place". I realized, it was easier for me to say that and harder for them to do.This is when I switched careers and built Archana's Kitchen.
Today, Archana's Kitchen is India's leading recipe and food discovery website that gives the world a credible and confident 'DIY' solution for everyday cooking. It has millions of readers using the recipes and videos enhanced with rich content like menu plans, special diets, dinner ideas, lunch box ideas and more.
We are a team of 6, with an in house food expert and also 250 + writers on our platform.
About the name on the website, never gave it any deep thought. I have a vision to touch every home and every heart through food.
What was your initial Investment and work behind starting the website?
The investment was simply time, passion and a website. With two small children as young as 14 months and 2.5 years, I started the website with a vision to make a change and empower people with great recipes and cooking skills.
Who or what was your support system in the beginning?
My husband was my complete support from the beginning, and my willpower to make it happen.There was no other external support from parents or nannies and the likes J
How did you overcome setbacks and if you want to share any setbacks you faced?
I never quiet had any setbacks. Probably till date I wish I had more tech support, so the website can keep getting a better user experience. Apart from that, my journey to inspire people has been my only vision.
What are the innovations you are taking on in Indian cuisine and how you research, develop new recipes?
With every new recipe that we create on our platform, we are constantly looking at how we can provide a healthier cooking technique. In addition we focus a lot on the use of lot of seasonal and local ingredients. More than innovations, we have a huge task in hand to simply provide a variety in every home, every single day.
 What is the future of Indian cuisine according to you?
I am working on ensuring we retain our rich culture and heritage when it comes to food. By going back to basics, eating minimally processed foods, with healthier cooking techniques is my vision. And I truly hope Archana's Kitchen can be the key driver for that.
How do you schedule activities for your website?
We do maintain a calendar and are usually a month ahead of the schedule, at the same time ensuring we are creating recipes and meal plans according to seasons.  At each cycle focusing on ensuring we offer nothing but the best to your users.
What kept you going when you were not getting the due recognition after all the hard work you given?
Honestly, I have not been working to get recognition and never for a day felt the need for it.
With our users constantly writing to us and letting us know the difference we are making to their lives – it is the only thing which drives us to work harder to create and offer more.
What effort goes into making a successful food website like yours?
Passion, Persistence and the willingness to understand, adapt and create value to the users and their needs.
Finediningindian Magazine previous issues
---
[thb_image image="4358″ img_link="url:http%3A%2F%2Ffinediningindian.com%2F2017%2F04%2F15%2Ffinediningindian-food-magazine-march-issue-2017%2F|title:Finediningindian%20Magazine%20March%202017%20Issue|target:%20_blank|"]
[thb_image image="4356″ img_link="url:http%3A%2F%2Ffinediningindian.com%2F2017%2F04%2F15%2Ffinediningindian-food-magazine-march-issue-2017%2F|title:Finediningindian%20Magazine%20April%202017%20Issue|target:%20_blank|"]
[thb_image image="4455″ img_link="url:http%3A%2F%2Ffinediningindian.com%2F2017%2F05%2F07%2Ffinest-indian-food-magazine-may-2017-issue%2F|title:Fine%20dining%20Indian%20Food%20Magazine%20May%202017%20Issue||"]
Submit Your Review
[yasr_visitor_multiset setid=2]