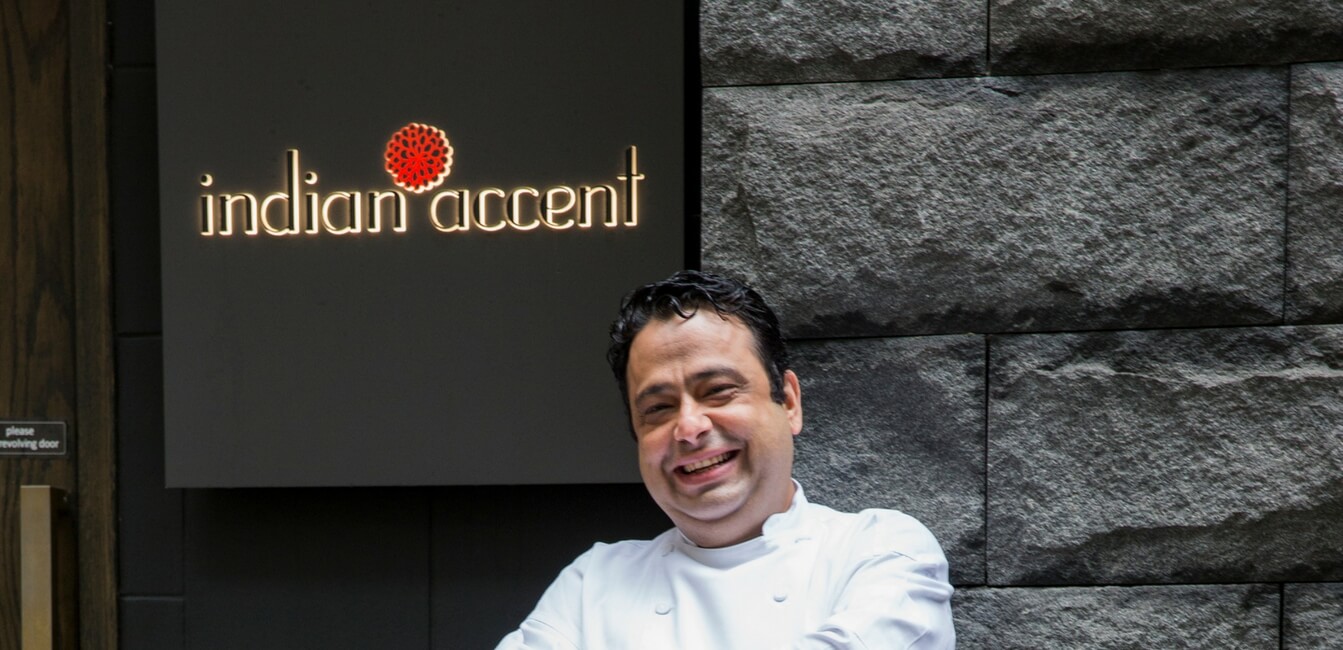 Indian Accent London
[yasr_overall_rating]
INDIAN ACCENT TO OPEN IN LONDON
London: After the great success of Indian Accent, New Delhi followed by Indian Accent, New York, the inventive Indian restaurant that has revolutionised Indian Cuisine shall open at 16 Albemarle Street, Mayfair, London. The site was previously occupied by Old World Hospitality's other restaurant – Chor Bizarre.
Rohit Khattar, Founder Chairman, Old World Hospitality, said "We are so very grateful to the loyal diners of Chor Bizarre, London for their love and patronage, that kept us going for 20 glorious years. This decision to close Chor Bizarre was hard. However, it did need major refurbishment after so long and whilst we were looking for a home for Indian Accent, we realised that there was no space more perfect than 16 Albemarle Street, Mayfair. We do hope that London embraces Indian Accent as warmly as New York has."
In addition to the original Chor Bizarre in New Delhi and a franchised one in in Lavasa (Pune), a new Chor Bizarre recently opened at the beautiful Bikaner House at India Gate, New Delhi. Before Chor Bizarre London closed, its regular diners picked up almost all the furniture and artefacts and carried them home as memories of the much loved restaurant.
Indian Accent showcases inventive Indian cuisine by complementing the flavours and traditions of India with global ingredients and techniques. It is the only restaurant in India to feature in the World's 50 Best Restaurants (2015, 2016 & 2017). Indian Accent has been awarded the San Pellegrino Best Restaurant Award in India by Asia's 50 Best Restaurants 2017 for the third consecutive year. It has also been rated the No.1 Restaurant in India in all cuisines for 2014, 2015 & 2016 by Trip Advisor.
Indian Accent opened a branch in New York in 2016 to critical acclaim, including being ranked the Best Indian Restaurant in the city by both Zagat and New York Magazine and among the City's Best New Restaurants of the Year by Eater, TimeOut and Zagat. It is the only Indian restaurant to feature in America's 100 Best Wine Restaurants by Wine Enthusiast.
Indian Accent's innovative menu has been designed by Chef Manish Mehrotra. His creativity  showcases the unique amalgamation of fresh local produce combined with  home style nostalgic cooking using unusual ingredients from across the globe. The result is a menu that excites the adventurous yet satisfies traditional palates. Manish has won multiple awards and is considered one of the leading chefs in the world by critics and diners alike. He will move to London this year to set up Indian Accent and will be joined by Group Beverage Director, Daniel Beedle who has received great reviews for his wine list and beverage menu at Indian Accent, New York.
Indian Accent, London is being designed by one of the UK's leading Restaurant Design companies, Design LSM. The interiors of Indian Accent are intended to be both modern and referential. Reimagined materials familiar in Indian architecture, such as brass, marble and plaster are combined to create a contemporary and clean backdrop for the creative dishes. The lobby is dark and intimate which contrasts the light minimalist interiors inside. Combed pearl-lustered plastered walls, reminiscent of Indian Accent's locations in New Delhi and New York have been incorporated and the lower ground floor is ideal for private dining.
Indian Accent will open late autumn and will trade 7 days a week between 12:00 noon to 2:30pm and 5:30pm to 10:30pm.
For more details, please visit www.indianaccent.com/london, where diners can leave their contact details so they can receive further information from Indian Accent, London.
Facebook: @IndianAccentLondon | Twitter: @IndianAccentLon | Instagram:@indianaccentlondon

About Old World Hospitality: 
Old World Hospitality operates India's most comprehensive Convention and Performing Arts Centre, Habitat World, India Habitat Centre, New Delhi. The company also operates 2 hotels (Hotel Broadway and The Manor) and 35 restaurants in India and abroad including Chor Bizarre, Tikka Town, The All American Diner, Oriental Octopus, Eatopia and Indian Accent. In addition, it operates a wellness centre, two outdoor catering divisions, and a wedding planning company. www.oldworldhospitality.com
Chef Manish Mehrotrs of Indian accent
on  Fine Dining Indian 
magazine July 2017
Buy Print Version

Read and Download Fine dining Indian July Issue 2017. we are very grateful to feature Chef Manish Merhotra, Archana Doshi of Archanas Kitchen, Street food from Thiruvanthapuram, Food Tasting on Jamavar London.Our sincere gratitude to Tandoor-i For being our Prime Sponsor For July which feature Chef Atul kochar as Brand Ambassador.I would personally like to thank My wife supriya premaraj, my cousin Priya and all the esteemed personalities…

Finediningindian Magazine previous issues
---
[thb_image image="4358″ img_link="url:http%3A%2F%2Ffinediningindian.com%2F2017%2F04%2F15%2Ffinediningindian-food-magazine-march-issue-2017%2F|title:Finediningindian%20Magazine%20March%202017%20Issue|target:%20_blank|"]
[thb_image image="4356″ img_link="url:http%3A%2F%2Ffinediningindian.com%2F2017%2F04%2F15%2Ffinediningindian-food-magazine-march-issue-2017%2F|title:Finediningindian%20Magazine%20April%202017%20Issue|target:%20_blank|"]
[thb_image image="4455″ img_link="url:http%3A%2F%2Ffinediningindian.com%2F2017%2F05%2F07%2Ffinest-indian-food-magazine-may-2017-issue%2F|title:Fine%20dining%20Indian%20Food%20Magazine%20May%202017%20Issue||"]
Submit Your Review
[yasr_visitor_multiset setid=2]