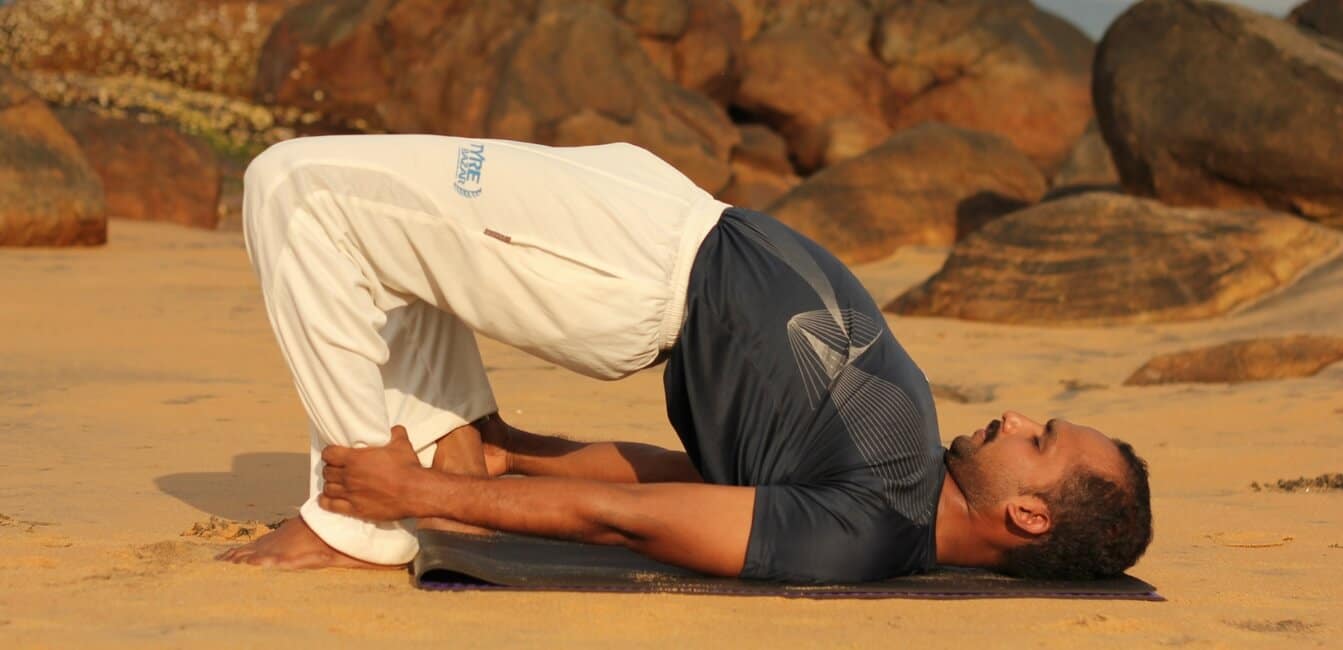 Learn Sethubandhanasaana or Bridge Pose
[yasr_overall_rating]
Sethubandhanasaana or Bridge Pose

How to do Sethubandhanasaana or Bridge Pose
Lie on the mat, bend your knees, legs shoulder width apart.
Catch the ankles of both legs with your hands.
Relax the body and mind.
Inhale and with the support of the arms slowly raise your hips as much as possible and shoulders and head on the floor.
Getting a good arch to the upper back as well.
Close the eyes and relax the whole body in the final pose for as long as comfortable.
Hold the position for 30 seconds, release the hands, lower the back and return to the relaxation position.
Beginners should hold the final position for a few seconds only and gradually
increasing the time over a period of weeks.
Precaution
One shouldn't perform this pose if suffering from neck pain.
In back injury, it should be avoided.
Skip the yoga poses if one having knee pain.
Avoid it during shoulder injury.
Avoid turning your head right or left while you are in the pose.
Benefits
The bridge reverses the stretch off the shoulder stand.
Stretches the chest, neck, spine, and hips
Strengthens abdominal and lumbar muscles.
Improves circulation of blood
Helps alleviate stress and mild depression
Calms the brain and central nervous system
Stimulates the lungs, thyroid glands, and abdominal organs
Improves digestion
Helps relieve symptoms of menopause
Reduces a backache and headache
Reduces fatigue, anxiety, and insomnia
Rejuvenates tired legs
Relieves symptoms of asthma and high blood pressure
Therapeutic for hypertension, osteoporosis, and sinusitis
Author Yoga Instructor: Abhilash Soman
My website is www.avadhutayoga.co. Follow me on my face book page -Yoga with Abhilash. https://www.facebook.com/Yoga-with-Abhilash-953306254684951.
Finediningindian Magazine previous issues
---
[thb_image image="4358″ img_link="url:http%3A%2F%2Ffinediningindian.com%2F2017%2F04%2F15%2Ffinediningindian-food-magazine-march-issue-2017%2F|title:Finediningindian%20Magazine%20March%202017%20Issue|target:%20_blank|"]
[thb_image image="4356″ img_link="url:http%3A%2F%2Ffinediningindian.com%2F2017%2F04%2F15%2Ffinediningindian-food-magazine-march-issue-2017%2F|title:Finediningindian%20Magazine%20April%202017%20Issue|target:%20_blank|"]
[thb_image image="4455″ img_link="url:http%3A%2F%2Ffinediningindian.com%2F2017%2F05%2F07%2Ffinest-indian-food-magazine-may-2017-issue%2F|title:Fine%20dining%20Indian%20Food%20Magazine%20May%202017%20Issue||"]
Submit Your Review
[yasr_visitor_multiset setid=2]