Learn About Brain Food
[yasr_overall_rating]
Brain Food learn more and Recipes
Delicious Brain Food Recipes
Pack your plate with the best brain food dishes and better memory, test scores and mood are all just a forkful away. The natural compounds in these delicious dishes act as the frontline of brain-health defense, clearing your body of cancer-promoting free radicals, pesticides, and plasticizers whilst cultivating neurotransmitter health and fighting depression. Don't forget that when it comes to choosing these foods, it's wise to go the organic route. Do you know that many pesticides are neurotoxic and have been known to lower IQ in kids? It's important that you pair your kids with the right growing up milk that that will support learning. Similac Gain Plus for example contains a unique vegetable oil blend that helps better DHA absorption.
The human brain is a hungry little organ. It requires a lot of nutrition to keep it humming along smoothly. Weighing in at only 2% of your total body weight, this vital organ uses 20% of the body's daily calorie intake. Most people choose their meals depending on taste, convenience or their waistline and weight but eating for a healthy brain is really a much wiser way to go. Research has shown that certain foods can increase brain function, protect against age-associated cognitive decline and encourage focus and clarity. Picking the correct foods can make a really important difference to your health, vitality, and functionality of this essential organ.
As the saying goes, you are what you eat. So, if you add these foods to your diet, your brain could see some serious results. Here are four tasty recipes that incorporate such nutrient dense foods to nurture your think-tank.
Beets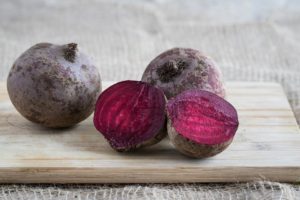 Beets bring Vitamin B goodness to the brain game. This important nutrient aids in speeding up data processing and sorting through your memories. Fresh beets are even better as it serves as natural antidepressants. Don't leave out the beet greens. You can sauté them and add more nutrients to your meal because they are chock full of heart protecting folates. A good tip would be to avoid canned beets. The containers are most likely coated in bisphenol A or BPA, which is a chemical that disrupts our natural hormonal systems. Here are two delectable recipes that incorporate beets:
For Beetroot Hoppers and Mushroom Onion Masala, click here: Beetroot Hoppers with Mushroom
For Lamb Sweet Bread Kebab and Goat Curd Beetroot Chutney, click here: lamb-sweet-bread-shami-kebab-and-beetroot-goat-curd-chutney
 Dates and Nuts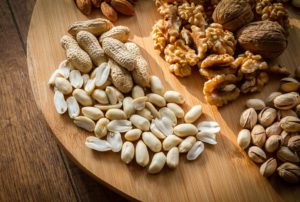 Dates are also fondly called mines of vitamins because of their large amount of metal elements such as phosphorus, calcium, iron, magnesium, sodium and more. They help in the treatment of throat roughness and also happens to be of the most nutritious plants for the body. When eaten on an empty stomach, dates are known to kill worms. Nuts and seeds on the other hand, are terrific sources of Vitamin E, which can help prevent cognitive decline as you age. Other foods that are also vitamin E rich are eggs and vegetables. It's not only your brain that will benefit from eating nuts, your heart will be happier as well. Nuts like almonds, walnuts, cashews, Brazil nuts, pistachios and peanuts have been link to a decreased risk of cardiovascular disease and suggests that they may help in protecting against some facets of age-related cognitive decline. Many nuts are also rich in essential omega-3 fatty acids.
For a delicious Date and Mixed Nuts Smoothie Recipe, click here: ajwa-date-smoothie-recipe-for-ramadan-iftar-party
Dark Chocolate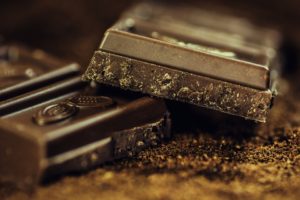 Flavanol compounds found in dark chocolate help boost your circulatory system, promoting better blood flow to the brain. Harvard researchers recently conducted a small study that suggests a link between dark chocolate and brain function. 60 participants between the ages of 67 and 77 years old drank hot cocoa twice a day for a month and the results showed that chocolate had appeared to boost the brain's blood supply, providing it with more fuel for the work that it does. In fact, chocolate could even improve math skills. A study conducted in 2009 asked participants to count backwards in groups of the three and discovered that those who drank flavonol-fueled hot cocoa calculated faster and were less likely to feel tired or mentally drained after.
Indian small sharing plate cook book
For a tasty Black Cardamom Spiked Chocolate Mousse and Nutmeg Scented Almond Chikki, click here:
black-cardamom-spiked-chocolate-mousse-and-nutmeg-scented-almond-chikki
Eggs
Pastured Eggs are full of brain-protecting omega-3 fatty acids and have been called the ideal brain food. Keep in mind though, not all eggs are treated equally. Eggs from pastured hens, the ones raised outside on green pastures contain two times more omega-3 fatty acids than the standard store-bought ones. Not just that, they also have three times more naturally occurring vitamin E, which is another potent antidepressant and can possibly prevent Alzheimer's Disease. Make sure to eat the yolks of the pastured eggs, as they are rich in choline, a brain-boosting compound that promotes neurotransmitter health.
For an easy and quick egg dish, here is a refreshing recipe for Calicut Street Style Egg Scramble with Peas and Coconut: From our Beyond curry Cook book
a-quick-refreshing-recipe-for-calicut-street-style-egg-scramble-with-peas-and-coconut-egg-bhurji
Finediningindian Magazine previous issues
---
[thb_image image="4358″ img_link="url:http%3A%2F%2Ffinediningindian.com%2F2017%2F04%2F15%2Ffinediningindian-food-magazine-march-issue-2017%2F|title:Finediningindian%20Magazine%20March%202017%20Issue|target:%20_blank|"]
[thb_image image="4356″ img_link="url:http%3A%2F%2Ffinediningindian.com%2F2017%2F04%2F15%2Ffinediningindian-food-magazine-march-issue-2017%2F|title:Finediningindian%20Magazine%20April%202017%20Issue|target:%20_blank|"]
[thb_image image="4455″ img_link="url:http%3A%2F%2Ffinediningindian.com%2F2017%2F05%2F07%2Ffinest-indian-food-magazine-may-2017-issue%2F|title:Fine%20dining%20Indian%20Food%20Magazine%20May%202017%20Issue||"]
Submit Your Review
[yasr_visitor_multiset setid=2]