Kricket London Food Tasting
[yasr_overall_rating]
KRICKET | LONDON
Food Review By FinediningIndian Magazine Team .Kricket was first founded in a tiny 20-seat shipping container in Brixton. The restaurant is a modern memoir of time spent living and working in Mumbai where our story started, and which still heavily influences everything we do. Combining British ingredients with the authentic flavours, aromas and spices of India, our focus from the start has been to create seasonal, modern Indian plates and drinks, served in a relaxed space.Read Kricket Restaurant London Food Tasting Review August as given In Fine dininhg Indian magazine.
We went with a group of Indianhead chefs and tasted 90% of the menu. What we found 'kricket' as new age British gastro pub styled restaurant using Indian cuisine as inspiration, don't like to call it as fusion cuisine.
But it's clearly not an Indian restaurant as far as food and taste goes.  This must not be Indian cuisine in future. Indian traditional recipes and techniques must be preserved in right way being Modern. Or new restaurants will try to emulate krickets success and Indian cuisine will lose its originality.
We feel very privileged to see how Indian cuisine can influence other cuisines. Would love to see More Kricket like restaurants in French cuisine, Japanese cuisine…
Dishes we Tasted are below with Our Observation
Masala Naan
Green chilli, garlic, Berk swell
Bhel puri, raw mango, tamarind, sev, yoghurt
Lasooni scallop, Goan sausage, poha, seaweed
Torched kasundi mackerel, gooseberry chutney, spiced almonds, oyster leaf
Karnataka mussels
Telangana beef pickle, roti, salted paneer
Keralan fried chicken, curry leaf mayonnaise, pickled mouli
wood pigeon, girolles & fresh peas, pumpkin chutney
Duck breast, sesame & tamarind, pickled cucumber
Shahi tukda, buttermilk ice cream, dulce de leche, berries
Misti doi, pomegranate, rose, pistachio
Buy Print Version of Fine Dining Indian Magazine July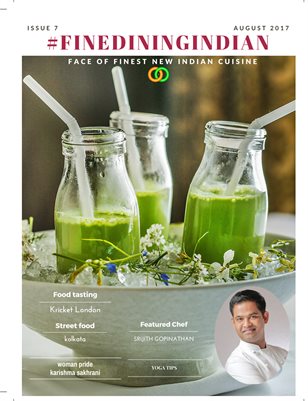 Fine Dining Indian Food Magazine 2017 : Fine dining Indian food magazine august 2017 issue 6
Read and Download Fine dining Indian food magazine August 2017 Edition – Issue 6.we are very grateful to feature Chef Girish Gopinathan Only Two Michelin star chef in the world, Master chef India Finalist Karishma sakhrani, Street food from Kolkata, Food Tasting on Kricket restuarnt in London…

Our Vision
" To be the world's best fine dining Indian cuisine website and magazine"
We strive to achieve this by providing a platform for all Indian food lovers around the globe.
Finediningindian Magazine previous issues
---
[thb_image image="5008″ img_link="url:http%3A%2F%2Ffinediningindian.com%2F2017%2F07%2F05%2Ffine-dining-indian-magazine-july%2F|title:Finediningindian%20Magazine%20July%202017%20Issue|target:%20_blank|"]
[thb_image image="4356″ img_link="url:http%3A%2F%2Ffinediningindian.com%2F2017%2F04%2F15%2Ffinediningindian-food-magazine-march-issue-2017%2F|title:Finediningindian%20Magazine%20April%202017%20Issue|target:%20_blank|"]
[thb_image image="4455″ img_link="url:http%3A%2F%2Ffinediningindian.com%2F2017%2F05%2F07%2Ffinest-indian-food-magazine-may-2017-issue%2F|title:Fine%20dining%20Indian%20Food%20Magazine%20May%202017%20Issue||"]
Submit Your Review
[yasr_visitor_multiset setid=1]