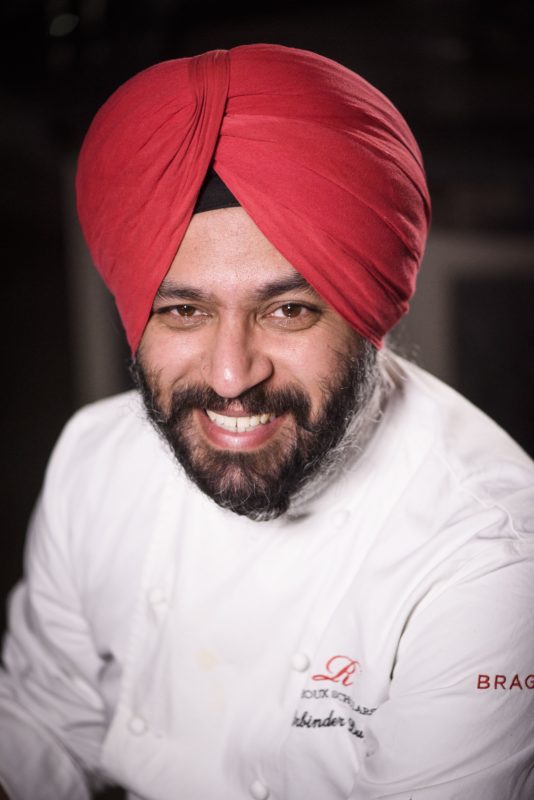 Chef Arbinder Dugal
Chef Arbinder Dugal Master chef Uk
Master chef Top 5 finalist Year 2019 article by
Sana Qureshi | Special Correspondent – Mumbai

How you become a chef and why ?
Chef Arbinder Dugal : Becoming a chef was my biggest passion since childhood. Being Punjabi we think of food all the time and the Inspiration behind this was my mom who makes awesome food at home and guess what's the bonus, we had a Tandoor at the backyard & I kept making my small & big trials on cooking.

What message you want to give to young chefs out there ?
Hardwork , focus and dedication that you need to give to this profession, learn the basics of cooking before using all these modern gadgets , having a passion in heart for cooking is a must.
How you explain your style of cooking?
My style of cooking is progressive Indian food using lots of french , modern cooking techniques. I may take a simple humble ingredient and try turning that to something spectacular.

What are your memorable achievement in your professional life ? Why it was important for you ?
Being in top 5 of masterchef the professional 2019 UK
Finalist in roux scholarship 2012 and two time semi finalist 2013, 2010.
All these competitions are very close to my heart and have given me lots of motivation to push me to do better in what i am doing right now
What is your concept of a writing a menu for your Restaurant and how a new dish makes to the menu list?
Its quite simple, look into the seasonality of produce, source the best possible ingredients. Experience & try skill the best suited strategy.
How you develop your team, what responsibilities and freedom you give to your juniors ?
I always give lots of space to my chefs to work in kitchen. There's a lot of brain storming & tasting session done behind it. And it does give result in fixing what the best for all.
How you keep up to date with a constantly evolving world's culinary scene?
Me & my wife are big foodies, often when time permits we dine at different places. I also like reading cook books & food features and yes, when I'm travelling (by the way I love that) I make sure I visit bench marked restaurants of that particular region also being an era of social media, being updated with what's going around is not a tough task.
One of your worst food critic or comment you received and how you dealt with it?
Master Chef, The Professional Competition, 2019 when I served Mushroom Galouti Kebabs to the judges, explained them the history of it being soft texture & why it is made in a manner to melt in mouth, but it was to my surprise that judges didn't like it.
Any daily rituals you do and how it helps you to stay active, Motivated ?
I start my mornings with meditation followed with prays, this is something that gives me self-calmness & improves my listening ability. By this I also feel boosted for the entire days work.
How you judge a young chef and how you test him for the long term?
I always give my full attention to all young chefs  like to mould them in more skill and give them the right guidance . One quality which i judge young chef for is there learning attitude toward work , punctuality to work .If they have these quality in them then testing young chef  for long term become easy .
what will be Indian cuisine & Indian chef's future according to you, what should be Indian chefs approach in making Indian cuisine best in The World?
World haven't seen enough diversification of Indian cuisine .With our big cultural and heritage behind us we as Indian chefs needs to be full on and more progressive in the way we think about food and how we can improvise it to next level.
Indian Spices are a gem & using it in proper variations yet another master skill & we owe it with true pride.
Name top five Indian restaurants around the world according to you?
As per Chef Arbinder Dugal
Opheem, Birmingham
Indian Accent, New Delhi
Masque, Mumbai
Gaa, Thailand
Campton Place, San Francisco
Name Top Five Indian chefs of all Time according to you ?
Vineet Bhatia
Imtiaz quershi
Gagan anand
Srijith gopinathan
Sat bains
A Book or an Incident that influenced you and how it changed your approach to life?
Ferran Andria book have changed the whole of my approach towards cooking. Chef have given the world something which is unbelievable.
How you choose an Indian restaurant to eat with the family, what dishes you look for in the menu?
Eating with family is all about having fun, good times and  comfort food which isclose to heart.
Butter chicken and dal makhani are my all time favourite dishes.
Which ever restaurant we go with family, I search for these two on the menu. If somebody ask me my choice of last meal on earth, these two is the answer.
Does classic or modern dishes stand ahead of time , why according to you ?
Classic should be classic, playing around with it sounds inappropriate to me.
But with coming of modern techniques lots of chef wants to experiment with classic dishes but keeping the core flavour of the dishes same.
Finediningindian Magazine previous issues
---
[thb_image image="5008″ img_link="url:http%3A%2F%2Ffinediningindian.com%2F2017%2F07%2F05%2Ffine-dining-indian-magazine-july%2F|title:Finediningindian%20Magazine%20July%202017%20Issue|target:%20_blank|"]
[thb_image image="4356″ img_link="url:http%3A%2F%2Ffinediningindian.com%2F2017%2F04%2F15%2Ffinediningindian-food-magazine-march-issue-2017%2F|title:Finediningindian%20Magazine%20April%202017%20Issue|target:%20_blank|"]
[thb_image image="7707″ img_link="url:https%3A%2F%2Ffinediningindian.com%2F2019%2F03%2F07%2Ffine-dining-indian-food-magazine-march-2019%2F|title:Fine%20dining%20Indian%20Food%20Magazine%20March%202019%20Issue|target:%20_blank|"]
Submit Your Review
[yasr_visitor_multiset setid=0]