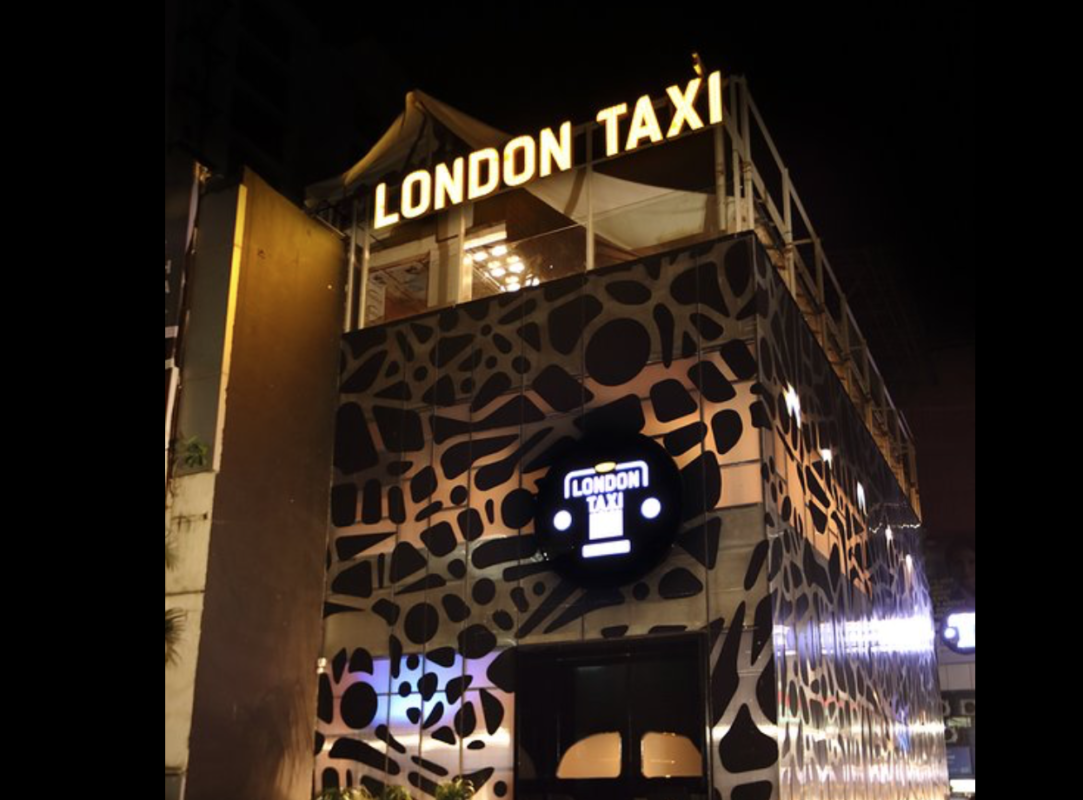 London Taxi
[yasr_overall_rating]
London Taxi Mumbai
New Gastro Pub depicting Britain in Mumbai at London Taxi.
Origin of the London Taxi and story behind the enticing name:
London being one of the most cosmopolitan city in the world and London Taxi an iconic black cab which drives you around the city,
When few years ago, the owners Mr. Vivek Das Chaudhary, Mr. Sanjay Shetty and Mr. Ricky Singh Bedi were in London for a short trip and were in  search of good food, met a London taxi driver who took and guided  them to reach  best of the best restaurants of different cuisines in London. They heard, to become a London cabbie, you need to take a 5 years masters course so they deliver world's best taxi service. They were so impressed and when came back to India, thought of giving this world class experience to rest of India. Owners wanted to give the patrons London feel with interiors and ambience serving the global cuisine.
Best picks from the menu to take you on a culinary ride:
Roasted Cauliflower & Miso Soup
Samosa Chaat Tostada
Stir Fried Prawns
Jalapeno Cheddar Chicken Tikka
Korean Chilli Noodles
Kootu Payasam Cake
The Gastro Pub has amazing set of signature cocktails to serve, the place has become the talk of the town with their 2nd Outlet being up in Khar, Mumbai, 1st being at lively lanes of Lower Parel.
Through London Taxi the owners & team want to take people on a gastronomical journey with our global cuisine with progressive cooking techniques and fine plating.
The worlds Best Indian fine food and Luxury life stye magazine "Finediningindian".
In our September Issue we cover few great Indian chefs . Amazing Recipes from the talented Chefs .
An inside story from an Influencer who focuses On Food .
Inspiring story of chef Bali from Oberoi centre for Learning and development .
Chef anupam Gulati of Fourseasons Mumbai
we are Growing bigger and Bigger in our reach
Sincere Gratitude
for our success and leading the Indian Cuisine Vision
Finediningindian Magazine previous issues
---
[thb_image image="5008″ img_link="url:http%3A%2F%2Ffinediningindian.com%2F2017%2F07%2F05%2Ffine-dining-indian-magazine-july%2F|title:Finediningindian%20Magazine%20July%202017%20Issue|target:%20_blank|"]
[thb_image image="4356″ img_link="url:http%3A%2F%2Ffinediningindian.com%2F2017%2F04%2F15%2Ffinediningindian-food-magazine-march-issue-2017%2F|title:Finediningindian%20Magazine%20April%202017%20Issue|target:%20_blank|"]
[thb_image img_link="url:http%3A%2F%2Ffinediningindian.com%2F2017%2F05%2F07%2Ffinest-indian-food-magazine-may-2017-issue%2F|title:Fine%20dining%20Indian%20Food%20Magazine%20May%202017%20Issue||" image="7339″]
Submit Your Review
[yasr_visitor_multiset setid=2]