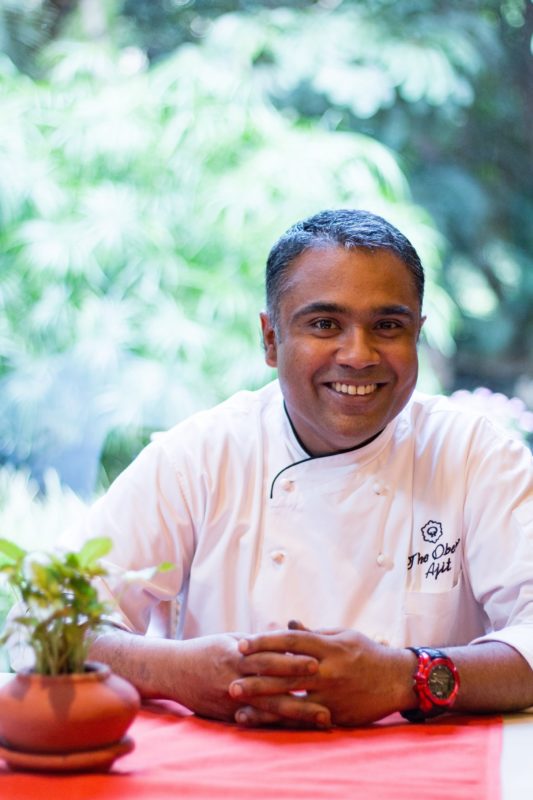 Chef Ajit Raman
[yasr_overall_rating]
Chef Ajit Raman
Executive Chef, Trident Bandra Kurla , Mumbai

Article by Sana Qureshi |
Special Correspondent – Mumbai
How you became a chef & why?
It just happened, there's not much of a story behind it, or may be one can say it was destiny that just made me become a chef.
How you explain your style of cooking?
I believe in keeping the flavours true and don't rely much on bells and whistles. One can be impressed with the embellishment of a dish but a memorable meal is always associated with great taste and flavours. It's always good to use new techniques and formats of cooking but flavours should be kept intact.
What are your memorable achievements in your professional life, why it was important for you?
There are many thing that have left an engraved remark for me. But to name a few– one of the experiences I really loved was being the Executive Chef and being part of the the pre-opening team of Trident Gurgaon; conceptualising the restaurants and menus which then became quite prominent and recommended as some of the most celebrated restaurants in the city. Also my stint with Trident Bandra Kurla during its preopening years ago and now coming back to hotel after ten years is yet another memorable milestone achieved.
What is your concept of writing a menu for your restaurant & how a new dish makes to the menu list?
While writing a menu, I will always make sure that the basics are covered. The restaurant and the menu should have a marketable story. The menu should incorporate delicacies which are undiscovered like Indian cuisine which has a history to explore. I ensure that I include dishes in the menu that guest while enjoying can also take back a little knowledge of the cultural relevance of that particular dish or cuisine with them.
How you develop your team? What responsibilities & freedom you give to your juniors.
I start with making sure that my team and all the chefs are well-versed with their basic skills and knowledge. With regards to freedom – once we are assured about the chefs capabilities and enthusiasm to learn and experiment , here at Trident Bandra Kurla we provide enough freedom to our team of young chefs to come up with new cuisine concepts and ideologies that will further enhance our guest's dining experience.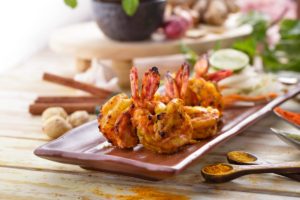 About the TriChef programme at Trident Bandra Kurla driven by Chef Ajit Raman Trident Bandra Kurla , Mumbai : In our chosen trade it is imperative to keep up with contemporary trends and think above and beyond what is composed from our lives every day. To that end we are supported by the entire hotel to conduct and organize an internal culinary competition which challenges the mind and the skill set of our culinary team at Trident Bandra Kurla. TriChef is a fantastical concept which is faithfully and gracefully executed on the plate/culinary creation that scores very highly on the scorecard. We had an overwhelming response this year with 44 chefs participating in the heats resulting in some exceptional flavour combinations. We also resoundingly highlighted a skill set much sought after i.e. 'Flavour Extraction' by recognizing those chefs who by virtue of superior technique achieved this. A motivated, and cerebrally amped team surging to meet the challenge is a pleasure to see. It reaffirms our love of the trade.The idea behind this is to boost the curiosity to push the envelope amongst the younger generation of chefs.
How you keep yourself up to date with the constantly involving culinary scenes?
We are in an era of social media. It's quite easy and convenient to be updated with what's going around in the industry and I also love reading a lot.
One of your food critic or comment you received & how you dealt with it?
There might be many critics and comments that I received. Well how we deal with it is always very important, for me I believe we should always be humble in any such situation. Critics are nothing but a reminder of improving yourself. Guest have different taste preference but we make sure we take a note prior to serving the food to the guest and try our best efforts to match that preference.
What would you like to do more for a chef support in helping each other in achieving success?
As a chef support I would want that all the younger team members I work with or meet to be trained and nourished with greater knowledge and passion for the culinary arts in the best manner possible, set benchmarks in their career and take the future of Chefs to newer heights!
How you judge a young chef & how you test him for a long time?
I always look out for younger chefs who are extremely intelligent. He/she has to be humble, that's a benchmark of a good chef! They may not have the perfect skills but the need to have the curiosity to learn is a must!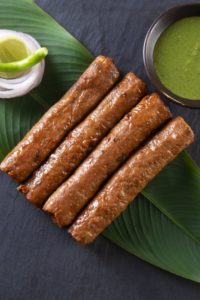 How will be Indian Cuisine's & Indian Chef's future according to you?
As per Chef Ajit Raman Trident Bandra Kurla , Mumbai .Indian cuisine is being rampantly explored in a slew of contemporary restaurants the world over. Most of these restaurants are exploring modern and progressive styles of Indian cuisines and serving guests modern representations of classic Indian dishes with an imaginative display of flavours and textures. The future for Indian cuisines will see innovative tasting menus based on time-honoured Indian cooking technique presented in a modern style, thus appealing to a wider audience.
Indian chefs too are flourishing and experimenting with new flavours, ingredients and cooking techniques with a focus on flavour extraction and sustainability. With more and more Indian chefs travelling overseas and returning from stints around the world –they are bringing back culinary experiences and influences in order to create futuristic takes on Indian signature dishes. This is sure to bring about a welcome change in the Indian food scene in the future.
Name top 5 Indian Chefs of all time according according to you?
The culinary background of India and its cuisine is diverse, extreme and deep rooted in our cultural heritage and legacies carried down various communities across the country. There are many chefs who have worked and explored the depths of the cuisine and have taken it to infinite heights. Restricting the count to just 5 is not justified.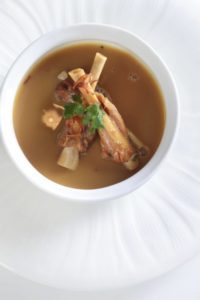 How you choose a restaurant to eat with your family, what dishes you look for in the menu?
Mostly I visit restaurants that are recommended by word of mouth by the local community of that place. For things I choose in the menu, those are mostly the dishes which are new in the menu, or recommended by the restaurant's chef.
What message you want to give to young chefs?
Trigger your passion always, good things do take time. Be a constant learner, be really well-versed with your basics and last but not least. Once you start, there is no looking back!
The worlds Best Indian fine food and Luxury life stye magazine "Finediningindian".
In our September Issue we cover few great Indian chefs . Amazing Recipes from the talented Chefs .
An inside story from an Influencer who focuses On Food .
Inspiring story of chef Bali from Oberoi centre for Learning and development .
Chef anupam Gulati of Fourseasons Mumbai
we are Growing bigger and Bigger in our reach
Sincere Gratitude
for our success and leading the Indian Cuisine Vision
Finediningindian Magazine previous issues
---
[thb_image image="5008″ img_link="url:http%3A%2F%2Ffinediningindian.com%2F2017%2F07%2F05%2Ffine-dining-indian-magazine-july%2F|title:Finediningindian%20Magazine%20July%202017%20Issue|target:%20_blank|"]
[thb_image image="4356″ img_link="url:http%3A%2F%2Ffinediningindian.com%2F2017%2F04%2F15%2Ffinediningindian-food-magazine-march-issue-2017%2F|title:Finediningindian%20Magazine%20April%202017%20Issue|target:%20_blank|"]
[thb_image img_link="url:http%3A%2F%2Ffinediningindian.com%2F2017%2F05%2F07%2Ffinest-indian-food-magazine-may-2017-issue%2F|title:Fine%20dining%20Indian%20Food%20Magazine%20May%202017%20Issue||" image="7339″]
Submit Your Review
[yasr_visitor_multiset setid=2]