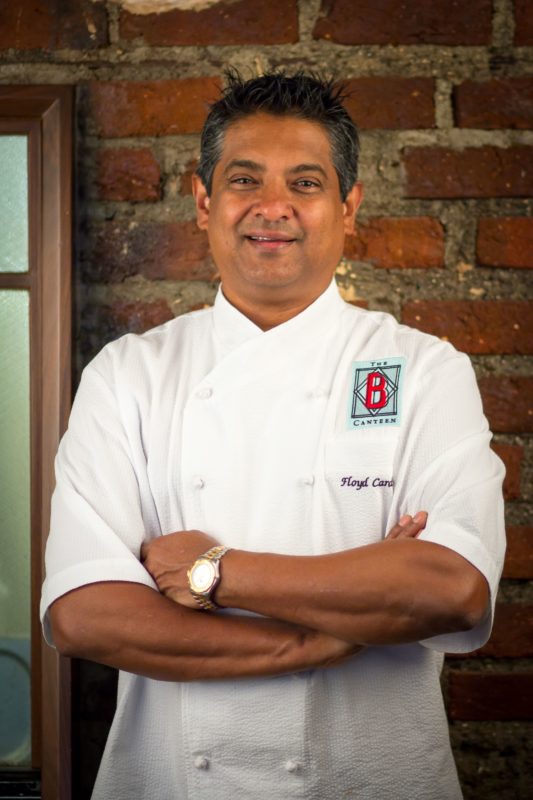 Chef Floyd Cardoz
[yasr_overall_rating]
Chef Floyd Cardoz

Culinary Director and Partner, O Pedro and The Bombay Canteen
(Hunger Inc. Hospitality Pvt. Ltd.)
Chef Floyd Cardoz,
the celebrated Indian-American Chef and winner of Top Chef Masters, is the Culinary Director and Partner at O Pedro and The Bombay Canteen. The food at The Bombay Canteen and O Pedro have his signature mark and the menu highlights seasonal local ingredients and flavourful cooking. Chef Cardoz's primary inspiration across his various endeavours is to build and encourage a sustainable food culture.

Floyd attended the Indian Institute of Hotel Management (IHM) in his native city of Bombay, India, and apprenticed in the kitchens of the Taj Mahal Intercontinental Hotel and The Oberoi. To broaden his familiarity with classic culinary technique, he moved to Switzerland to study at Les Roches, a hotel management and culinary school in Bluche, where he received his diploma in Hotel Management and Administration. While in Switzerland, he cooked at local French, Italian and Indian restaurants to hone his skills. An opportunity to work under Chef Gray Kunz at Lespinasse, led Floyd to New York City, where he rose from chef de partie to chef de cuisine in five years.
In 1997, Floyd partnered with Union Square Hospitality Group's Danny Meyer, with whom he worked for 17 years and together they opened Tabla, a beloved restaurant celebrating his 'new Indian cuisine' that married the sensual flavours and spices of his homeland with western technique. With Chef Floyd at its helm, Tabla received numerous accolades including a three-star review from The New York Times. After twelve successful years, Tabla closed its doors in December 2010.
In 2011, Floyd competed in and won Season Three of Bravo's Top Chef Masters. Cardoz used his $110,000 in winnings to support the Young Scientist Cancer Research Fund at New York's Mt. Sinai School of Medicine. The now-independent foundation, which is referred to as the Young Scientist Foundation (YSF), is an organization that enables high school and college students to work alongside accomplished researchers to develop new treatments for diseases, and remains an essential focus of Floyd's charitable contributions.
In 2012, Floyd opened North End Grill, a seasonal American restaurant in Battery Park City, again with Union Square Hospitality Group and partner Danny Meyer. After establishing North End Grill as a downtown Manhattan favourite, he left the restaurant to launch White Street as Executive Chef and Partner in 2014. In February 2015 he partnered with former colleague – Sameer Seth and Yash Bhanage to set up Hunger Inc. Hospitality Pvt. Ltd. and opened their first restaurant The Bombay Canteen, in Bombay. Chef Floyd then independently opened his modern Indian restaurant Bombay Bread Bar in NYC, from March 2018 to October 2019, where he celebrated lesser-known Indian cooking which was adapted to American ingredients. Floyd and his partners at Hunger Inc. Hospitality Pvt. Ltd. launched their second food and beverage venture – O Pedro, an all-day, Goa- inspired bar and restaurant.
Four-time James Beard Award nominee, he is recipient of the first-ever 'Humanitarian of the Year Award' from Food TV and Share Our Strength in honour of his continued commitment to community engagement. Floyd is also the author of 'One Spice, Two Spice' (2006, William Morrow Cookbooks) and 'Flavorwalla' (2016, Artisan Books).  In 2008 Floyd launched a line of convenient '4-Minute Meals' and 'Ready to Cook' entrées in collaboration with gourmet online grocer Fresh Direct. The same year he became the Culinary Director and Creator of Union Square Hospitality Group's El Verano Taquería, serving authentic Mexican tacos and salsas at the New York Met's Citi Field and Washington's Nationals Park. Floyd regularly works with Share our Strength, City Harvest, C-CAP: Careers through Culinary Arts Programme, and Young Scientist Foundation.
Hunger Inc. Hospitality Pvt. Ltd owns and runs two restaurants in Mumbai- The Bombay Canteen (2015) and O Pedro (2017).
[thb_gap height="30″]
Finediningindian Magazine previous issues
---
[thb_image image="5008″ img_link="url:http%3A%2F%2Ffinediningindian.com%2F2017%2F07%2F05%2Ffine-dining-indian-magazine-july%2F|title:Finediningindian%20Magazine%20July%202017%20Issue|target:%20_blank|"]
[thb_image image="4356″ img_link="url:http%3A%2F%2Ffinediningindian.com%2F2017%2F04%2F15%2Ffinediningindian-food-magazine-march-issue-2017%2F|title:Finediningindian%20Magazine%20April%202017%20Issue|target:%20_blank|"]
[thb_image img_link="url:http%3A%2F%2Ffinediningindian.com%2F2017%2F05%2F07%2Ffinest-indian-food-magazine-may-2017-issue%2F|title:Fine%20dining%20Indian%20Food%20Magazine%20May%202017%20Issue||" image="7339″]
Submit Your Review
[yasr_visitor_multiset setid=2]