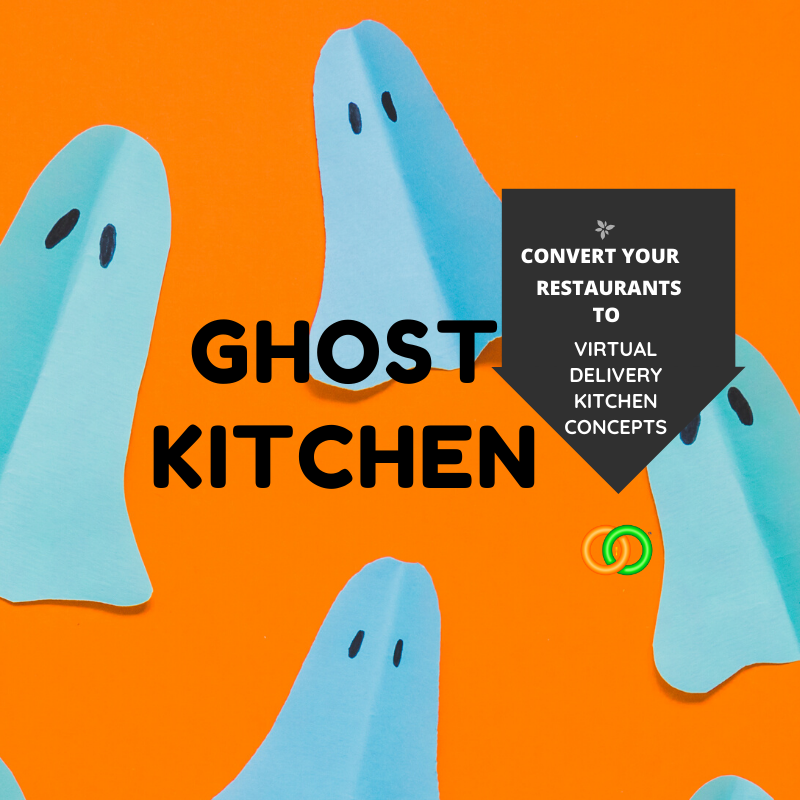 Ghost Kitchen Concept
[yasr_overall_rating]
How to convert your Restaurant In to Ghost Kitchen
Ghost Kitchens or virtual kitchens are more relevant now than any previous crisis .Earlier economic crisis food industry was not in the direct firing Line . Now Restaurants are first industry which is severely affected and millions losing jobs . Restaurants owners are living in anxiety what's going to happen Tomorrow .

In this Blog Post we explain you about
Ghost Kitchen
Benefits Of Ghost Kitchen
Challenges Of Ghost Kitchen
How to convert your Restaurant In to Ghost Kitchen
Marketing your Ghost Kitchen 
we are prefessionally experts in helping you achieving success by converting your restaurant in to Ghost Kitchen in this economic crisis .
for a free Guidance Get In touch through our Instagram Page 
What Is a Ghost Kitchen ?
" Ghost Kitchen's is for food in the same way Amazon is for Books " .
Why The term coined as Ghost Kitchen as these are the fully operational kitchen with No guest . Other wise termed as Virtual Kitchen or Cloud Kitchen . Restaurant or the brand is present virtually online . Reading through the content you will learn How to convert your Restaurant In to Ghost Kitchen . Ghost kitchen concepts can be worked out any where in the world .It is predicted that Food delivery business is a 200$ billion market .
There is already Big players AMZON ,UBER , DELIVEROO investing heavily on virtual kitchens . Main two key Players are Rebel Foods India and Kitopi Kitchen In UAE
What Are the benefits Of a Ghost Kitchen ?

The Key Benefits of a Ghost or cloud Kitchen is its Low investing or operating cost . We know by our experience 40% of any restaurant total Cost is for building kitchen. Now Think about a scenario where you save the 60% when you start out a cloud kitchen Alone.
You can manage your kitchen with Limited food cooking equipments . eg : with Only a Fryer you can run a full snack focused or sandwich cum burger kitchen .
You can start a cloud kitchen even at a 300 to 500 sq ft space . if you run on a daily production basis you can avoid storage area or equipments .
You dont need any fixed cost in terms of restaurant rent , other license fees , Over head cost . No crockery , cutleries washing up facilties . You just need take away disposable containers or cutleries . From a single clod kitchen you can take out two or more food brands eg : an Indian food and Chinese can be made at same place but marketed as two different brands . Customer don't see the place and don't  mind if you take out best quality for both brands .
You may even approach other restaurants to collaborate with you by providing their recipes and staff training . You have to pay them a percentage of royalty .
What are the challenges of a Ghost Kitchen ?

When you are starting new you need to make your mark with existing long term players . Like the restaurants already doing substantial take away business . Location is still key like any other food business . Find a place that is just near to residential or business area where the delivery of food can be done with in 20 minutes from the time the order is posted .
You need to collaborate with various delivery channels there may be home grown SWIGGY , TALABAT , ZOMATO or international players like UBER, DELIVEROO . Select the right one fit for you and those who has a best relation with clients . Ask near b restaurants for references . Most Delivery platforms arrange Photo shoot for their menu and you may save money on this direction. Always remember their commission rates negotiate if possible . The commission rate is best absorbed in food cost so you dont find it hard to pay them from your margin .
Determine Profit Margin in a way that you don't price your food high or low enough in affecting the business . When you are starting out best to try out from your competitors compare quality , packaging , price and service feedback systems. Get in to the market with a price lower to competitors but beat them in service by ensuring you follow up for feedback and rewarding loyal customers . Mutli use of ingredients in various forms help you in keeping low inventory and good margin .
Focus more on system , recipes and scalable methods in producing food. So that you don't rely on highly skilled team members which will cost you high with less margin . Compromising quality and cutting corners will affect the business in long run .
How to convert your Restaurant In to Ghost Kitchen ?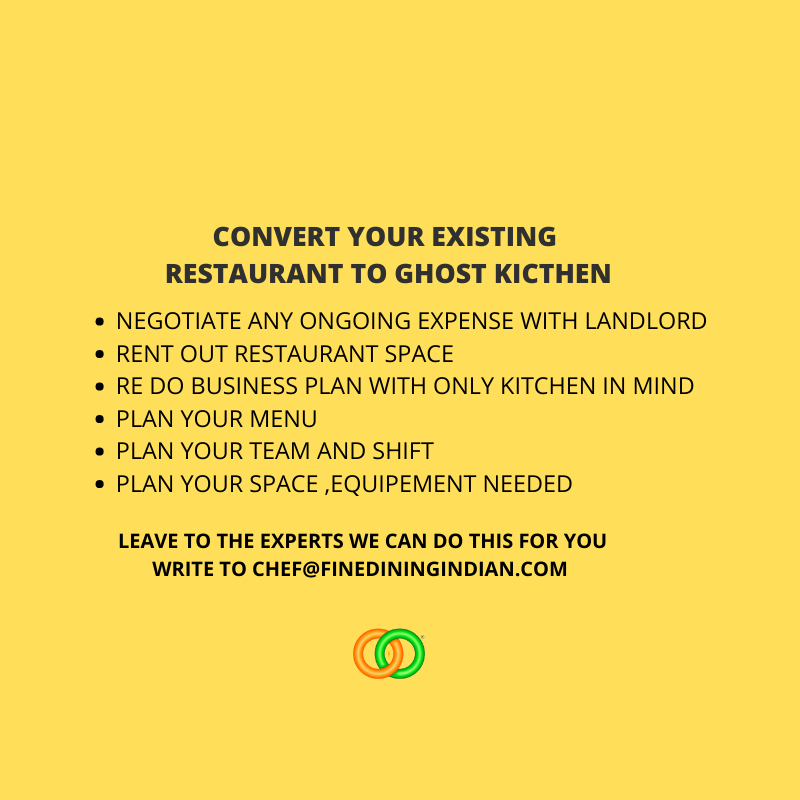 Now Its the Right Time to evaluate your restaurant's future . even if things get back to Normal the deficit the economy faced is huge that it take years to bounce back . Running a full fledged restaurants with high overhead and fixed cost is not a calculated risk any more .
Start from Re-negotiating your agreement with your landlord . if you get any concession or Rent breaks . Get approval for re-letting or renting out restaurant space to Third party . Ideas worth trying is party or event hall and you can provide food from your cloud kitchen .
Discuss with team and put forward the new business plan where you need one or two front team in taking , packing and handing order to delivery person and remaining 50% of the kitchen team . if you can afford to include two different cuisine train the team and retain other staff by doing the main bulk cooking in night . There by giving option for team to work on shifts also giving them liberty to world part time for other employers .
Since its already equipped kitchen plan or re adjust menu with available equipment . you may down size equipment if need to . Plan menu in a way that there is less finishing time needed and more on preparation , so that all your order can be delivered ahead of time .
Check out one of our Indian restaurant Client In London 
How To Market your Ghost Kitchen ?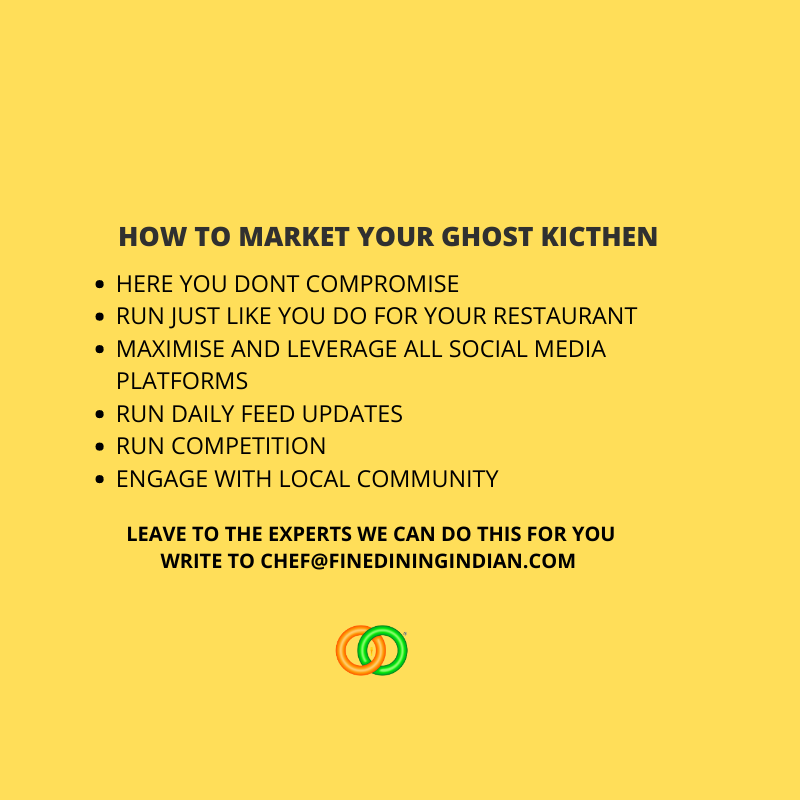 Even though you don't have a physical restaurant place you must treat the cloud kitchen as it is a restraint from marketing point of view . Post Regular updates in social media . Show how you kitchen looks like .
How happy your team is . How the food is prepared .
people will be more confident in buying from you when they can relate to what they are seeing is for real . Run competition to engage your social followers give away rewards or vouchers to use in your delivery .
Involve community  – CSR – Corporate social responsibility its not for large corporations but for small players too . Do something for school , hospital , community organisation .Train people for free in acquiring skills in your kitchen . For long run this will help creating a loyalty from the community you are surrounded with .
" Future is for Those who foresee Changes and adapt according to market situation . Those who do this lead success and those who don't disappear like Dinosaurs "
Do share with some one Need this Knowledge And remember if you are looking for experts in this Just leave a comment for us . We can assure you the best service .
Watch Video Slides of Ghost Kitchen Concept
[thb_gap height="30″]
Finediningindian Magazine previous issues
---
[thb_image image="5008″ img_link="url:http%3A%2F%2Ffinediningindian.com%2F2017%2F07%2F05%2Ffine-dining-indian-magazine-july%2F|title:Finediningindian%20Magazine%20July%202017%20Issue|target:%20_blank|"]
[thb_image image="4356″ img_link="url:http%3A%2F%2Ffinediningindian.com%2F2017%2F04%2F15%2Ffinediningindian-food-magazine-march-issue-2017%2F|title:Finediningindian%20Magazine%20April%202017%20Issue|target:%20_blank|"]
[thb_image img_link="url:http%3A%2F%2Ffinediningindian.com%2F2017%2F05%2F07%2Ffinest-indian-food-magazine-may-2017-issue%2F|title:Fine%20dining%20Indian%20Food%20Magazine%20May%202017%20Issue||" image="7339″]
Submit Your Review
[yasr_visitor_multiset setid=2]