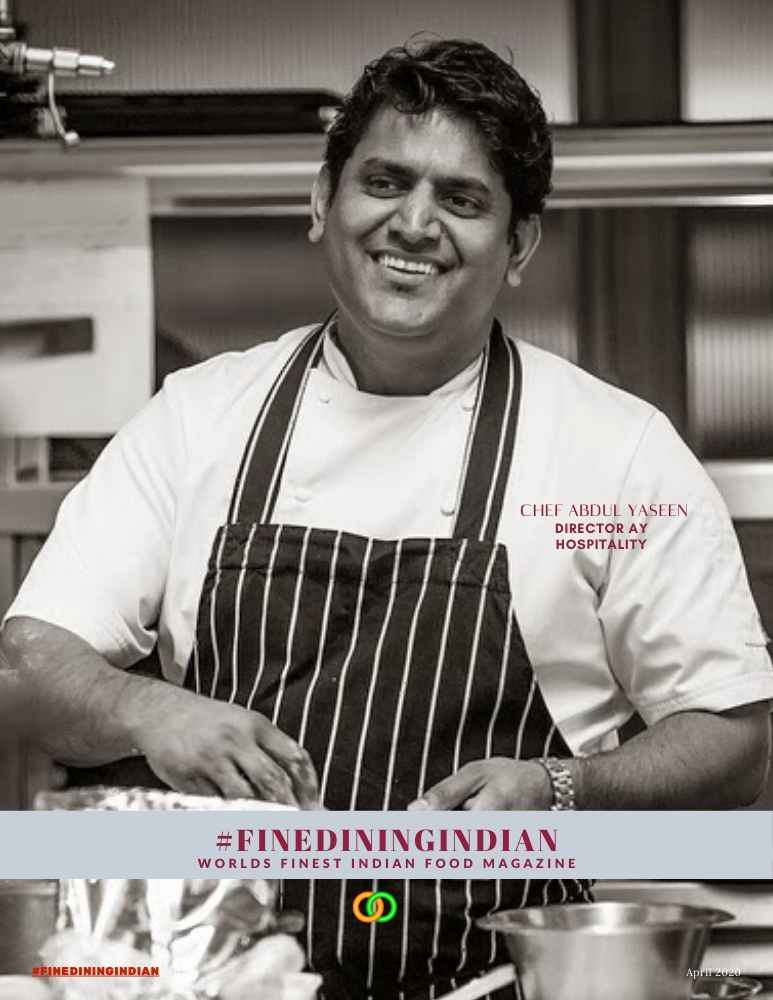 Chef Abdul Yaseen

Chef Abdul Yaseen 
Top Indian Chef Abdul Yaseen career in professional cooking spans over 20 years . His passion for food can be traced back to his childhood.  As a seven year old boy growing up in India . He was mesmerised by the rich aromas emanating from the family kitchen.
Early Years
After graduating and working for a few years with some of the finest chefs in India .  Abdul was offered a position at the well renowned Raj vilas oberoi . Where he mastered his skills . In few years, he received an opportunity to work  in restaurant The Cinnamon Club.  He was keen to try something different . To broaden his horizons so he decided to leave India and move to London.
Time In UK
As he says himself 'Love of food is the best love ever' . Indeed this love has shaped the course of his life . Taking him on a fascinating journey from India to the UK . In uk  he was presented with the challenging task of promoting modern Indian cuisine to London restaurant- goers. Combining traditional yet modern culinary techniques he has produced both European and Indian dishes . Which have been praised by food critics and customers alike.
Working in the UK capital . Initially at the Cinnamon Club and then as head chef at the Cinnamon Kitchen and Anise. Along with some of the best hands in the industry. Abdul was able to develop his signature style and instrumental figure in building the Cinnamon brand. According to Abdul : cooking is all about pushing the boundaries . Experimenting with different flavours and reinterpreting staple traditional dishes.
Abdul is an innovative and dynamic Chef. His passion , reputation has been built on blending traditional Indian spicing and cooking techniques . Combined with a unique contemporary twist and presentation style.  Always looking for new challenges, his creativity continues to challenge traditional boundaries.
In 2015 Abdul moved on from cinnamon to open his solo venture DARBAAR in the city of London . A unique concept presenting a theatrical dining experience. As a CEO of Darbaar he gained a lot of appreciation and awards . Few includes the best newcomer and critics choice awards .

Currently Abdul is the CEO of  AY HOSPITALITY LTD  . He helps existing restaurants , new concepts to find their platform In Europe and now middle east
His reputation has spread throughout the UK and overseas.
Awards and recognition received:
Abdul has featured in many high profile cooking demos adding theatre and a sense of fun. Including Grand Designs Live and the New York Food Fair. The event highlights the fact that he is being recognised as a chef who is constantly setting new standards when it comes to the quality of modern Indian cuisine. His television appearances , such as those on BBC2's Hairy Biker's Christmas Party, ITV's Great Britain's Best Dish and the Alan Titchmarsh Show. These events  his profile in the media and have given him the opportunity to present gourmet Indian dishes to a wider audience both in the UK and overseas.
A few that I am happy about personally are apart from my restaurants –
Awards –
BBQ champion of Britain – 2011 -2013
Square meal Canape cup champion of Britain ( 3 consecutive yrs.)
Critic choice award 2016
Restaurant chef of the year 2017
How you conceive a dish or improvise traditional dish in to international style?
I keep myself in the shoes of guest – excited to all bounds for the flavours he is confident would be an amazing experience to his taste buds . I work myself back words taking my imagination and deconstruct an authentic / traditional dish and compliment it with the interesting elements ( be it taste, texture , flavours ) in an effort that the music is there in every morsel of the dining.
How you keep up to date and what is your approach in designing a menu?
The menu should reflect the current changing trends in the eating habits. It's like the lyrics may be the same but the melody changes along with the voice.
No restaurant or chefs has a monopoly over the market changes. There has to be a flexibility and adaptation to every given circumstances.
what guidance would you like to provide for Indian chefs to achieve a successful career like yours?
Success only comes with hard work and dedication. There is no shortcuts in fact the more time you allow yourself and take criticism to become steps to grow the better and seasoned chefs you become .
Never get satisfied because there will always be a better version of your last creations . Be humble and learn the craft well enough to pass on to others.  Success is what others opinion make you of and not what you think of yourself
How you train your team to get consistency in food standards?
Chefs who have worked with me have always carried note pads and I have encouraged them to make notes of experiences while they have followed recipes .
Although Indian cuisine never had standard recipes in ancient Indian cooking and the only thing was the ANDAZ which vested the trained few – the modern chef has the ability to follow a structure and is a prefect of the discipline . again to simplify this is all due to the
One of your worst food critic or comment you received?
I'm yet to experience that moment
Any daily rituals you do and why it's important for your success?
As much as I love trying and exploring cuisines, let it be the simplest of topic as long it is related to art and science of cooking .
The one thing different that I have done consistently is to spend time alone . I have tried to spend time with the person that I am and why should I be what I am today or what I want to be for the crowd to appreciate me . I think I have always been getting answers and I have made informed decisions in life and did not regret.
How you Judge a young chef and how you test him for long term association with you?
Skill could be trained and talent could be fetched and managed but the most important thing that supersedes everything is the Attitude
Organisations thrive with young chefs who carry a  CAN DO , POSITIVE attitude with a hunger of achieving excellence.
Who you look up to in professional life. who you still approach for guidance?
I am a self-critic and after over 2 decades of working with some of the finest establishments I have always tried learning from my previous performance irrespective of the platform . My partner Shahen has a substantial experience in hospitality industry and has partnered me in my projects and this partnership allows me to get feedbacks and briefings on variety of topics .
Pick one dish that represent you and why it's your favourite, what's the thought behind its creation?
Bengali spiced wild caught jumbo prawn with kasundi mustard.
This dish was very popular for its coconut and mustard combo and seafood was ether DUM cooked or steamed in a banana leaf in west Bengal . as I cook it here the flavours were adapted as a marinade and robata grilling complimented the dish with its smokiness and caramelisation.
What will be Indian cuisine future according to you, what should be Indian chefs doing to make Indian cuisine best in The world?
Modern Indian food has been on its peak as chefs around the globe have constantly trying and innovating but there is an Appetite of doing more.
I firmly believe that spices and its application could be and more awareness could be created amongst the new chefs to train themselves on the

What you do other than cooking that keeps you happy , motivated and inspired?
I miss nature . The touch of the green grass, trees and plants . Something that I have been thinking myself surrounded with at some stage of life.
Currently I like walking through the woods and get fresh air while I explore the natural beauty of Kent. (garden of England)
Name top five Indian restaurants around the world according to you?
Bhukhara – Amaya – Dum pukth – Gharana – Gymkhana
Name Top Five Indian chefs of all Time?
Imtiaz Qureshi | Sanjeev Kapoor | Gagan Anand | Vineet Bhatia | Vikas Khanna
A Book or an Incident that influenced you and how it changed your approach to life?
White heat –  by Marco pier white
kitchen confidential by Anthony bourdin
were the most fascinating books in my early growing stage and have paved the path as a professional chef.
How you choose an Indian restaurant to eat out? What you look for in the menu ?
I love biryanis and Seekh kebabs. A good Indian restaurant should be able to consistently demonstrate
Texture and flavours of rice in the biryani and the delicate spices which shouldn't overpower the natural taste of the kebabs.
Any work or project you do for community Development?
I help new comers all the way especially acting as a reference book for their kitchen nightmares .
Conduct masterclasses to those non-professionals who have a budding cook within them. I do charity but keep it very discreet.
Which website or Magazine you refer to find news about Indian cuisine and Indian food development?
I do not religiously follow any magazine but I do get updates on google and hospitality buzz and https://www.speciality-asia.com
Do you believe the TV chefs makes a good real Kitchen chef ? why.
No
I firmly believe that the chefs should go to the grind of learning the skill and mastering them with some of the finest hands in the industry. Success is not given but earned with dedication .
The Science should be learnt first and experience on the job before you make it to a well-deserved responsible platform where the viewers would follow your guidelines.
Is allergy and allergen request, policies compromise chefs creativity. how you handle This ?
No
Creativity also is about how well your creation can adapt to the varied pallets and if a chef can crack this then it a win-win situation. providing safe dining a safe dining enjoinment is the key to guest retention and as a chef your creation should be friendly enough to adapt to the allergic or dietary challenges that a diner faces.
[thb_gap height="30″]
Submit Your Review
[yasr_visitor_multiset setid=2]