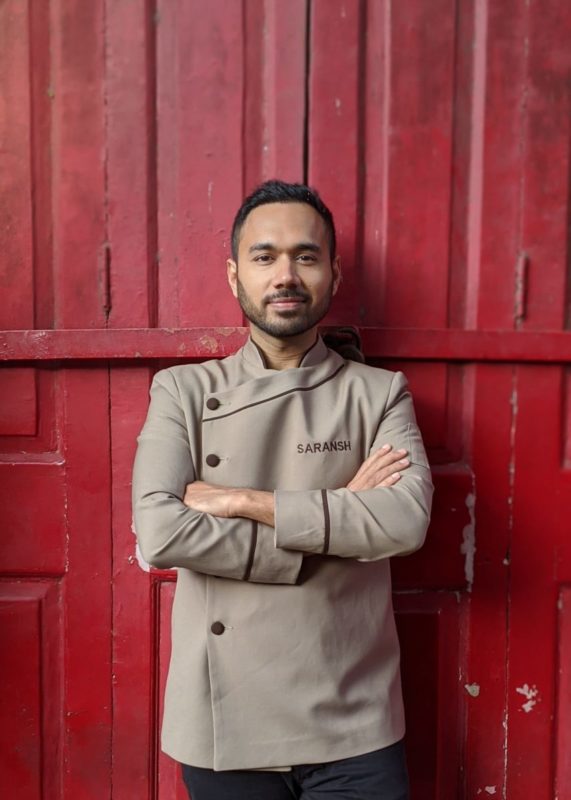 Saransh Goila
Read about Indian Celebrity chef saransh goila how he turned his a humble culinary challenge to a brand on his name . Goilas Butter chicken .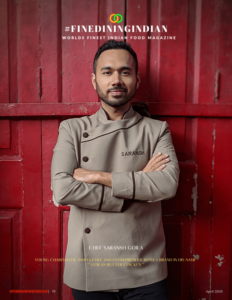 What is your motive behind being a chef?
My motive behind being a Chef is very very simple – The idea is that while I am cooking, it gives me immense joy. I find a lot of happiness in feeding people and that has always been my motive behind a chef. Your entrepreneurial side only kicks in when your passion becomes your business but before that, it is always about cooking for people and the fact it gives you a sense of belonging in the community and that you can put a smile on someone's face by feeding them a delicious bowl of meal.
What is your style of cooking?
Since I am an Indian Chef, my style of cooking is very traditional who loves to cook traditional Indian meals. Stick to techniques that are slightly old school. In My cooking there is a lot of modern equipment's but I always try to incorporate traditional elements like tandoor, sigdi, steamer or pressure cook – the idea is to use all these Indian elements/techniques and incorporate them in my style of cooking. I am somebody who cooks all parts of Indian cuisine. Dwell deep into a different style of cuisines, flavours from different parts of the country. So I would like to stay my style of cooking is quite diverse.
A memorable achievement in your professional life? Why it was important for you?
The fact that I was able to take my brand 'Goila Butter Chicken' to Master Chef Australia is quite memorable for me. It really is a highlight of my career because it is a platform where you not only represent our own brand but also your country. I had the opportunity to go to Melbourne to shoot with their team and to be there as a guest judge to set a pressure test for the contestants was a big honour for me. I think that opportunity was so important to me because it sort of tells me that persistent can take you places. The fact if you are passionate about something, everything is possible.
How do you plan a restaurant menu and how do you ensure what the menu is like?
I plan my restaurant menu with the dishes I like to eat. It is usually inspired by my travels all across India. So I like to take my travel elements from different cities and incorporate them into my dishes. That's how I plan my menu. The idea is to keep it very diverse and for the people to not get bored and for them to not get similar flavours in each dish. Every dish should have its own personality and should be unique.
What would you like to do more for a chef support system in helping each other in achieving success?
Cross-promotion.I think we are heading in that zone where all chefs are coming together. The chef support system should not just be about exchanging ideas and recipes but helping each other with finances, policies or collaborating and creating new menus. We live in a world where we work together and as I
already mentioned it is high time that we should all be working together. A lot of Chefs are collaborating and working together and I think that is the future or way to go. It just not us an individual, we are all in this together.
Any daily rituals you do and how it helps you to stay active, motivated? Indian Celebrity chef saransh goila 
My daily ritual is to run. I am a person who starts my mornings by running. It has not only helped me to stay active and fit but it is my time where all my thoughts go away. Those 30-40 minutes of the walk makes me think about nothing but just myself. I am at peace with myself as to who I am today, right now. I do not think about the past or the future and I am only living in the present while I am having that morning run. So that daily ritual has really changed my life.
How you judge a young chef and how you test him for the long term?
I like to believe that I am still young and not in a position to judge them. If I have to really look for skill and how would I judge them – the long term is to hear their version. It is to see whether they are here or learn or to just make money. The idea is that they should be dedicatedly and passionately be connected to their roots, to the kind of food they cook. There should be clarity as to what kind of cuisine they want to master in. The fact that they should not be fame-hungry but instead be hungry to do good work is what I look out for.
Which book or an Incident influenced you and how did it change your approach to life?
I read this book called the 'Fountainhead' by Ayn Rand many years back and it really influenced me. It changed my approach to life because it taught me how the wheel of the world works and how you have to be as a person to be successful in life. It also taught me how each person follows their calling and how do you stick to that approach. I'd like to say that the book really helped me build confidence in my life. Another book that I would like to mention is 'Born to Run' because that's where I found my calling.
What kind of restaurants do you take your family to? 
Casually Indian dining restaurants where we can have good drinks and have good Indian food is our favourite.
Do classic or modern dishes stand ahead of time, why according to you?
I think classic dishes always stand ahead of the times because they are comforting. The flavour is stronger and well defined and has more personality. The modern dishes are more exciting for today but I feel the classic dishes will always be ahead of time.
Who you consider to be your mentor and how has he/she helped you in achieving your goal?
Chef Sanjeev Kapoor has been my mentor for the last decade. He really guided me in my journey by telling me what approach should I be taking – making sure that I stick to my Indian roots, be focused, to not be fame-hungry and to not run after money. He told me to keep learning while I was trying to set my foot in this industry. I got a good share of sound advice from him and a lot of knowledge transfer with regards to this field, he truly has been my mentor.
How do you develop your team, what responsibilities and freedom you give to your juniors?
Developing a team requires a different kind of skill work. So, my partner at Goila Butter Chicken . Vivek is the one who is actually responsible to develop the team. It also needs a certain kind of understanding of how to deal with people. I usually believe that I am not the one who is good with building teams, I am a team person but Vivek is a better team leader. He takes care of the responsibilities. For the Chefs who work under me – I usually give them a free hand when it comes innovating or to bring out new recipes. When we are doing a brainstorming session as to what seasonal recipes can we put on the menu or what new dishes should be put on the menu, the Chefs have a free hand. We have a trial session where the Chef's get to prepare their own versions of the dish and whoever's dish is the most loved one we put that onto the menu.
How do you keep up to date with a constantly evolving world's culinary scene?
I think that is the toughest part of today's day and age. The world is moving at a fast pace and how do you really keep up with the culinary scene across the globe. The best thing to do is to keep travelling and is to keep dining at new restaurants and to meet new Chef's and collaborating with them. We don't live in a world where we should restrict ourselves and say I know it all. It should rather be let's keep learning and for me, I keep travelling and interacting with different chefs to keep myself updated.
One of your worst food critics or comment you received and how you dealt with it?
One of the worst food comments I have received in my life is that I can only cook Butter Chicken. That's because my brand is called 'Goila Butter Chicken'. The only way for me to deal with it was to keep walking my path and sticking to my journey. You cannot define a chef with one dish and I think I have cooked enough in the last 10 years and while I am popular for one dish, I just don't cook that. I also take inspiration from free food artist in our country and the idea has been to learn more and then give that knowledge back to the audience. I dealt with it by learning more, by making it a point to showcase the skill that I have to the world.
What will be the future of Indian cuisine & Indian chef's future be? What should the Indian chefs' approach be in making Indian cuisine best in The World?
Indian cuisine will be one of the topmost cuisines in the world. The kind of diversity we have, it is unbelievable. The future for our chefs is very bright because while China and Japan had a fair share of their cuisines getting popular across the globe, Asian food has travelled really well. The Indian food story within that Asian food still needs to be told and I think now is that time. The approach that Indian chef should have is that they should be outspoken and be doing a lot of collaborations. A lot of regional cuisine restaurants are now popular and that wave and movement need to continue. We need to brand our cuisine in a certain way for it to travel across the globe. For that, we need to be very outspoken and aggressive and we need to show that we are really proud of our food. We should not hesitate while showcasing old school dishes or new world dishes – both to the world.
Name top five Indian restaurants around the world according to you?
Indian Accent,New Delhi
Bombay Canteen, Mumbai
Gughan, Mumbai
O Pedro, Mumbai
Hoppers, London
Name top five Indian chefs of all time according to you?
Sanjeev Kapoor
Manish Mehrotra
Gaggan Anand
Vineet Bhatia
What are your professional goals?
My professional goals have always been to be that person who can represent Indian food across the globe. I think I am a person who is a born traveller, so my goal in life is very simple – it is to take Indian food from different parts of India to all across the world.
How and why did you choose to start your own business?
Business sort of runs in my blood because my dad is also a Businessman. I realized that I was not somebody who could have worked in a restaurant or a hotel. The only way for me to be relevant in this industry is to have my own restaurant and that's how I sort of chose to start my own business. It is risky, the risk is higher but if you give your best shot – the fruit, the result is always sweeter.
[thb_gap height="30″]
Submit Your Review
[yasr_visitor_multiset setid=2]