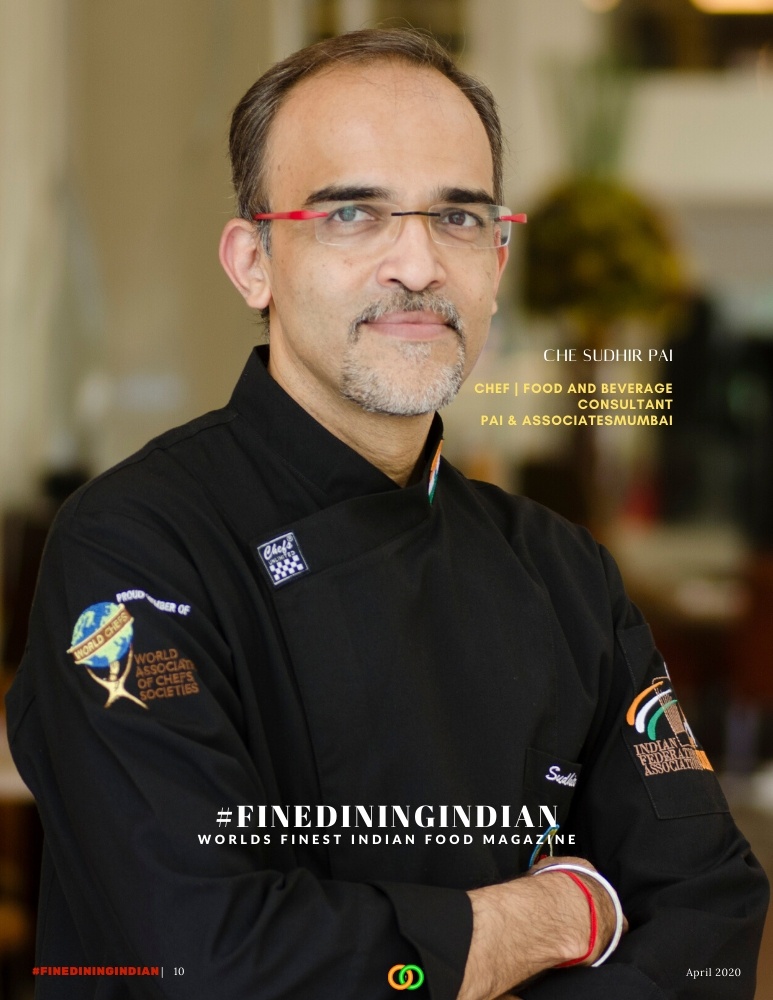 Chef Sudhir Pai
Chef Sudhir Pai 
Chef and  Food and Beverage  Consultant
Pai & Associates
Mumbai
www.chefspai.com
Indian Chef Sudhir Pai  has a various food and beverage industry experience spanning more than 30 years from Hotels, Restaurants cruise liners to Food research development for Multi product companies .
[thb_gap height="30″]
What is your Motive being a chef ?
As a kid, I loved visiting the market, especially the fish market and helping my mother cook. I joined this industry solely for the love of food. But I realised that there's more to my passion of food. I love exploring cultures, meeting new people and travelling. Every person I have met, every place I have visited has taught me something about food.
After working in the industry for so many years . I realised that food can never be independent of its association with seasons, regions, cultures, festivals, beliefs . As a chef, I try to dig deeper into each aspect of food.  This has given me a better understanding of how it all works.
What is  your style of cooking?
As per Indian Chef Sudhir Pai response about the question in his own words 
I believe in using seasonal, local, unprocessed, wholesome ingredients . Then letting the ingredients and cooking techniques do the magic.
While modern methods of cooking and plating are interesting . There's a certain rustic charm about age old Indian cooking techniques . For example cooking in the 'meen chetti' instead of a regular pan completely changes the flavour of a simple fish curry or 'popti' . The art of cooking by 'stuffing in earthen pots' is beautiful technique.
I think I try to avoid canned, tinned products in my recipes and use as much local seasonal ingredients . These are not only healthy, farm-to-table fresh but also benefit the local farmers/ suppliers.
Having said that, in this competitive industry, it is equally important to know and respect the guest/consumer demands .  Incorporate the latest culinary trends without compromising on the aspects that I believe in.

What are your memorable achievement in your professional life ? Why it was important for you ?
 My career of over 30 years as a chef was eventful and never monotonous. I have worked in various different organisations like Five star hotels , cruise-liners .For a  renowned FMCG company, 5 star airport hotels, resorts, QSRs etc.
Each place has made me face new challenges. This taught me to adapt my recipes, speed, techniques and lessons that I will forever carry with me.
My biggest achievement is the kind of person and a Chef this transition has moulded me.
Made me  more flexible, a lot more patient, open to challenges, open to ideas . I am still willing to learn more.
How you plan a restaurant menu , how you ensure the menu is like ?
Before I start jotting down a menu. I understand the concept that the owner wants to invest in . Do a market survey to learn more about the target clientele, the competition in the area etc.
But the most important part is to look for local fresh products to work with and quality suppliers which will be the backbone of the menu.
How you develop your team, what responsibilities and freedom you give to your juniors ?
Gone are the days when the fresher's were assigned only the veg prep and store receiving duties. when the chef had to be 'impatient and angry' to be respected and taken seriously.
I am approachable and this makes learning as fun as possible. Its Important to treat and welcome freshers in this industry without making them feel weighed down. Create a healthy working environment and most importantly, never differentiate between a male and a female chef. Give  work-life balance and I have experienced that the best results come when the juniors are given enough creative freedom.
However, I am very strict when it comes to hygiene, quality and standards. There is no excuse to compromise on that.
How you keep up to date with a constantly evolving world's culinary scene?
I am also a part of the esteemed Western India culinary association, which keeps me connected to the industry and the chefs. I attend conferences, exhibitions, follow International chefs, restaurants on social media to keep myself updated with the latest trends and technologies.
However, the best lessons are learnt 'on field'. Sometimes a cook with much lesser experience introduces me to a new, unusual flavour or ingredient combination that he learnt from his family. A market visit is important to know about seasonal produce. I travel as much as I can across the length and breadth of India. Cooking at and eating in homestays, small restaurants, dhabas, in friend's houses as these places have some of the best kept culinary secrets.
 One of your worst food critic or comment you received and how you dealt with it?
As a person I know that is it impossible to please everyone but as a Chef I believe the negative feedback as very much important. They give us a better understanding of the problems and customer demands.
I don't remember the exact feedback but I remember that once I had to remake a dish 4 times for an unreasonable guest. It is important to remain calm, listen to the guest and try your best to ensure that they leave happy.
As an executive chef, I used to organise case study discussions to enable the team to understand the guest demands and feedbacks and prepare them better.
What would you like to do more for a chef support system in helping each other in achieving success? Cross promotion ..
As, I mentioned earlier, I have been associated and a core team member of WICA (Western India culinary Association) for over a decade.
WICA's goal is to unite chefs and cooks across Western India in a common dedication to professional excellence. The main idea behind WICA is to set and maintain the highest level of culinary excellence, food standards and professionalism throughout the kitchens and to accomplish these goals through the transfer of skills.
In my personal capacity as an experienced Chef, I have always guided & mentored many young chefs not only in their professional career but also in their personal life.
I believe that it is sometimes important to keep the competition aside, collaborate and work in sync to celebrate food and keep inspiring each other. It is great to see Chefs jumping into their professional rival's kitchens and working as a team for a fun pop up.
Any daily rituals you do and how it helps you to stay active, Motivated ?
After I start my day with a small prayer, I  spend about 35-40 minutes every day for yoga simple exercise and meditation, I make sure that I have one meal together with my family.
While being a chef and the constant need to come up with creative content is sometimes draining, I try to keep myself motivated by taking on day at a time. One recipe at a time.
At times by slowing down, in this fast paced industry, to appreciate flavours and life better.
How you judge a young chef and how you test him for the long term? 
Before judging anybody as a Chef, I give them time to let them get accustomed to the kitchen life as it is indeed intimidating for freshers sometimes.
I consider, we need to be a good human beings first with a positive attitude and respect fellow beings, everything else including the skills can be taught but that can be eventually taught.
A slow learner who is willing to work hard, open to learn, does not give up, is consistent in his/her efforts fares far better in the long run than someone who might have technical skills but lacks these very important qualities.
What will be Indian cuisine & Indian chef's future according to you, what should be Indian chefs approach in making Indian cuisine best in The World?
 Indian cuisine is vast. May be one life time as chef will not be enough to even go through each regional cuisine and sub-cuisine. Even something as simple as a dal changes every few kilometres, is different in each home.
Top celebrity chefs, like Gagan Anand, Vineet Bhatia, Atul Kochhar, Chef Mehrotra have already introduced Indian cuisine to the world and have laid the foundation for the future chefs.
It needs to be worked on in tandem with the modern, ever evolving trends by applying the latest techniques and presentation skills, but not compromising on the authenticity of the original dish.
Gone are the days when we used to make Indian regional food fancier by incorporating imported ingredients and meats. Now it is the time for our humble but beautiful ingredients like kantola, banana blossoms, phodshi, veg 'gabholi' to shine on the international platform.
 Name top five Indian restaurants around the world according to you?
Gaggan Anand
Indian Accent-New Delhi
Rasoi by Vineet
GAA by Chef Garima Arora- Bangkok
Darjeeling Express-London
Name Top Five Indian chefs of all Time according to you ?
Vineet Bhatia
Manish Mehrotra
Gaggan Anand
Satish Arora
Vernon Coelho (who has trained most of the amazing chefs we have today)
Which  Book or an Incident that influenced you and how it changed your approach to life?
When I joined this industry I was well aware that it needs a lot of sacrifice, it is unforgiving and temperamental. Once while working under a certain someone, who did not treat juniors with respect or dignity and was of the 'pass on to the future chefs what you were made to go through attitude', I had almost given up on this career.
That is when I realised that perhaps the kitchen culture needs a little more compassion to its adrenaline rush, a little more humour to its chaos. Kind heart but sharp knives.
I have tried to make my kitchens a better place.
What kind of restaurant you take your family to ?
 As chef's family, they are always open to try and experiment and appreciate good food be it at a 5 star or a dhaba, Indian regional food or some cuisine they have not heard of.
However, our common favourite is coastal seafood restaurants. Fish and coconut warms our hearts.
Does classic or modern dishes stand ahead of time , why according to you ?
Classic. Always the classic. Trends and fashions go away as quickly as they come. What stays on forever and never goes out of style (or menus) are the classics.
Who you considered to be your mentor , How he / he helped you in achieving your
Goal ?
There were different mentors for different phase of my life and career. During my beginning years, it was Chef Sunil Chakraborty who gave me an opportunity and honed my culinary basics at the Oberoi hotels.
Later on, it was Chef Sanjay Malkani who further fine-tuned my skills and developed my leadership qualities.
Mr K.S Narayanan, MD at Unilever food solutions, gave me my first experience in working with food outside a conventional kitchen.
Even though, I never worked with Chef Satish Arora he has always inspired, by his professionalism and humility and his everlasting zeal to do new things.
Another great personality who inspired and motivated me , a real foodie and a person passionate about exploring the right taste , exploring new ideas , finding the right talent & nurturing people is Dr Vithal Venkatesh Kamat  , Executive Chairman & MD of Kamat Hotels Group Ltd.
Last but not the least, my 'Amma' from whom I inherit my love for cooking and without whose guidance I would not have been a chef today.
 What is your Life Goal in profession ?
There is no end to learning in food. I am a 'Chef' but will always be a 'cook' first.
I want to continue to use my experience and expertise for product development, menu planning, training, innovation etc. Train young chefs and intern keep learning something new from them, from the kitchen, from my mistakes every day. My life has revolved around food and it will always be the same.
How and why would you chose start your own business ?
After working for more than 3 decades as a professional chef for various organisations, I thought there is more potential for me, to work as independently. Currently, I am a culinary consultant and run my own company named Pai & Associates, and this way I support and help develop various business models. It gives me a lot of joy, creative freedom, and bigger canvas for my skills and, what I learnt to value a little late but nevertheless, a healthy work life balance.
[thb_gap height="30″]
[thb_border][thb_image alignment="center" image="8497″][/thb_border]
[thb_gap height="30″]
Submit Your Review
[yasr_visitor_multiset setid=2]