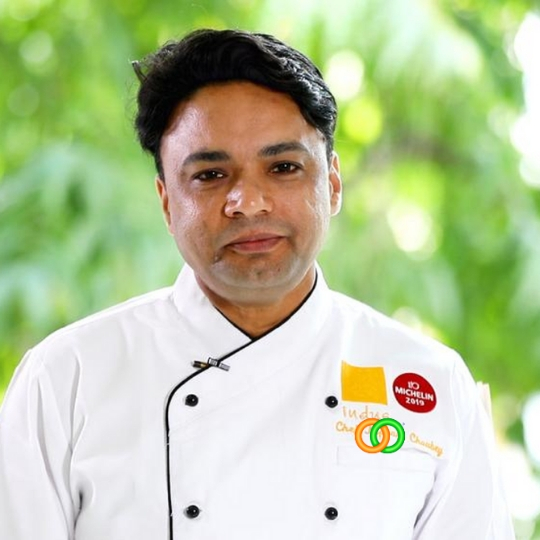 Chef Choubey 
[thb_image full_width="true" alignment="center" image="9171″]
[thb_gap height="30″]
Chef Nishant Choubey
Awards and recognition received by Chef Nishant Choubey :
Consulting Indus Bangkok (Michelin plated restaurant)
Currently doing a tv show with Famhealth (Tata sky)
Chef of the year by elite magazine 2018
Runners up in chef's category by outlook traveller 2016
Curated a vegetarian restaurant in Bangalore (Street storyss) which bagged the best new comer award by times food award 2019.
Successful pop ups in Kenya, south Africa, Argentina & japan
[thb_border][thb_image full_width="true" alignment="center" image="9174″][/thb_border][thb_border][thb_image full_width="true" alignment="center" image="9173″][/thb_border]
[thb_gap height="30″]
[thb_gap height="30″]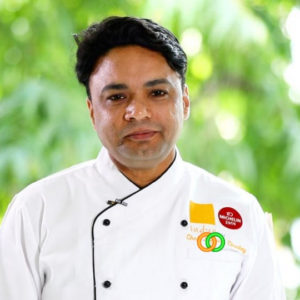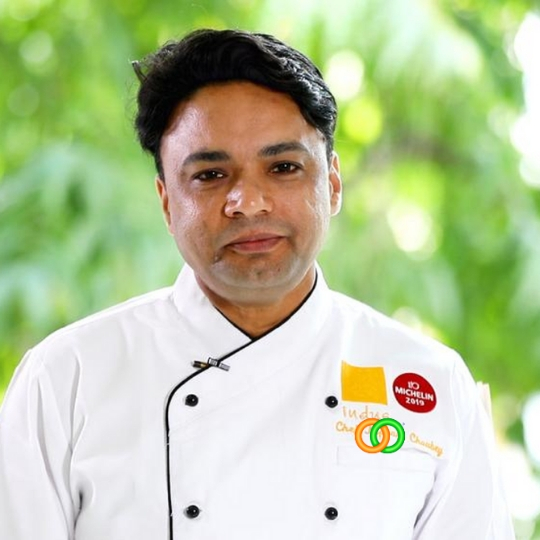 Started my culinary tenure from Ihmct  Bhopal in the year 1999 . Post that worked with trident Jaipur (Oberois hotel) and Rajvilas Jaipur for 2 years. Switched to Madinat Jumeirah, dubai and worked for 3 years in different specialised restaurants Sagreto (Italian), Pier chic (American), Minasalam and Khayamat (Indian). Post that worked with olive bar and kitchen for 3 & a half years. Engaged in pre-opening team of olive beach, AI and Lap by Arjun rampal . Post that worked with Roseate hotels (formerly known as Dusit Devarana) as corporate chef for 8 years and then presently working with Seinan group (Tokyo) as corporate chef .
How you conceive a dish or improvise traditional dish in international style?
It all comes by experience , having an extensive travel experience and exposed to different cooking techniques its easy and practical for me to improvise and curate sensible twist .
How you keep up to date and your approach in designing a menu?
I keep interacting and follow social media sites of successful and accomplished restaurateur and chefs . This keeps me going to rejuvenate and experiment.
What guidance you like to provide for indian chefs to achieve a successful career like yours?
The success mantra is positive attitude and 'never say no'. These are very important tool to find success. Let's not limit ourselves to any particular section. Indian cuisine is versatile and has abundant opportunity to explore. As a chef we should always be ready for adverse situation to prove ourselves.
How you train your team of international mix and to get consistency in food standards?
Training is the backbone of the kitchen. The team is very important to ensure consistency in any business. The same formula is applied in food industry as well. I always conceptualise and implement menu with the team and ensure the same is credited in the menu card as well . The team needs motivation and the leader has to lead from the front. I can't hesitate to accept that sometimes my team member surprises me with their culinary skills and i happily acknowledged that.
One of your worst food critic or comment you received?
I can't comment on it but yes there should be an audit system or qualifications to authorise a blogger. I remember a comment from a reputed blogger saying som tham is watery and i was stunned and speechless. Please understand the hardship that goes behind curating a dish and no one has any right to criticise without knowing about the sanctity of the dish .
Any daily rituals you do and why it's important for your days success?
I ensure that i meditate for an hour in daily basis. It gives me inner strength and ensure positivity. Fitness is the most important aspect of a chef. We have no timings in our life and that's why it is important to be on a regime. I also ensure that one of the meals i have with my team and there we don't talk about work it's all fun chat and it's a great way to de stress and know my team beyond food.
How you judge a young chef and how you test him for long term?
I look at his attitude and his keenness to learn. Also checks his culinary skills but that can always be made better in due course of time. Equally Important his adaptability with the team.
Who you look up in professional life. Who you approach for  guidance ?
Dr pushpesh pant is my mentor. I have immense respect for the legend. He is a food historian and is a padmashree awardee. He is the guiding force in me. Always full of positivity and knowledge we interact on  daily basis and i reaffirm that there can be so much which can be achieved in our life .
Pick one dish that represent you and why it's your favourite, thought behind its creation?
Very difficult one but like to talk about the white themed dinner that we (Me and Dr pant) recently curated during sharad purnima. Showcased indian dishes which are purely white. I would like to talk about Asthamrit in that occasion which is made into a sphere using 8 holy white fruits and that was served as amuse bouche .
Will be Indian cuisine future according to you, what should be Indian chefs approach in making Indian cuisine best in the world?
Indian cuisine is already on top i want to quote Gaggan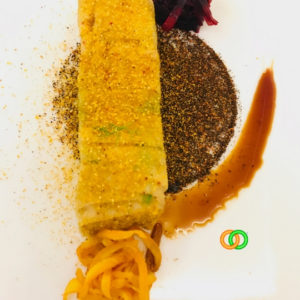 Bangkokwhich is already in no 1 position in Asia's best and ranked 7th in worlds best. I think we need to take pride in conversing about our food. We are known for ancient historic civilisations and we must showcase them with food. The world looks up to us to know it .
What's you do other than cooking that keeps you happy and inspired?
I indulge in watching and playing cricket. Chefs table at netflix , reading books on lost recipes or ethnic regional cuisines .
Name top five indian restaurants around the world according to you?
Gaggan bangkok
Rangmahal singapore
Indus bangkok
Amaya london
Indian accent
Name top five Indian chefs in all time?
Vineet bhatia
Ranveer brar
Manish mehrotra
Sabysachi gorai
Atul kocchar
A book or an incident that influenced you and how it changed your approach to life?
I love the book called as Pitt cue co.
The cookbook Rare gems  by aditya Mehandale
These two books have motivated and inspired me to do wonders .
when you want to eat in an Indian restaurant, what dishes you look for in the menu?
Tandoori dishes are definitely something that i look up to be in kebabs or breads . Tandoor is a fantastic equipment and it is not easy to handle 500 degree centigrade and keep the protein moist.
Any work or project you do for community development?
I always encourage home chefs and share recipes with them and in the same time learn from them. Conduct events featuring the home chefs and supporting them financially. I think as a chef we need to do give it back to the society.
Do you believe the tv chefs makes a good real kitchen chef ? Why.
Yes why not, it depends upon the chef how he uses the technology to teach to the followers. The tools are blessings and chefs use it to the best of it.
Do you believe a chef need to cook religion, should beliefs come between profession and the beliefs?
I believe that chefs should be versatile and can't be restricted to any religion. I cooked at adanis house (jain food) and cooked in dubai at one square meal during ramadan too. Food is one thing which binds rather divides.
Is allergy and allergen request from guest is a gimmick. How you handle ?
We pre-record the allergen from the guests if possible or ensure that the order taker is loud to know about the allergies that the guest is having. My menus has separate section for sugar free, gluten free and keto diet .
Read Our Latest Indian Food Magazine 
[thb_gap height="30″]
[thb_gap height="30″][thb_border][thb_image alignment="center" image="8497″][/thb_border]